Estimated read time: 5-6 minutes
This archived news story is available only for your personal, non-commercial use. Information in the story may be outdated or superseded by additional information. Reading or replaying the story in its archived form does not constitute a republication of the story.
LEHI — A fast-moving fire enveloped the hills surrounding the Traverse Mountain area Saturday night and into Sunday morning, evacuating residents in neighborhoods threatened by the fire.
As of 7:45 p.m. Sunday, all evacuation orders in the Autumn Hills neighborhood in Lehi and Maple Hollow neighborhood in Draper were lifted. 230 homes were evacuated between those two areas.
In a statement later Sunday evening, the Utah Department of Natural Resources said the fire is still active and is "creeping, smoldering" the mountain.
The fire is still threatening structures, like a critical gas line on the west side of the mountain, threatening Alpine and Traverse communities.
The fire started Saturday about 11:15 p.m., Lehi Fire Chief Jeremy Craft said, and Utah Fire Info said it moved quickly due to strong wind gusts around the Point of the Mountain and northern Utah County.
"About 20 houses were in danger of being burned" when crews arrived, Craft said. "Crews did a phenomenal job of protecting those homes."
During a Sunday afternoon press conference, Lt. Gov. Spencer Cox said he had expected that dozens, if not, hundreds of homes would have been lost from the fire.
"This was as impressive as anything I've seen," said Cox.
Forty-two homes from Autumn Hills Boulevard and others from the Suncrest area near Brookside Drive and the Maple Hollow Trailhead in Draper were evacuated, Craft added.
Evacuated residents were sent to Skyridge High School before the American Red Cross moved them to a hotel.
Craft said "almost every department in Utah County" has sent resources to the fire. It quickly overwhelmed Lehi's own resources and is now being handled by the Unified Fire Authority, Craft said, and the state has approved the use of two Black Hawk helicopters to fight the blaze.
Now that the fire is more contained, those resources have been sent to Saratoga Springs to aid the Knolls Fire.
Utah Fire Info mapped the fire at 500-plus acres Sunday morning; by 11:30 a.m., Kaitlyn Webb with the Utah Division of Forestry said it was burning about 450 acres.
As of about 10:30 p.m., the fire was estimated at about 26% contained and burning 467 acres, according to the DNR.
The fire was caused by fireworks, Craft said. A suspect is cooperating with law enforcement. The DNR statement later said the cause is under investigation.
Early-morning rain helped tamp down some of the flames, and early Sunday Craft said crews were hopeful that gave them the upper edge over the fire going into Sunday. The wind also turned to favorable, aiding responders' efforts, though winds picked up again late Sunday morning.
Multiple structures in the area were threatened earlier, according to the agency. As of Sunday evening, no homes had been lost and few had minor property damage.
"For the most part, the forward progression has been significantly slowed," she said. "It's calmed down a ton."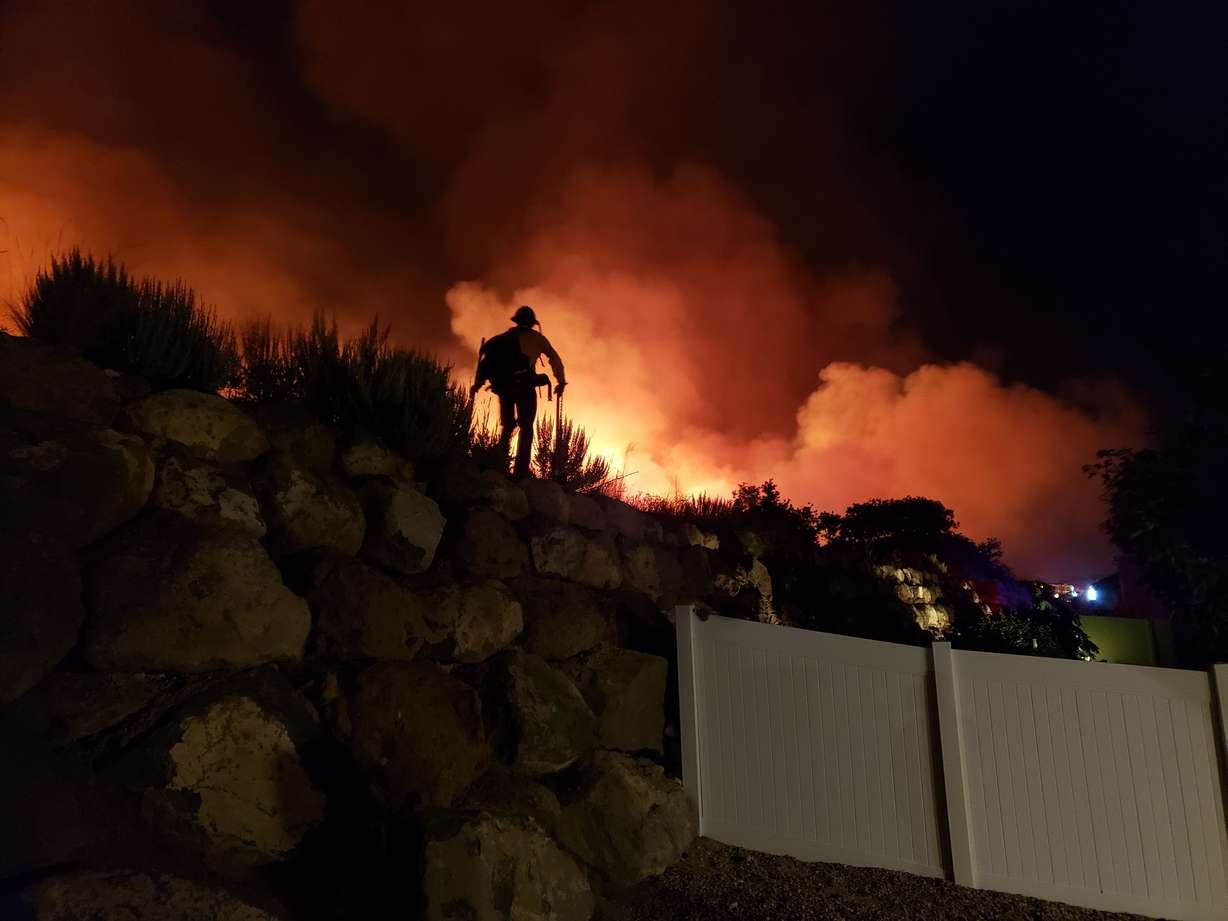 By late afternoon, residents in the Traverse Mountain neighborhood filled sand bags as a measure to prevent possible flooding that could happen during upcoming storms since the vegetation on the hillside was burned away by the fire.
Several flames came close enough to residential homes that residents could feel the immense heat from the wall of fire, according to first-hand accounts and aerial footage from Utah Wildfire Info. Ryan Miner, who lives in the area, said in an email to KSL.com that part of the blaze came within an estimated 50 yards of his home.
"I was sure we were going to lose everything," said Miner, who stayed back at his home after his family evacuated out of the area. "I had my car in the driveway with the engine running, in case I had to make a quick escape."
He said an on-foot crew from Lehi Fire started a counter burn to keep the main fire away from his neighborhood, and an off-duty police officer who called himself "John" helped Miner and his brother douse the area surrounding his backyard as the fire swept down the hill behind his house.
"He even climbed up our back wall and started spraying down dry brush as the fire got closer," Miner said. "The guy was amazing!
"These people are heroes!" he added. "Last night could have gone very differently for me and my family without them."
A separate, but nearby fire had also started Saturday night near American Fork Canyon in Cedar Hills, according to Utah Fire Info.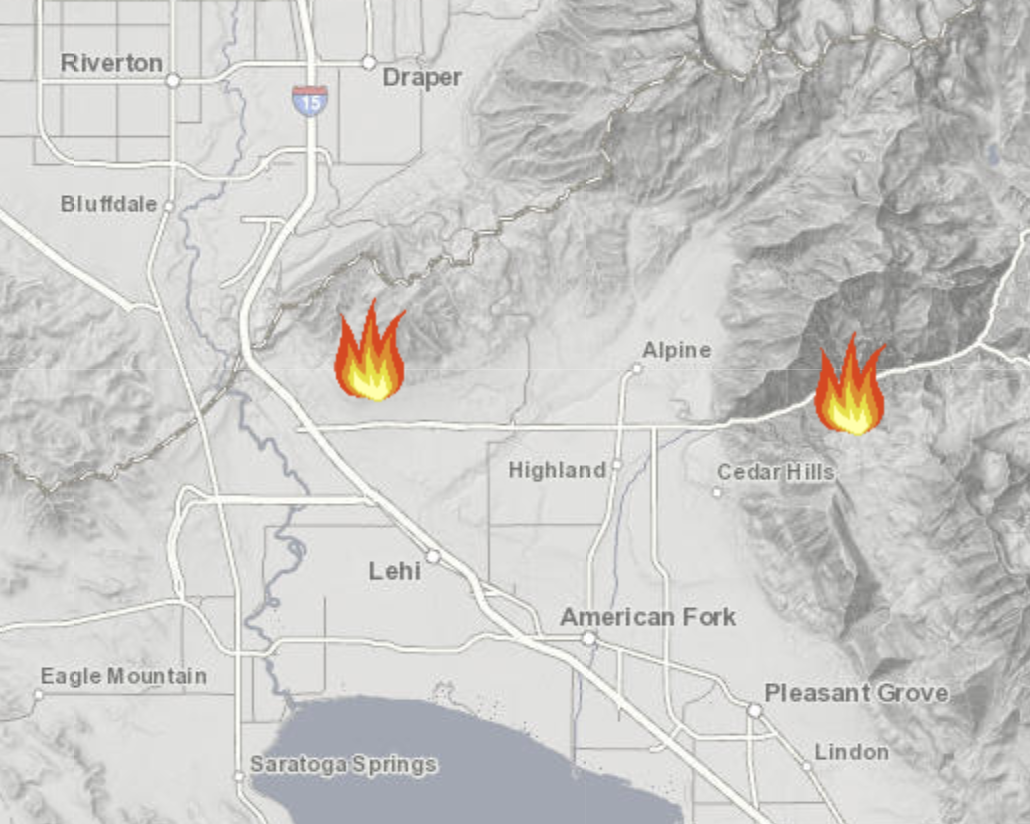 The fire could be seen (and, in some cases, smelled) from as far away as Saratoga Springs and Pleasant Grove, according to several witnesses who sent photos and videos to KSL.com via Twitter.
"It's unfortunate that this incident happened," Craft said. "It caused a lot of people a long, sleepless night, and as you look up at that mountain, a considerable amount of damage."
Several public officials, including Cox and Utah Gov. Gary Herbert, repeated that the fire was preventable.
"Fires are never allowed up here," said Craft. "Following the rules would've prevented this fire."
Herbert said fireworks are permitted July 2-5 in certain areas. Where fireworks are allowed is decided by local mayors and city councils.
The lower west end of Traverse Mountain, the estimated origin point of the fire, is technically blocked off to residents because it is a wildlife area.
"This is the last thing we want, though, is something that's preventable compounded on top of the unknown of what the coronavirus and other issues with civil unrest and riots, anything that's causing a lot of destruction in our state," said Utah Public Safety Commissioner Jess Anderson.
Cox also said residents should be aware of chains on campers and trailers potentially sparking on the road and causing wildfires. Bonfires are also a common way to start a human-caused wildfire.
×
Photos
Most recent Utah stories