SALT LAKE CITY — Utah's number of COVID-19 cases has increased by 495 from Wednesday, with three new reported deaths, according to the Utah Department of Health.
Thursday's totals give Utah 15,839 total confirmed cases, with 1,120 total hospitalizations and 152 total deaths from the disease. Previously, there were 15,344 cases in the state.
The new numbers indicate a 3.2% increase in positive cases since Wednesday. Of the 282,685 tests conducted in Utah so far, 5.6% were positive for COVID-19. There were 3,993 tests conducted between Wednesday and Thursday, according to the health department.
No single outbreak
"The numbers today are especially sobering," Dr. Angela Dunn, the health department's state epidemiologist, said in a Thursday interview with KSL NewsRadio's Jeff Caplan.
She added that the large increase couldn't be attributed by any single known outbreak.
Over the past few weeks, the state has seen daily increases of more than 400 or 500 cases, but those instances were mostly due to outbreaks at meatpacking facilities in the state. Three such facilities on the Wasatch Front have temporarily closed to allow their workforce to recover from the disease, state officials said Wednesday.
But that's not the case with Thursday's increase, Dunn said. It's the latest increase in a statewide spike in new cases of the disease that started around May 8.
"Unfortunately it is a sign that COVID-19 is just spreading more readily through our communities," she said.
Role of protests
It's hard to tell whether recent protests against police brutality, where thousands of Utahns have been amassed together in somewhat close quarters, have contributed at all to the recent surge in COVID-19 cases, Dunn said.
With the economy reopening and people visiting multiple locations, it's hard to tell if a person was exposed to COVID-19 at any certain point if they went to various places during the disease's incubation period, Dunn added. Therefore, she can't definitively point to protests or any other large gatherings as a source for significant spread of the disease.
"(The protests) might have caused some increased cases, but it's not the cause of our current cases," she said. "Right now the spread is statewide and in places where there were no protests, and it's continued beyond the incubation period."
State health officials have identified one person who was diagnosed with the disease who may have been exposed to it during a protest. The person did not have any other possible exposure to the disease, so investigators believe they may have contracted it during the protest, Dunn said.
Salt Lake County health officials said they have identified two people whose COVID-19 diagnosis "may be tied to attending a large community gathering like a protest," according to an email.
The two people became ill after attending such an event, and county epidemiologists haven't been able to determine any other possible source for the disease, county health department spokesman Nicholas Rupp said. He did not provide any other information about the two people or what kind of event they attended.
More social distancing regulations?
The state is currently in the yellow, low-risk zone for COVID-19 under the Utah Leads Together plan for pandemic recovery. Dunn said Thursday that state leaders have had ongoing conversations about whether the state may potentially move back to the more restrictive orange, moderate-risk or red, high-risk levels.
"Thus far, there hasn't been a very concrete decision on that yet," she said.
Health and economic indicators will have to warrant a change back to the orange or red risk levels, and there will have to be political will to make the change, she added. So far, those three things haven't come together to push state leaders toward going back to stricter regulations, she said.
Utah leaders on Wednesday announced the fourth update to the state's Utah Leads Together plan, which outlines priorities for the next 100, 250 and 500 days of the state's response to the disease. The new version addresses economic concerns, as well as ongoing public health issues associated with the disease.
3 new deaths
One of the deaths reported Thursday was a woman from Salt Lake County who was between the ages of 65 and 84, health officials reported. She was a resident of a long-term care facility.
The second reported death was a man from San Juan County who was between the ages of 45 and 64. It is not clear if he was hospitalized when he died. The third death was a Washington County man who was between the ages of 65 and 84, according to the health department. He was a resident of a long-term care facility.
The health department estimates that there are currently 6,901 active cases of COVID-19 in Utah. Another 8,786 cases are estimated to be recovered. Anyone who was diagnosed with the disease three or more weeks ago and has not died is considered recovered.
The total number of cases reported by the health department includes all cases of COVID-19 since Utah's outbreak began, including those who are infected now, those who have recovered from the disease, and those who have died.
Eighteen more people were hospitalized between Wednesday and Thursday, and there are currently 150 people hospitalized with COVID-19 in Utah.
Dunn said the state's primary goal is to make sure the hospital system isn't overwhelmed. But they're getting close to capacity right now, she said.
The state's data shows that there are currently 66 COVID-19 patients in intensive care unit beds across the state. About 62% of the state's ICU beds are occupied right now, and about 54% of non-ICU hospital beds are occupied, the health department reports.
That still gives the healthcare system a buffer in case of a surge in COVID-19 cases, but people still need to do everything they can to prevent the spread of the disease, Dunn said.
"In order to prevent people from even getting hospitalized, that means we have to have fewer people getting infected overall," she added.
Wearing of masks encouraged
The health department is working on a public outreach campaign to encourage people to wear face masks and use them properly, Dunn said.
In order to continue allowing businesses to open and encourage economic activity, the state must work to normalize wearing a mask, and normalize social distancing when necessary, she said.
"These are things that will allow our economy and our physical health to survive," Dunn said.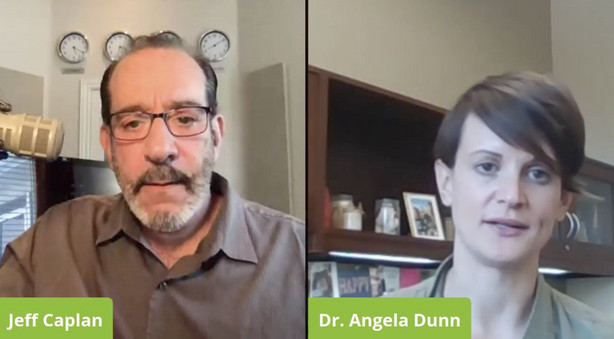 The health department doesn't have the authority to make wearing masks in public a requirement, she said. That decision would be up to Gov. Gary Herbert.
Dunn encouraged people to educate themselves and know the risks of any activity before doing something.
"Everything we do moving forward until we get a vaccine is going to have some element of risk," Dunn said.
Contributing: Jeff Caplan, KSL NewsRadio
×
Related Stories