SANDY — The tournament has been announced, and now the draw has been revealed.
Utah Royals FC will open the 2020 NWSL Challenge Cup at home Tuesday, June 30 against former BYU star Ashley Hatch and the Washington Spirit at Zions Bank Stadium in Herriman.
In addition, the Royals will also face two-time reigning champion North Carolina and reigning league finalist Chicago — the team where Royals coach Craig Harrington spent two seasons as an assistant prior to accepting the head job in Utah.
But all designs are on that first game, calling his reaction to seeing Chicago in the same preliminary pool as "kind of boring."
"Obviously, our focus right now is Washington on the first fixture," Harrington said Monday afternoon during a conference call with reporters.
"I had a feeling It would be Chicago, based on where we were going to be. I have a lot of friends there, and it will be fun to share that sideline.
"But right now, we're just focused on the first game and then getting ready on short rest."
Here's the complete draw of the tournament, as announced Monday morning via a random selection on CBS Sports HQ (with records from the 2019 season). Draws don't determine seeding, but order of initial group play:
Chicago Red Stars (15-5-4)
Washington Spirit (9-8-7)
Houston Dash (7-12-5)
Utah Royals FC (10-10-4)
North Carolina Courage (15-5-4)
Sky Blue FC (5-14-5)
Portland Thorns (11-6-7)
OL Reign (10-6-8)
Orlando Pride (4-16-4)
Full reveal of Utah Royals FC's draw for the #NWSLChallengeCup.

🎥 @CBSSportsHQpic.twitter.com/SH7gn4o7Ai

— Salt City FC (@saltcityfc) June 1, 2020
"I think we're pretty excited, and I've gone on record saying we didn't intend to be the first (league) back," NWSL commissioner Lisa Baird told CBS. "But I think sometimes there's an advantage to having a smaller footprint. The ability for us to collaborate made us in the first position."
The nine-team, 25-match tournament runs June 27 through July 26. The first day features two-time defending league champion North Carolina Courage against the Portland Thorns, and the Chicago Red Stars hosting the Orlando Pride.
In addition to Royals-Spirit, New Jersey's Sky Blue FC will play OL Reign from Tacoma, Washington, on June 30. North Carolina-Houston and Portland-Orlando will conclude the first three match days on July 1, as announced by CBS Sports.
Utah will face Chicago on July 4, and conclude the preliminary group stage July 12 against North Carolina.
It's a lot of games in a small amount of time, made more complicated by the fact that most teams haven't been training together. Harrington said the Royals will hold their first all-team practice Tuesday, with U.S. internationals Christen Press and Kelley O'Hara set to re-join the club in Utah as soon as flights will allow.
The duo, who will play under restricted minutes from U.S. Soccer as part of the federation's agreement with the NWSL, have been away from the club during the pandemic with a previously agreed-upon absence. Those managed minutes will be amenable on a game-by-game basis, Harrington added, so that teams aren't beholden to certain restrictions if in-game scenarios require adjustment.
He also candidly admitted it's unlikely that any of his players will have played a full 90-minute match before kickoff June 30, simply because of timing, as well as trying to avoid injuries before the opener.
"If we're not prepared and ready, then we never are," Harrington said.
Group stage and quarterfinal games will be played at Zions Bank Stadium in Herriman, with the semifinals and championship match scheduled for Rio Tinto Stadium in Sandy. The matches will be played without fans, but the first and last game of the tournament is scheduled for CBS, and every other match will stream on CBS All Access.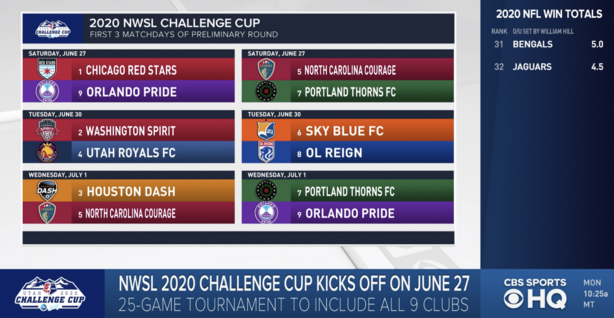 Matches will also be replayed on CBS Sports Network after their initial streaming, the network said.
"During this quarantine, we really couldn't play soccer. I have felt so much thankfulness to be able to play again," said former Alta High star Kealie Ohai Watt, who was recently traded from Houston to Chicago, during the CBS Sports HQ broadcast. "For a while, we didn't know if there was going to be a season this year. That will bring so much more passion and excitement to be played."
Three teams were originally scheduled to begin training in the Salt Lake market in the upcoming weeks, but Tacoma-based OL Reign announced over the weekend that it would hold a pre-tournament training camp in Missoula, Montana, before traveling to the tournament.
The Reign will arrive in Missoula on May 31, a decision made as Washington State has yet to permit gatherings of more than five individuals due to the COVID-19 pandemic, the team said in a news release.
"Our initial plan had been to travel to Utah for training camp, as what Utah offered was incredible, and Dell Loy Hansen's generosity was tremendous," Reign CEO Bill Predmore said. "Despite the very compelling opportunity in Utah, late last week we made the decision to hold our training camp in Missoula, Montana, as the unique combination of elements will provide the best and safest possible experience for our players and staff."
It's a tough draw for the Royals, but not insurmountable in a tournament where all but one team will advance to the eight-team knockout round.
"I think it's a hard game for them as well. We're a really frickin' good team," Harrington said of his draw. "All eyes right now are on Washington. Right now, Washington's the next game and it's the most important game in our eyes. After that, Chicago will be the most important game, and after that, Carolina."
Prior to the draw, Baird read on behalf of the NWSL in response to the killing of George Floyd in Minneapolis and the many protests sparked in cities around the country, including many in NWSL home markets like Salt Lake City.
"The NWSL, our athletes, owners, and officials, stand in solidarity with those demanding justice and equality," Baird said. "Our country simply has to do better and our league will do everything in our power to help advance the change this moment requires."
NWSL Challenge Cup preliminary-round schedule
All games at Zions Bank Stadium in Herriman
Saturday, June 27
Chicago Red Stars vs. Orlando Pride
North Carolina Courage vs. Portland Thorns
Tuesday, June 30
Washington Spirit vs. Utah Royals FC
Sky Blue FC vs. OL Reign
Wednesday, July 1
Houston Dash vs. North Carolina Courage
Portland Thorns vs. Orlando Pride
Saturday, July 4
Chicago Red Stars vs. Utah Royals FC
Washington Spirit vs. OL Reign
Sunday, July 5
North Carolina Courage vs. Orlando Pride
Houston Dash vs. Sky Blue FC
Wednesday, July 8
Washington Spirit vs. Portland Thorns
OL Reign vs. Utah Royals
Thursday, July 9
Orlando Pride vs. Sky Blue FC
Chicago Red Stars vs. Houston Dash
Sunday, July 12
Utah Royals FC vs. North Carolina Courage
OL Reign vs. Portland Thorns
Monday, July 13
Chicago Red Stars vs. Sky Blue FC
Washington Spirit vs. Houston Dash
×
Related Stories