SALT LAKE CITY — Colin Burke came to Utah with eyes on setting a historic precedent.
After three seasons at Fairfield, the 6-foot attackman transferred to play for head coach Brian Holman for the nascent Division I lacrosse program on the Hill, where he hoped to partner with fellow graduate transfer (and best friend) Jimmy Perkins as a deadly strike duo in the program's second season of NCAA play.
Burke's goal was flipped on its head with the COVID-19 pandemic, which ended his senior season after just six games.
But he still found a way to make history.
Burke was selected with the No. 3 overall pick in the 2020 Major League Lacrosse Draft by his hometown New York Lizards, becoming the first-ever MLL draft pick in Utah history.
Sitting in his parents' home on Long Island, Burke first heard news of the draft like anybody else — when the Lizards tagged him in a social media post announcing the No. 3 selection.
"But I was super excited," said Burke, who spoke with Lizards head coach BJ O'Hara about a month prior. "It's been a lifelong dream of mine to be a pro lacrosse player. For it to finally happen is awesome."
With the Lizards second pick in the 1st round, Midfielder Colin Burke from @UtahLacrosse has been selected (3rd overall pick). pic.twitter.com/cFwmeBORvN

— New York Lizards (@LizardsLacrosse) May 4, 2020
That dream began long before Burke was a 6-foot, 175-pound grad transfer at Utah. It even began well before he was a Colonial Athletic co-player of the year at Fairfield, and before he led Cold Spring Harbor High School to the New York state championship in 2016.
For Burke, the dream began when he was a youth lacrosse player, shagging balls and slapping palms with the then-Long Island Lizards in Hempstead, New York.
Three cousins went on to play college lacrosse at North Carolina (where Holman was a longtime goalkeepers coach before coming to Utah), and sister Courtney played at Bucknell. But even as "lacrosse is in the Burke blood," the Utah attack was giddy that his professional career would begin virtually in his backyard.
The Lizards made sure to make it happen, trading up by sending a fourth-round pick and midfielder Kevin Crowley to the expansion Philadelphia Barrage in exchange for the No. 3 overall selection.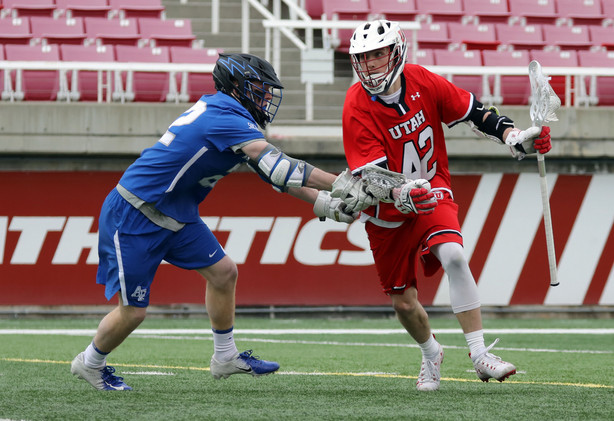 "Colin is a very skilled, quick and versatile offensive player," O'Hara said of Burke. "He plays attack and midfield. He's really good with either hand. We like him. We had him on our board last year and he decided he was going to go to graduate school. We were fortunate to get him."
That extra year in graduate school, where Burke studied for a master's degree in educational leadership and policy from Utah, opened up the East Coast born-and-bred lacrosse talent to a new world.
For the first time, he entered an environment where lacrosse isn't one of the top sports on campus. He saw a side of the country where the sport, while growing, is far from its peak — the Utes became just the third Division I men's lacrosse program west of the Mississippi when they added the program courtesy of a $13 million anonymous donation back in 2017.
But it gave him a chance to be coached by Holman and his assistants, like Will Manny, who spent two seasons with the Lizards and currently plays for the Archers in the Premier Lacrosse League. It also gave Burke a chance to further develop friendships and skill sets that will last a lifetime — both in lacrosse, and beyond the pitch.
In just six games, Burke ranked among the top 20 nationally with 31 points, including a team-high 16 assists and 15 goals. Many of those goals went directly to Perkins, who Burke said made the Long Island native look good.
"Salt Lake City is an amazing place, and I'm so happy to have had time here," Burke said. "I always joke with Jimmy that if he doesn't catch it, I don't get the assist. I saw the competitive drive that he had in his transfer from Robert Morris to Utah; I think having two senior grad students on one Division I line could do some damage this year."
In previous years, MLL players have been largely semi-professional. While they have been paid to play the sport, players would meet two to three times per week for training and fly into game day sites on the weekend from their day jobs, often in the financial sector or other professional realms.
Burke sees all of that changing. The MLL recently restructured its league, folding several low-performing franchises to the current six-team setup based primarily in the Northeast (the Denver Outlaws are the only team that plays outside the region north of Anapolis, Maryland, though Charlotte, North Carolina, and are expected to resume operations after a two-year hiatus in 2021).
But the senior sees more options now than ever in the pro lacrosse game. Annual salaries in MLL are still in the $10-25,000 range, but rising as players defect to the second-year Premier Lacrosse League.
Of course, the PLL — a traveling set of teams that will play a 20-game, 16-day tournament beginning July 25 at a quarantined site on NBC Sports in lieu of the 2020 season — offers higher salaries to many of its players, who are under contract for a minimum of two years. But there are benefits to the MLL, as well, such as the current business model, high-end coaching, and the chance to play with legends like Lizards attackman Dylan Molloy, Burke said.
And Burke's already helped grow the game out west. There's no reason why he can't help it grow in the pro ranks.
"I think it's expanding, and being able to help out in Salt Lake City helps grow the game," Burke added. "I think you can see it growing."
×
Photos
Related Stories