SALT LAKE CITY — Candidates seeking party nominations for Utah's top state and federal positions took to the stage Monday, weeks ahead of the primary election for state and federal elections slated for June 30.
And the debates for the congressional and gubernatorial position came just days after a riot in downtown Salt Lake City led to damage and graffiti. The riot broke off from a peaceful protest against police brutality, which was sparked from a video showing a white Minnesota police officer kneeling on a black man's neck. That man, George Floyd, died shortly after and the officer has since been charged with third-degree murder in Minnesota.
It was the latest among cases involving unarmed black individuals killed by police in the U.S. over the past few years. That topic and the protests, which turned to rioting, took center stage for those seeking to hold Utah's top state and federal positions Monday.
Here's what those seeking office had to say.
Gubernatorial (Republican)
The Republican party's four gubernatorial candidates spent close to the the first 15 minutes of their debate discussing the issue, including how they would handle it as governor and their thoughts on the matter.
Jon Huntsman, Jr., the state's former governor and ex-ambassador to China and Russia under the past two presidencies, said that he would bring leadership to the situation, including speaking with President Donald Trump on the matter since he has a good relationship with him. He also said he's worked hard to make sure people have the right to protest.
Huntsman: "I would ask, first and foremost, are we doing enough to thank law enforcement for putting their lives on the line? Are we doing enough to thank them and their families for the restraint that was shown in the face of anarchy? Then I would tell the president something else because I served him in Moscow: I'd say on Saturday, I saw something I had never seen before in this state. I saw Black Hawk helicopters circling in the sky downtown. I saw Humvees on the intersections; I heard curfews being enforced by the state. I would say, 'Mr. President, I'm concerned about civil liberties. This is not what we see in the state of Utah. Maybe others, but not here. This is what you see in other countries. We have the ability to manage our own situation, thank you very much.'" In discussing the topic later, Huntsman said: "It's not about where we've been — the anarchy on the street. It's about where we're going. It's bringing people together and having conversations and working toward problem-solving. Just as I had discussed with Rev. France Davis, one of my great friends and leaders in this community, 'It's not where we've been, it's where we're going that that'll make a big difference.'"
Thomas Wright said as governor he would get involved with Peace Officer Standards and Training, which oversees police officer conduct and rules. He said protesters are frustrated with issues such as racial inequality, law enforcement challenges and other issues, which is why he thinks it's time to elect new leaders who will address the issues differently.
"This time we find ourselves in is very difficult and I'm not afraid to talk about what I saw when it comes to George Floyd. I was very uncomfortable with what happened; I was devastated. It was hard to explain to my children," he said.
"As governor, I will direct the commissioner of Public Safety in his role on the POST Council to ensure a curriculum for all new and future officers so that they're listening and learning and we're being compassionate with each other and take action on racial inequality. And we can even discuss a course for current police officers. I know they want to be a part of the solution and they should have an equal opportunity," he continued. "Together, Utah can come together and lead the nation on this front."
Lt. Gov. Spencer Cox said he has a history of bringing people together, which makes him qualified for the role as governor. While supporting the protest movement, he also pointed to the recent death of Ogden police officer Nathan Lyday as an example of the difficulties police have on the job.
Cox: "Let's be very clear, the death of George Floyd was a murder. There is no place for police brutality in America. We know that and we have to stand up strong. At the same time, these lawful protests that have taken place have been hijacked by agents of chaos, by people who don't care about the movement at all, who aren't trying to make the world a better place. They only care about destroying lawfulness; they care about destroying property; they care about defacing property and we must and we did respond with strength to those people so we can allow the people space who are protesting lawfully, so we can work together and we will work together," he said.
"We're working with our Multicultural Commission, we're working with our Martin Luther King Commission — we actually have a meeting set for tomorrow to talk about these very issues, but there is absolutely no place for chaos, there is no place for destruction. We must have law and order."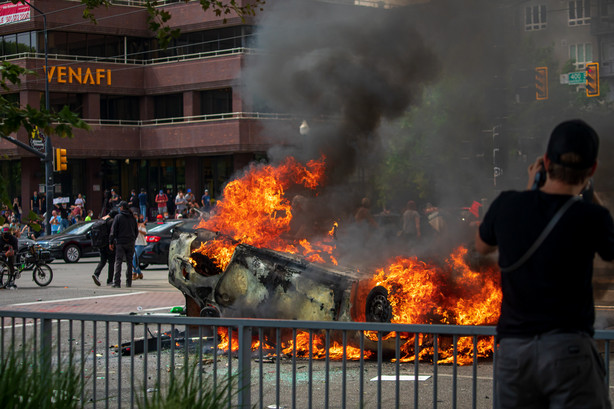 Former Utah House Speaker Greg Hughes said he joins the protest of what happened to George Floyd, but noted there's a difference between protests and riots.
Hughes: "The issue isn't the protest, the outrage (of) the murder that we did truly see before our eyes on that camera. There have been peaceful protests that have happened; there's nothing wrong with that — in fact, it's really incumbent of us to push back when we see that. And there was something amazing happening in this country where we were. It didn't matter what party you were or what philosophy and political issues you subscribe to, there was a recoil that happened in this country that has been robbed by those who care.
"The rioters, those who look to prey upon the weak, those who try and create fear, civil unrest, break the law, that isn't what this is about. That's not the protester, the feelings we all as a nation felt and that is what has to dealt with head on," he added. "I'm with the president. If you're going to go and find quarantine issues that bring down the law but you're not going to let these issues be handled and let these rioters go, that's a deal killer and we can't let that happen to our country or our state."
1st District (Democrat)
The two candidates vying for the Democratic nomination to replace retiring Republican Rep. Rob Bishop in the 1st Congressional District also spoke about the matter.
Jamie Cheek: "Well, first and foremost, I think that we need to take the bigger message from these protests, which is that there are over-policing that's happening against black and brown bodies, happening now. #BlackLivesMatter is more than just a hashtag: it's a way of life that we need to recognize and make sure that these individuals have a seat at the table, and have these conversations.
"I think as Congress, we need national policing reforms. We've done things like add body cams, but we're not seeing it being implemented nationally, and we're not seeing it used in a way that benefits and creates better policing solutions. So that's definitely something we need to do.
"I also think that there needs to be comprehensive training about the way that we train police officers. Far too often, our officers are stuck in a position where they're forced to escalate a situation, rather than de-escalate it. I think these protests have shown us that when police officers take the message that's being told to them, and they look for a solution rather than an endpoint of an arrest or putting someone into a police car, that we actually have much better interactions that happen in the long-term. So we definitely need to be changing the way that we train our police officers.
"And then finally, I think we just need to make sure that we're paying attention to this conversation and that we give a voice and a platform to the individuals that want to speak about this. I was lucky enough to be able to go to the protest that was held here in Ogden, which was organized by Black Lives Matter, and it was beautiful. We had over 2,000 people attend, and the Ogden police department, who just suffered their own loss, was willing to be there and make sure that people had the right to peacefully protest.
"That's how it should work, that people should be able to come together and have these conversations and show what matters to our communities. And we should be able to take that message to Washington. So being a part of that protest gives me the information that I need, from my position of privilege, to have these conversations and know who to speak to when we look at finding solutions for how to solve the problems we're seeing today."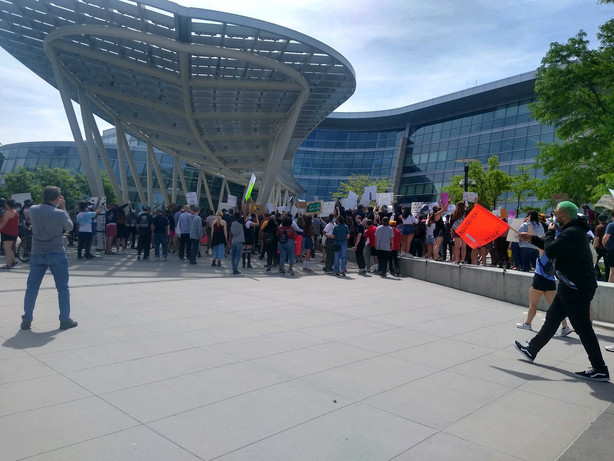 Darren Parry: "It's been sad to watch the things that have occurred on TV. Martin Luther King Jr. said, 'Riots are the voice of the unheard.' Now let's be clear: Protesters will protest. Those who want to engage in riots and destructive behavior will riot. The problem is clear: People of color have not had a seat at the table.
"As a Native American leader, I understand that, and it's disheartening. We need to have more community engagement. We need to invite everyone to the table, and have a voice. Last night on the news, it was wonderful to see (Salt Lake County Sheriff Rosie Rivera) talk about what they're doing in their community to engage the people of color. She said that, 'We are so excited that, for the first time, we have one of our refugees graduate from the police academy.' And how important that will be that that refugee can serve in the community that they live. That people in those communities can see people that look like them.
"The other thing we need to make sure, we need to make sure that we engage them with community advisory boards. I serve on the Huntsman Cancer Community Institute board. My first meeting I got to sit by the Rev. France Davis, and what a wonderful thing it was for me to be able to learn from that. And then, more importantly, we need to concentrate on police training. Making sure they have ways to de-escalate certain situations, and tough situations they are put in."
Related:
4th District (Republican)
A question about racism and police brutality kicked off the debate Monday afternoon between four people seeking to run against Democratic Rep. Ben McAdams in November.
Burgess Owens: "I think that we have to have a real straight conversion about the idea that we have such a problem with law enforcement. I think there's a process here to make sure we're communicating and allowing our forces to connect with our society (and) our communities, and we've not been doing that," said the former NFL player, who is also the only African American candidate in the primary.
"The message over the last several years has been simply that there's this enemy — that white's our enemy, that society is the enemy and we have people who are responding because of that. One of the things that we have to do is: first of all, find out what's happening right now. If there's an issue with domestic terrorism, we need to address that. (We need to) make sure that those bad actors that are doing what they're doing now, that they are paying the price. And then let's have conversations where we can allow the police to go in and begin to develop those relationships that they've always had in the past — of trust between themselves and those they are trying to serve.
"There's no question this was wrong," he added, speaking of Floyd's death. "There is no debate about the heinous act that was done. The problem it comes down to is response. We're coming over the last few years (when) there's a conflict between a white policeman and a black man or black woman, it becomes a national issue. We should not be at that position (or) that point. When we're a country, we the people have done much together. If we stop the narrative that the left is giving, that we're such a divided, hateful country, we're really not. We're good people and need to make sure we get that message out."
Trent Christiansen: "What happened to George Floyd was horrendous and it is not American. The people that did that need to be prosecuted and they will be. But happened in Salt Lake — the protests in Salt Lake, that was not Utah. That is not who we are. I'm a lifelong Utahn and Utah native and that violence that we saw, that was not from Utahns. Those were people who came here to incite violence," the business financier said.
Salt Lake City Mayor Erin Mendenhall and Police Chief Mike Brown both have said they believe there were protesters who came from other parts of the state and other states to turn the protest violent.
"What we saw from someone like Don Gamble — that's what Utah is all about. That's the message we should be sending. Don Gamble is a retired correctional facility officer who spent his Sunday morning coming down from Kaysville to clean up vandalism. That's what we need. That's the message we need to send.
"Congress can support the police," he continued. "Some people won't agree with that but I'm telling you if we police what they need, the training, the resources, the public support, all of the tools they need, they can weed out the bad apples and the level of the caliber that the police departments — that are already excellent police departments — will increase. Nobody hates a bad cop like a good cop. If we support the police instead of what the media is doing and vilifying police; if we support them, let them know that we are behind them, then we will start to see this behavior to abate."
When asked about violence to journalists during the protests, he added that "we need to bring the temperature down" regarding hostility toward protesters, police or the media.
Utah House Rep. Kim Coleman: "On this very University of Utah campus, I received a minor in criminology. And almost immediately as a young mother, I noticed there was a drug house on my street. I worked very closely with my neighbors to get rid of this drug house and in great cooperation with our local police department. And throughout my life, I've had really great experiences with community policing and I think that's a great aspiration — for law enforcement to interact with the community in a very positive basis.
"I have been a strong proponent and sponsor of legislation protecting due process and what we saw last week was the absolute enth degree of due process. Someone in authority took the life of someone and, frankly, I don't care what he did to that point; we watched a horrendous act. What we need to do is to continue to make sure we protect due process — that we can expect fairness; that we can expect to defend our day in court; that we can expect to defend ourselves. That's what America is about.
"I think one of the greatest advances I've seen (since graduating) is an emphasis in de-escalation," she continued. "We're learning a lot more about the psychological process of response to events in law enforcement. We have moved quite a bit to the operational de-escalation. That's where we really have to start. What happened that this got so carried away? Why were there bystander officers who were complicit?"
Jay Mcfarland: "I think the answer is simple. We need leadership and I don't see it. We have a vacuum of leadership and in order to have good leadership, you have to have good listeners. I see a lot of people rushing to every corner and blaming the media or blaming the police officers or blaming the protesters. Who is going to sit back and listen to what is going on? You cannot come up with real solutions unless you listen," the former radio talk show personality said.
"I will tell you that one of the most wonderful things that I saw that we reported on when I was at KSL about a year and half ago: Black Lives Matter was going to have a breakfast protest; the local police department reached out to them and said 'Why don't we make it a picnic?' And what they did was they brought together the police officers and the members of Black Lives Matter. And you know what happened? It humanized the equation for everybody. Suddenly, these aren't numbers or statistics. They are real people. We need listeners first."
When asked to clarify, he said that he believes the leadership has to come from the president and from Congress.
"I've been watching all weekend, I've seen members of Congress coming out and pointing the finger and pointing blame and making demands without listening to the issue," he continued. "We clearly have an entire population in our country who feel disenfranchised, who don't have the same American experience as others do. We have to figure out why before we propose any solutions."
Debates for the 1st District Republican nomination and Republican attorney general nomination are set for Tuesday.
This story will be updated.
×