Estimated read time: 11-12 minutes
This archived news story is available only for your personal, non-commercial use. Information in the story may be outdated or superseded by additional information. Reading or replaying the story in its archived form does not constitute a republication of the story.
SALT LAKE CITY — The mayor praised police for how they handled the nearly 11 hours of demonstrations with a calculated response to let protesters vent their anger without police presence for a while, and acting with restraint when violence erupted.
"The streets of Salt Lake City are quiet and calm this morning," a grateful Mayor Erin Mendenhall said Sunday morning.
But she also acknowledged the bigger issue of police accountability here and nationally and the reason behind the initial peaceful protests Saturday afternoon — to highlight police brutality in such incidences as the death last week of George Floyd at the hands of Minneapolis police.
Mendenhall noted before the riots started, talks were already underway with members of the community on how to make the police department more transparent.
"We are united in our work, and we acknowledge we can always do better as a city and as a police department," Mendenhall said.
Just hours after violent protests around the Salt Lake Main Library ended, the mayor and Salt Lake City Police Chief Mike Brown assessed the events at an 8 a.m. news conference.
Twenty-one officers were treated for medical issues from Saturday's protests, Brown said, the most common heat exhaustion. One officer was hit in the back of his head with a baseball bat. If not for the helmet he was wearing, Brown said, that officer could have suffered critical injuries or even been killed.
Police arrested 46 people, most of them for failing to disperse. Some were arrested for assaulting police officers and others for curfew violations. The chief said he suspected that many of those arrested are not from the area.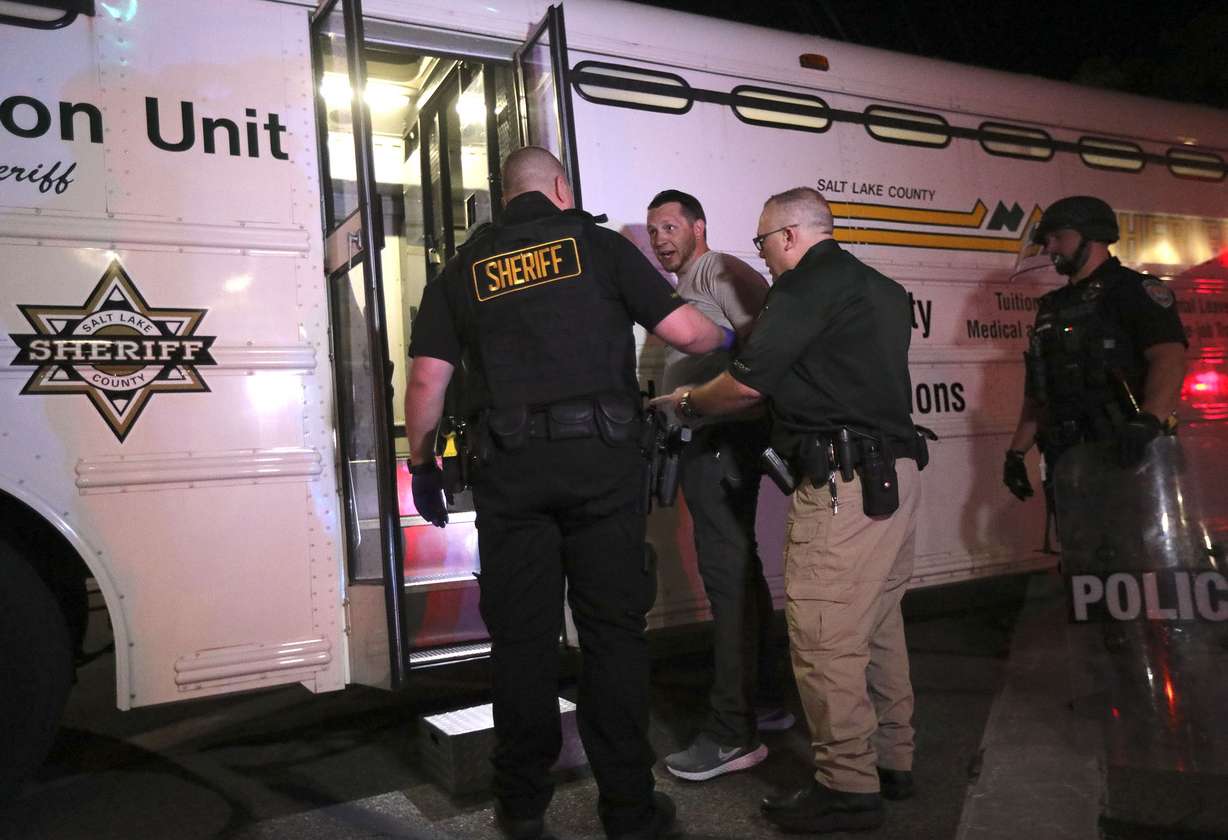 "I honestly believe there were people from out of state who were here to instigate violence," Brown said.
The arrested
KSL reviewed 40 police affidavits of those booked into either the Salt Lake County or Davis County jails after being arrested during the protests. Nearly every person arrested was for failing to disperse. Others had additional arrest charges for disorderly conduct, violating curfew and drug possession.
Among those arrested for investigation of failure to disperse are: Adam Arkeem Demond Ervin, 24; Gabriella Megan Gourdin, 24; Marcos Jose Castillo, 21; Aimee Kim Nguyen, 24; Morgan K. Facemyer, 18; Erin Leigh Berdahl, 19; Vanessa Robyn Jeppesen, 22; Mercedes McKinley, 31; Leonardo Raul Gaytan Morales, 21; Annika Dowsakul Bouttavong, 22; Evangelina Gonzalez, 22; Hannah Lillie Wilson, 21; Odette Baumeister, 18; Jordan Kevin Turner, 29; Melissa Renae Brainerd, 27; Bradley David Hagen, 40; Rebecca Rodriguez, 28; Jarod Donovan Hartlerode, 30; Kiesh Easterwood, 25; Justin Dean Kramer, 36; Riley Westergard, 21; Ian Eaton, 20; Scott Mark Larson, 33; Hobie Jeffery Simon, 39; Lance Chadrick Delano Kaufusi, 18; Jacob Daniel Corbaley, 24; Stephen Henry Sprague, 26; Patrick Edward Mac, 36; Thien Nhut Vu, 38; Nacom Abdoul Koffi, 49; Carlos Daniel Vastellanos, 18; James G. Hawthorne 70; Perry Bryant Bates, 33; Adam Gethin Fuller, 24; and Robert Adam Hubbert, 24.
In addition to failing to disperse, Zachary Julius, 24, was also arrested for investigation of drug possession.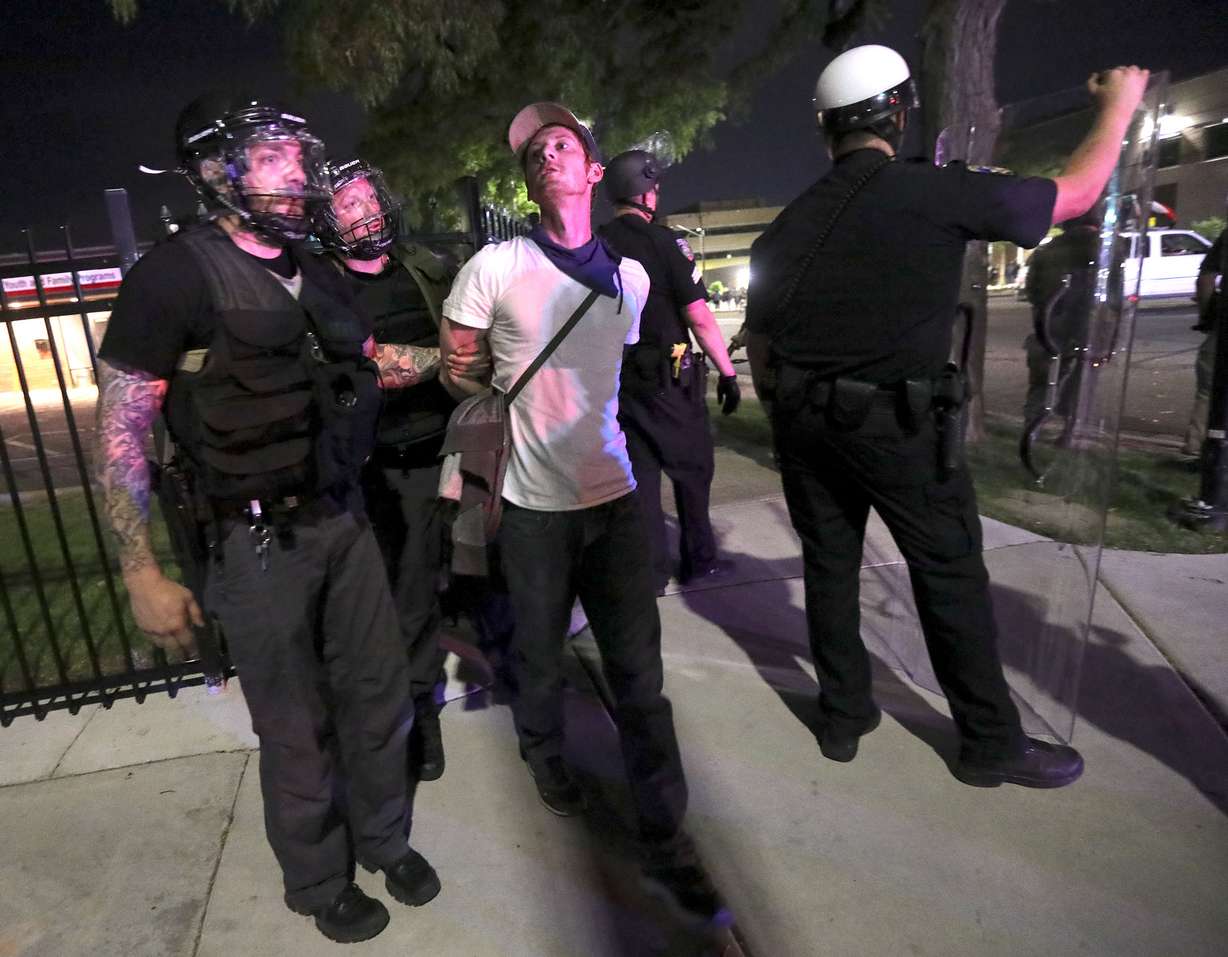 Ashley Anne Sims, 30, was arrested at the state Capitol for investigation of failing to disperse and assaulting an officer. Utah Highway Patrol troopers gave the crowd gathered on the Capitol grounds 90 minutes to disperse, according to a police affidavit.
"Some of the protesters remained at the scene, well after the warning had been issued. Ashley Anne Sims was one that failed to disperse. In the process of arrest, Sims kicked a sergeant with Utah Highway Patrol, in the groin," the affidavit states.
Sims also was in possession of a can of spray paint at the time of her arrest, police say.
Emilie Marie Smith, 22, and Lauren Elizabeth Hambrick, 24, were arrested for investigation of criminal mischief and disorderly conduct for allegedly throwing rocks through the window of the Matheson Courthouse, 450 S. State.
"The result of (their) actions caused the window to break causing a spider web effect," according to a police affidavit. "The cost to replace the window is estimated at approximately $10,000."
Shane Brooks, 30, was arrested for investigation of failing to disperse, violating curfew and disorderly conduct. Brooks was in the area of 400 South and 200 East and "failed to disperse at the command of police while actively protesting and rioting," according to a police affidavit.
Information about the other six who were arrested was not available.
Those arrested for investigation of failing to disperse ranged in age from 18 to 70, with most in their mid-20s. Those arrested live in cities such as Salt Lake City, Sandy, West Valley City, West Jordan and Layton, according to court records. While most of those arrested have minor criminal histories in Utah, court records state, some people have no prior criminal history or even a traffic ticket in Utah. It was not immediately known Sunday whether those people live in the state.
---
I honestly believe there were people from out of state who were here to instigate violence.
–Salt Lake City Police Chief Mike Brown
---
Salt Lake police said some people were booked into the Davis County Jail to avoid overcrowding at the Salt Lake County Jail, which also helped in addressing COVID-19 concerns.
At least two police vehicles were damaged during the protest, including a Salt Lake police patrol car that was flipped over and destroyed by fire. Sunday afternoon, police were asking for the public's help to identify three men that detectives wanted to question who were captured in photos and video.
"We would like to speak with them regarding the flipping, vandalism, and burning of a Salt Lake City Police car. If you know who they are, please call 801-799-3000," police tweeted.
Man with a weapon
Both Brown and Mendenhall were also asked about a confrontation between a man with a bow and arrow and protesters on Saturday. According to witnesses, a man armed with a bow and arrow, and also possibly a knife, drove his SUV up to demonstrators and threatened them. Protesters immediately attacked the man, leaving him with a bloody face, and then flipped his vehicle over once he was out, and set it on fire.
The man was seen being led away by police in handcuffs, but later reappeared after being released, and got into another verbal confrontation with protesters.
Brown called the incident a "troubling" situation and a "priority investigation." Although the man was not booked into jail, police say they know his name and charges will be screened against him. Mendenhall asked Sunday for anyone who witnessed the confrontation involving the bow and arrow to contact police.
KSL has confirmed the identity of the man whose car was burned as a 62-year-old Taylorsville resident. The same man was charged with assault in Taylorsville Justice Court on May 7 in a suspected road rage incident, according to police. In that case, the man was angry that another vehicle pulling a trailer near 6200 South and 4000 West was allegedly driving too slow, said Unified Police Sgt. Melody Gray. The man claimed he was then cut off, which somehow resulted in a fist fight between the two drivers, she said. The man left the scene before police arrived but was found at his home a short time later and cited.
The Taylorsville man also has a criminal history in California, according to public records.
Still figuring the toll
Numerous glass panes were broken at TRAX platforms, and many buildings — including the state Capitol and the Salt Lake City Public Safety Building — were tagged with graffiti.
Mendenhall said city officials were still counting how many buildings were damaged Sunday. But she noted that windows can be replaced.
"We will clean up. We will repair," she said.
And while the mayor is grateful for the spirit of volunteerism she is seeing as people have asked to come downtown Sunday to help with cleanup efforts, Mendenhall wants everyone to obey the curfew that runs until 6 a.m. Monday.
"The trash and spray paint are not going anywhere," she said.
At the Capitol, a few dozen volunteers had been working to scrub off graffiti since 8 a.m., said Allyson Gamble, Capitol Preservation Board executive director. Most of the vandalism involved graffiti, paint and litter around the grounds, she said, expressing gratitude that more serious damage wasn't done.
Open for review
The mayor has asked Brown to give her a "thorough after-action review" of how officers handled Saturday's riot, and she asked any citizen who felt they weren't treated well by police to file a complaint so the Citizen Review Board could look at any inappropriate use of force.
"We welcome the criticism and critique in a positive fashion," Brown said, adding that he would like to have critical and positive conversations with the public.
Brown specifically addressed an incident caught on video of a Salt Lake police officer dressed in riot gear shoving an elderly man with a cane to the ground as the man slowly tried to move away from the scene. A couple of other officers quickly went to the man to help him back to his feet.
"I have seen the video and it was inappropriate," the chief said. "This is not what I would expect from Salt Lake City PD. My expectations are that if people are exercising their First Amendment rights, we give them the space to do so peacefully."
Brown said "it was hard for me to watched what happened" and he has since reached out to the man and personally apologized. The officer who shoved the elderly man has been identified, but his name was not released. The chief said an internal investigation is underway. While it was unclear Sunday whether that officer is on administrative leave or just reassigned, police confirmed he had been taken off crowd control duty.
Mendenhall later commended the chief in a tweet for taking action.
"While @slcpd yesterday largely showed great restraint and patience, I am grateful to Chief Brown for responding swiftly to address the incident with the older gentleman with a cane."
Advocacy groups speak out
Jacarri Kelley, leader of Northern Utah Black Lives Matter, said Sunday she was disappointed in the direction the protest took.
"I should be comfortable enough to take my child to a legal protest, but when people are angry or hurt or don't have a way to vent their frustrations, that's when they do what they did yesterday. I don't condone rioting or looting. I understand people are hurt, but here in Utah, that's not the answer. We have so many other ways people can help us out," Kelley said.
Kelley doesn't know how the demonstration got out of hand, but believes other groups, including white nationalists and supremacists, joined in potentially to take the spotlight off the intended message of the planned protest.
She said instead of rioting, it's more helpful for those who want to help the cause by volunteering with groups like Black Lives Matter and Utah Against Police Brutality.
"I want to see all those young people out there letting their voices be heard with their right to vote. A lot of people don't have that right, but because they do because they're fresh and young, they should exercise their right to vote for those who can't," Kelley said.
Utahns against Police Brutality also issued a statement.
"This is what happens when elected officials, police departments, and 'leaders' ignore the constant call for justice in the U.S. This is what happens when the people get tired of waiting for Salt Lake and Utah to do something about racist cops and police violence," it said in part. "This is what happens when they refuse to listen, refuse to reform, refuse to hold officers accountable, and refuse to do what has been asked of them over and over again. This is what happens when police target black and brown people and communities for years with no consequence.
"Mayor Mendenhall said that the events around the May 30 protest aren't what justice looks like. We agree. This is what a demand looks like, a demand that can't be ignored any longer. Justice would have been enacting real police reform, firing killer cops, addressing the systemic and constant racism. Justice would have been addressing the economic inequality, wage theft, exploitation and poverty that plague every worker. Justice would have been listening to those of us who have been demanding changes for years."
Praise for coordinated efforts
Salt Lake County Mayor Jenny Wilson issued a statement Sunday praising city officials for how they handled the protests and riots, while also committing to continue working with the Unified Police Department and Salt Lake County Sheriff Rosie Rivera to "focus on de-escalation and employees receive robust training on racial bias."
"I am proud that Salt Lake City's officers and those who assisted last night showed restraint, and that while property damage is extensive there seems to be limited personal injury due to the riot," Wilson said.
Brown thanked the numerous Wasatch Front police agencies and Air and Army National Guard units for assisting his department Saturday.
The chief said his officers were "exhausted." And despite having everything from rocks and bricks to water bottles and even water-valve covers thrown at them, the officers are not discouraged from doing their jobs.
"It's what they do," he said. "They signed on to do this job. It's in their DNA. They are here to serve and protect."
×
Photos
Related stories
Most recent Utah stories