Estimated read time: 6-7 minutes
This archived news story is available only for your personal, non-commercial use. Information in the story may be outdated or superseded by additional information. Reading or replaying the story in its archived form does not constitute a republication of the story.
SALT LAKE CITY — The 5.7 magnitude earthquake that rattled the Wasatch Front happened two months ago, and the many aftershocks since then have slowly subsided in recent weeks. State officials now say they have a better estimate of the damage caused by the earthquakes.
Gov. Gary Herbert outlined the damage from the March 18 earthquake in an 18-page letter to the Federal Emergency Management Agency on Friday. The letter, which KSL.com obtained Monday, will then be forwarded to President Donald Trump. In it, Herbert says there was up to $62 million in structural damage and estimates public infrastructure damage at more than $70 million. Most of the $70 million is covered by insurance, but a little more than $18.1 million remains uninsured, according to the letter.
It also states Utah is seeking to cover that $18.1 million through the Stafford Disaster Relief and Emergency Assistance Act, which is a program that allows states affected to recoup some costs through federal money. The governor issued a state of emergency on March 20 in relation to the earthquake.
"I have determined this incident is of such severity and magnitude that effective recovery is beyond the capabilities of the state and affected local governments," Herbert wrote. "Supplementary federal assistance is needed. I specifically request individual and public assistance and statewide hazard mitigation grants for eligible applicants with Salt Lake and Tooele counties."
The total cost of economic loss was estimated to be $629 million, as calculated by FEMA's Hazus model. More than 100 residents were displaced due to earthquake damage.
The earthquakes also caused more than 8,000 gallons of hydrochloric acid to leak from a damaged Kennecott Utah Copper mining tank in Magna. The Unified Fire Authority and Utah National Guard responded and were able to prevent the chemical from affecting residents, but it ended up dissipating over the Great Salt Lake.
"The Immediate Response Unit continued to monitor the air quality until the risk was eliminated," the letter states.
In all, hundreds of buildings were reviewed for damage; at least two were destroyed, and more than 600 buildings were affected by the quake. The report found that 172 buildings received "major damage." Tooele's police station and other city buildings, and buildings along Main Street in Magna were reported as some of the hardest-hit structures.
The Granite School District suffered losses of over $51 million as a result of building damage, the letter says. Most of the damage cost was tied to West Lake Junior High in West Valley City, which the state reported suffered $45 million in damage. The damage was severe enough that the school may have to be replaced.
Granite School District officials told KSL.com Tuesday that the building is still being evaluated by insurers and the state's risk management officials. They said they have not yet made a determination about the building.
Officials said in April that the school will be moved to a building in Taylorsville for at least the next two years while that happens.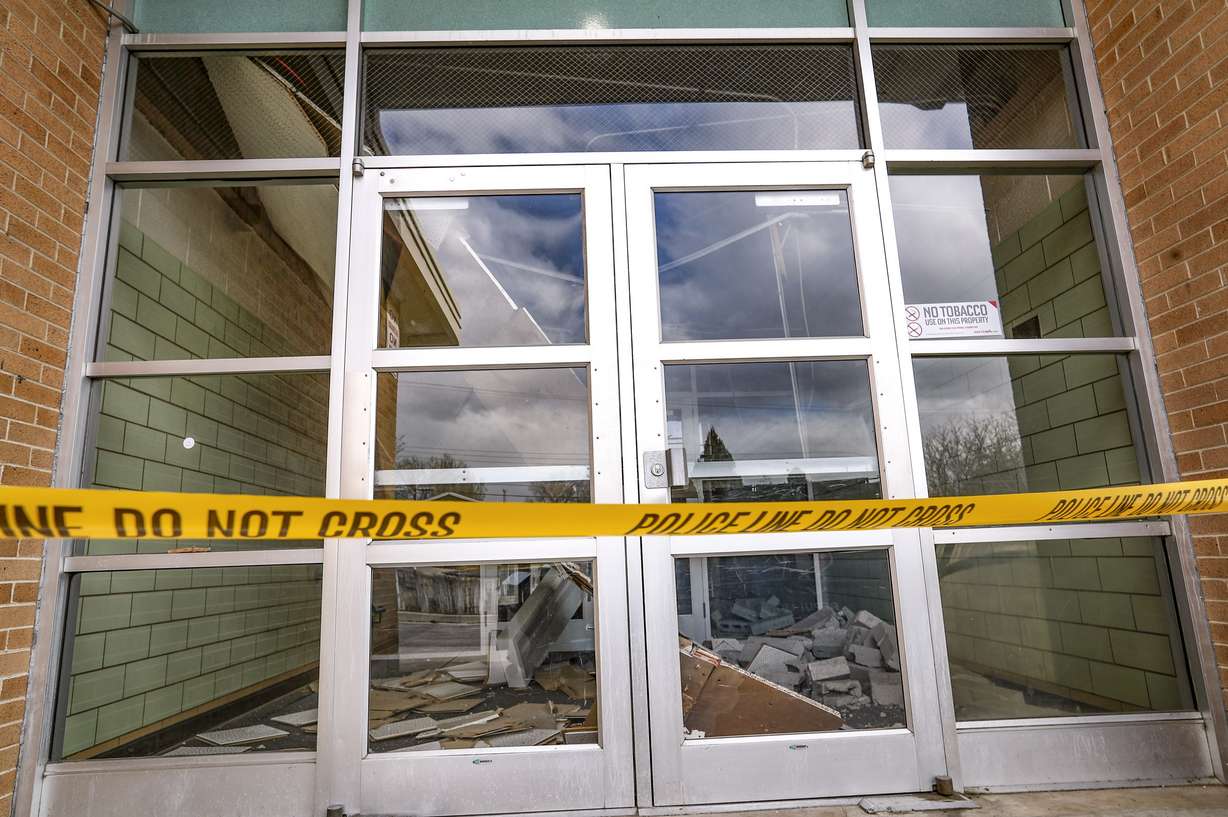 Cyprus High School, also in Magna, suffered more than $3 million in damage. Several other schools across the Wasatch Front also suffered damage, the report to FEMA continues.
Utah Division of State History officials said they recorded damage to nearly 150 historic buildings in Utah — most either near the epicenter or around Salt Lake City. The Utah State Historic Preservation Office found that the Rio Grande Depot (which is home to the state agency), the Jackson Apartments and the CCG Howells building were unsafe. The Rio Grande building has remained closed since the earthquake hit.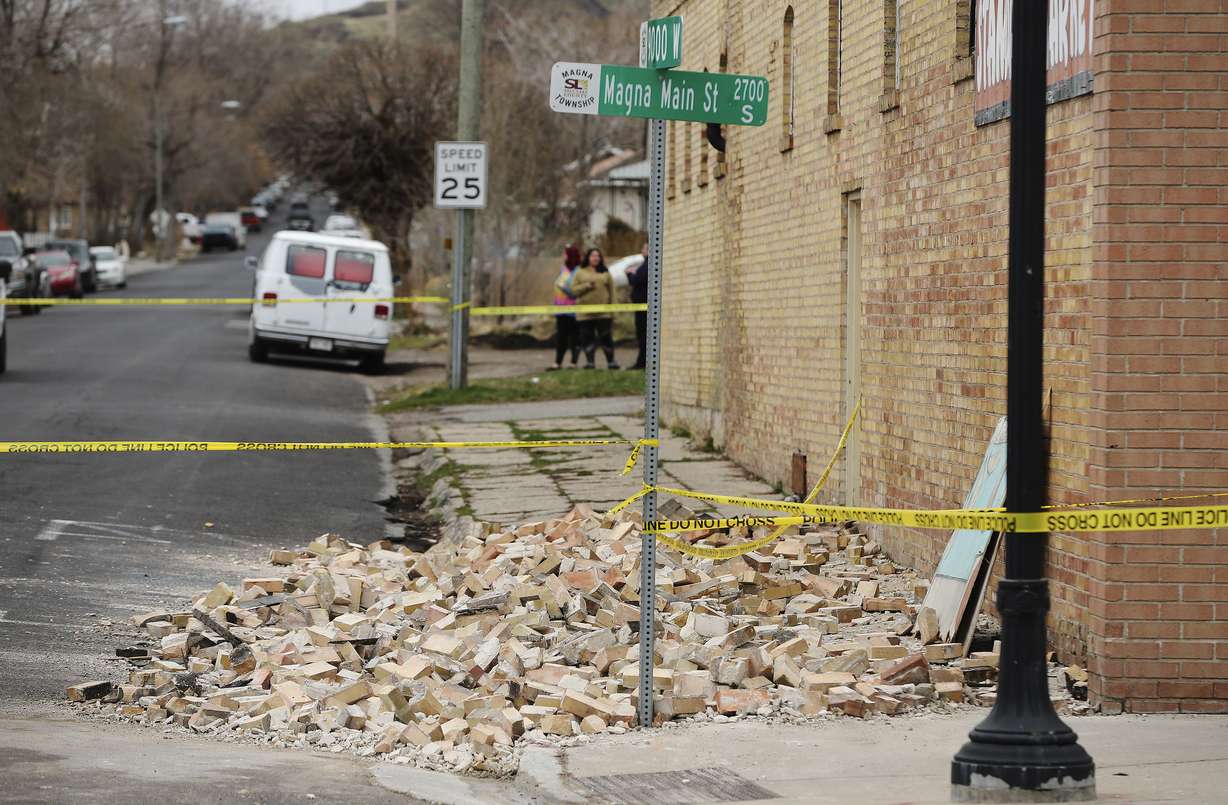 The letter also pointed out that the earthquake caused disruptions for Rocky Mountain Power, Dominion Energy, the Utah Transportation Authority and even caused a water main break that created a brief closure of Salt Lake International Airport. About $2.5 million in damage costs was reported by the Utah Department of Transportation, but that wasn't included in the request, according to the letter.
"We still do not know the full extent of damage from the earthquake and following aftershocks," Herbert acknowledged. "Two months after the initial earthquake, we are still getting new damage reports along with updated damage assessments as engineers and repair crews are able to fully examine the damage."
Thankfully, the state didn't report any casualties and only reported a few injuries related to the 5.7 magnitude earthquake.
"In this case, I think Utah was really fortunate that it did not push our response capabilities to the brink," said Joe Dougherty, spokesperson for Utah Department of Public Safety. "We often look at a worst-case scenario that would be like a magnitude 7, and that would completely overwhelm our state; it would overwhelm our first responders; it would overwhelm our economy, our utilities, everything. It would be a disaster in the truest sense of the word."
A 'massive wakeup call'
In the two months since the 5.7 magnitude earthquake rattled the Wasatch Front, there have been more than 2,000 aftershocks, including six in the 4.0 range or higher and dozens more that were 3.0 or higher, according to the University of Utah Seismograph Stations. None of them have been remotely as strong as the main quake on March 18.
State officials say they believe it has helped them know where they are at in preparing for the "big one." While experts have tried to understand what would be needed in case an earthquake caused a public health crisis, this quake just so happened to occur during a different public health crisis, Dougherty said.
"There have been some things and a lot of great relationships that have been built through the pandemic response, if we continue to have that worst-case scenario earthquake," he said. "I think, overall, we were happy with the response (to the March 18 earthquake) just because we weren't overwhelmed. Firefighters and local authorities could get out and make some damage assessments relatively quickly."
The earthquake may have also helped grab Utahns' attention. While the 5.7 quake still is significantly smaller in scale than the 7.0 earthquake scientists warn about, the March 18 earthquake may have helped Utahns understanding the strength of quakes in general. That experience, in turn, may help them to better prepare.
The Deseret News reported on a study earlier this month that had been conducted by the Scott Rasmussen firm for the newspaper and the University of Utah's Hinckley Institute. It found that 52% of those surveyed had taken steps for the next natural disaster after March 18 the earthquake.
"These earthquakes are a massive wakeup call. … 80% of the state's population lives and works along with the Wasatch Front and that earthquake was felt all over the northern part of the state, so we probably had well over 2 million people finally experience an earthquake," Dougherty added. "It is now in the collective memory of every Utahn at least ages 4 and up, because my 4-year-old still talks about the earthquake, so it has become very real."
Tips to be better prepared for a natural disaster can be found on the state's website.
Correction: An earlier version incorrectly reported West Lake Junior High is in Magna; it is in West Valley City.
×
Most recent Utah stories