This archived news story is available only for your personal, non-commercial use. Information in the story may be outdated or superseded by additional information. Reading or replaying the story in its archived form does not constitute a republication of the story.
SALT LAKE CITY — Utah leaders expect they will soon begin the recovery stage of the state's COVID-19 pandemic response, which means some of Utah's businesses could be reopened for the first time since the coronavirus outbreak resulted in abrupt closures in mid-March.
On Friday, Gov. Gary Herbert released an updated version of "Utah Leads Together: Utah's plan for health and economic recovery," which was developed by the state's Economic Response Task Force. The 24-page document highlights what will happen as the state slowly restarts its economy in the coming weeks.
"I feel really good where we're at. I feel good that we're in harmony with what the White House is doing," Herbert said during a virtual press conference from the Utah Capitol Building on Friday. "I can tell you that the plan we have is, in fact, the most comprehensive plan for reactivation — to slow the spread of the coronavirus — but the reactivation of the economy of any state in America today."
Should Utah's trend of relatively low spread of the illness continue over the next two weeks, it could mean the state will begin to relax restrictions at the end of its directive, which was extended to May 1. In that case, Herbert said there is a possibility of resuming elective surgeries at hospitals, reopening some in-house dining at Utah restaurants, and reopening some Utah gyms by early May.
The plan, he and other Utah leaders explained, is more akin to a light dial than a light switch. That means there will be restrictions in place even as businesses reopen.
"All of this, again, depends on the continued adherence to our 'Stay Safe, Stay Home' directive," Herbert added.
Meanwhile, restrictions on state parks were to be lifted Friday, Herbert said. For the past few weeks, people have been restricted to only visiting state parks that are located in the county where they reside. While that order is lifted, some local jurisdictions have orders that will keep those parks closed to some residents, he said. The governor added the state is working with the National Park Service to possibly open the parks up for Utah residents.
The updated state plan comes after President Donald Trump gave governors a three-phase plan to reopen the national economy. Utah never issued a stay-at-home order but instead enacted a "Stay Safe, Stay Home" directive.
No members of the Utah Department of Health spoke at the state's meeting Friday, marking the first time in weeks the agency didn't have a daily press briefing on a weekday. However, Lt. Gov. Spencer Cox, who oversees the state's coronavirus task force, insisted that Utah's plan was drafted with state health department officials included in meetings.
"Many pages of the document come directly from the Department of Health," he said. "This has been collaborative. ... This is everyone working together. Look, there is health damage with economic damage. There is a loss of life that comes with poverty and that comes with isolationism. There are consequences to our actions. The reason that we did this, from the very beginning, was to buy us time, buy our health care workers' time, buy us time to get testing ramped up, buy us time to get tracing ramped up.
"That's what we've been doing in the state better than any other state out there," he added.
After the press conference, state health officials issued a statement in support of the plan.
"The plan represents a strong collaboration from leaders in both health and economics," it read, in part. "We are fortunate in Utah to have leaders who are focused on both economic recovery and ensuring the health of our state's residents."
Utah's 2.0 plan
The plan released Friday has a color-coded system to reopen businesses. The color codes are red for high risk, orange for moderate risk, yellow for low risk, and green for no risk. The state remains in red, Herbert clarified in a conference call with various government leaders after the press conference ended.
Utah also remains in its "urgent" phase, and the new plan offers a better look at how the state will move to its second stage, "stabilization."
"If we do that correctly, then soon around the corner will be recovery; and I think there's a very good possibility that (if) we'll all do our part — individual responsibility, common sense stuff — that we can get to recovery by the (time) summer is over," Herbert said. "That would be great for us to get back to spending in our economy, hiring people, profitabilities out there for our business entrepreneurs, and we can have just a very healthy fourth quarter of this year. That's the plan. That's the goal."
The business reopenings Herbert hinted at reflect the state possibly reaching orange by the end of April and start of May. Here's what that would mean for business under that scenario:
General employers: Employees should "exercise extreme caution" with employees still working remotely, if possible. Businesses that need on-site work "should monitor workforce for symptoms and well-being."
Restaurants: Takeout and delivery options are preferred. Dine-in services are allowed "with extreme precaution." It urges restaurants to still use "strict guidelines" for social distancing and staff monitoring. Contactless payments are encouraged, as is a safe environment for staff.
Retail businesses: Frequent reminders of social distancing and hygiene are provided to customers and staff. Employees should wear face coverings and employers should monitor employees for symptoms.
Hotels, tourism and accommodations: Take precautions with shared spaces with an increased regimen. Self-service buffets would remain closed and employees should wear face coverings.
Events and entertainment: In-person operation of the industry is allowed "with strict social-distancing requirement and increased cleaning regimen." Protocols should be in place to ensure social distancing is kept.
Personal services: Allowed to operate "under strict hygiene protocols." The provider and customer must wear face coverings and "meticulous monitoring of symptoms" is required.
Home repair, construction and manufacturing: Strict hygiene and reduced group interactions are suggested. Employers should monitor symptoms of staff.
Gyms: Fitness centers and gyms are recommended to be closed. If open, the businesses should follow space and cleaning guidelines.
Daycare: No changes from before. Allowed with enhanced cleaning and social distancing protocols in place. No children who are symptomatic should be at daycare.
Even with the possibility of loosening restrictions, the document states there are four major "rules of conduct" that must be followed. They are:
Common sense and personal responsibility: Residents and businesses are responsible to be informed and use wise judgment to protect health and support economic restabilization.
Hygiene and cleaning: Utahns must continue to practice proactive hygiene and cleaning regimens to minimize risk of spreading COVID-19. That means people should still wash their hands for 20 seconds or use hand sanitizer often, cover coughs and sneezes into a sleeve or elbow, clean high-touch surfaces regularly, avoid touching their faces and refrain from handshaking.
Follow guidance: Obeying any public health guidance, such as the state's color-code system.
High-risk populations:Individuals over 60 and people with underlying health problems, as well as the people around them, must follow specific instructions issued by the Utah Department of Health.
"The virus's level of strength has not diminished. It's not going to," Salt Lake County Mayor Jenny Wilson in another press conference Friday afternoon. "What will put us back on the right path is our lessening of social interactions."
The revised plan factors in consumer confidence in addition to a blueprint to reopen businesses across the state, said Derek Miller, president and CEO of the Salt Lake Chamber and Downtown Alliance and a member of the economic task force.
"It's one thing for a business to be open, but it is something else entirely for a customer to feel comfortable to walk through that business door," he said. "I believe that 'Utah Leads Together 2.0' provides the roadmap for Utahns to see the light at the end of the tunnel, to inspire hope, and to demonstrate an initiative for the public safety and economic renewal that we all seek."
The document also lists five principles for adaptation, which begins by noting that the current situation is not a short-term problem but something Utahns will have to manage until herd immunities or medical advances are discovered. It also points out that COVID-19 is a public confidence crisis in addition to a health and economic issue.
"If we lift public health measures prematurely, we'll destabilize confidence and hurt the economy, so we have to be very data-driven in the work that we do," said Natalie Gochnour, director of the Kem C. Gardner Policy Institute.
The committee's principles also include a reminder that it will take time before the economy is fully activated, and there are tools that can be used to innovate during the pandemic. It concludes by saying that engagement can help lift people's spirits during the pandemic. The members of the committee hope those messages will help the state avoid a return to closures.
Lifting measures on a regional scale
The state plan also factors in various regions of the state, which means some regions, counties and even communities may be placed in different color levels than other areas in the state. One example in the document shows a scenario where the whole state is orange while another shows northwest Utah in orange, northeast Utah in green and southwest Utah in orange. Another example shows red, orange and yellow bubbles around cities while the state is mostly green.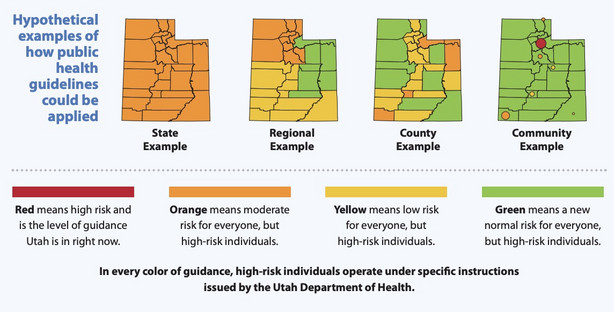 Kristen Cox, executive director of the Governor's Office of Management and Budget, said the state now has data in place to track COVID-19 locally, which allows officials to have more flexibility for the state's regions. The group will continue to look at positive test numbers, testing capacity, utilization of testing, daily hospital admission rates, hospital capacity and point of origin trends to map the different areas.
"We reject the one-size-fits-all mentality that often permeates government. We have a large state with regional differences," Herbert added.
A closer look at damage to the economy
The document released Friday not only showed Utah's game plan for loosening business restrictions, but it also detailed some of the damage done to the state's economy.
Some of that has been documented; for example, more than 100,000 Utahns have filed for unemployment benefits over the past four weeks, according to the Utah Department of Workforce Services. Utah House Speaker Brad Wilson said earlier this week that the state could lose anywhere from $500 million to $800 million because of the crisis.
Data from the document shows which industries and counties have been hardest hit by the pandemic.
In all, 81,244 claims were reported during that stretch between March 16 and April 5. More than one-fifth of those jobless claims came from the state's leisure and hospitality industry, according to the report. Education and health care was the second-hardest hit industry from the first three weeks, reporting 13.6% of claims. The professional and business services (13.5%), retail and wholesale trade (12.2%) and manufacturing (3.9%) rounded out the top five among listed sectors.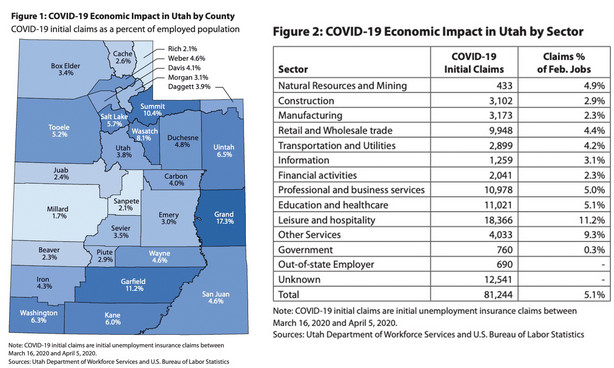 To no surprise, areas of more tourism reported higher unemployment. Grand (17.3%), Garfield (11.2%) and Summit (10.4%) counties combined accounted for more than one-third of the unemployment claims in the state during that three-week stretch. Washington (6.3%) and Kane (6%) rounded out the top five counties in unemployment claims over that three-week period. All five counties are home to national parks or high-profile skiing locations.
"Of course, this data is early and we've got more data to come, Gochnour said. "We expect these numbers to get worse."
Contributing: Lauren Bennett and Jacob Klopfenstein, KSL.com
×
Related Stories