SALT LAKE CITY — Out with ESPN, in with FOX.
That was the tone of the Mountain West Conference's media rights announcement Thursday afternoon, as the league officially proclaimed CBS and FOX as the official first- and second-tier media rights partners of the conference.
The two networks will have the top choices of games during football and men's basketball seasons, though third-tier rights are being negotiated amongst member institutions, as well.
"The new deals will provide the conference with greater exposure and significantly increased revenue, but most importantly strategically position us for the next negotiation," Mountain West commissioner Craig Thompson said on a conference call with reporters. "The completed agreements with CBS and FOX for packages of Mountain West home games will be the centerpiece, but we'll continue to negotiate with potential outlets for an additional tier of games and will be making some decisions regarding those opportunities in the coming months."
What is it?
First, the basics. Have a seat; this may take a minute.
The Mountain West signed a six-year deal with CBS (an extension) and FOX (a new contract) that will guarantee the companies' programming through the 2025-26 athletic seasons.
The deal is worth $270 million combined over six years, or $45 million per year. At 12 football-playing members of the conference, that translates to approximately $3.75 million per school per year, or $4.1 million if football-only Hawaii's shares are removed entirely. But we know that's not the full breakdown.
Mountain West officials declined to comment further on the breakdown amongst each member schools for the new deal, but we know from previous reporting that Boise State receives a larger share of revenue than the rest of the conference. That likely remains true, as part of the negotiations guaranteed the Broncos' home game rights to FOX and all road games to CBS.
However, Thompson did add a wrinkle in that regard: Boise State likely won't receive the same treatment in the conference's next round of media rights-negotiations.
"This will be arguably the last contract we will negotiate Boise State's separately," Thompson said, "but their membership agreement when we named them (to) the Mountain West Conference years ago was predicated on us negotiating their home games separately."
No matter how it is split, the new deal represents an upgrade from the $1.1 million each school was guaranteed under the previous deal with CBS and ESPN.
Hawaii is only guaranteed a maximum of four games collectively on the two networks and still has greater flexibility with its local television deal with Spectrum Oceania, which means the Rainbow Warriors will continue to receive a lesser portion of the contract's overall revenue.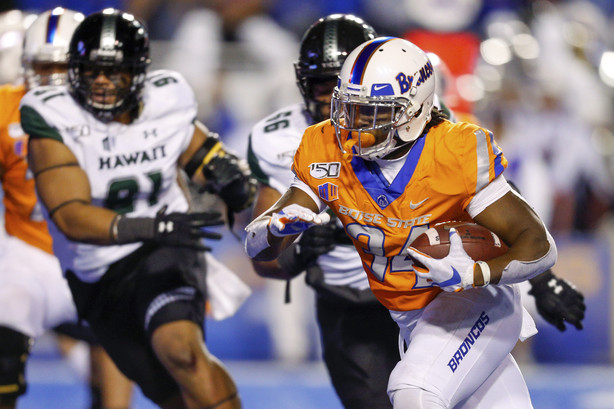 The new deal is also heavily focused on linear television networks, with 23 games annually guaranteed for CBS or CBS Sports Network, and another 16 to 23 regular-season games guaranteed for FOX or FS1 — in addition to the Mountain West football championship, which will now air one of the two networks.
That leaves as many as 10 games available for CBS All Access, Viacom's subscription streaming service, and any games above the minimum-standard 12 that will air on FOX or FS1 for another FOX-owned property, namely, FOX Sports 2.
The Mountain West men's basketball championship game will be broadcast on CBS, with quarterfinals and semifinals on CBS Sports Network, and at least two of 32 contracted regular-season games airing on the two networks.
Keeping that property was important for CBS, which also owns the rights to the NCAA men's basketball tournament, in association with Turner.
"We wanted to maintain and secure our position as the league's primary partner," CBS executive vice president Dan Weinberg said. "That was really, really important to us, to be the league's primary partner, their top partner, showcase the most important, the most impactful games each and every season.
"We're really pleased we were able to make that happen and, as a result, keep the top selections for football and for men's basketball."
FOX's men's basketball allotment will include 16-32 regular-season games, including at least 12 annually on FOX or FS1.
What changes?
Not much, other than ESPN's current involvement with the conference.
CBS, which is reportedly on the brink of losing rights to the Southeastern Conference to ESPN, will still air games at 8 p.m. local time Saturday and 8 p.m. local time a maximum of five Friday nights. FOX's kickoff times remain unchanged, with the network's coverage of the Big Ten, Pac-12, Big 12 and now Mountain West coming between 11 a.m. and 7:45 p.m., local time, on Saturdays and between 5:30 p.m. and 7:45 p.m., local time, on Friday — again with a maximum number of five Friday night kickoffs.
The new deal brings a little more revenue, similar flexibility in timing, and appears to be a stop-gap measure designed to re-investigate the marketplace when similar TV deals with the Pac-12, Big Ten, SEC et al., are up in 2025.
Thompson said the Mountain West "steadfastly" did not entertain discussions of a long-term deal exceeding six years, a subtle nod to the rival Group of Five conference American Athletic, which recently announced a 10-year extension with ESPN worth a reported $7 million per school.
"We weren't going to go eight, nine, 10 years or more just to inflate numbers," Thompson said. "We feel the next five years are going to bring change in the market, perhaps significantly so, from both a technology and distribution perspective."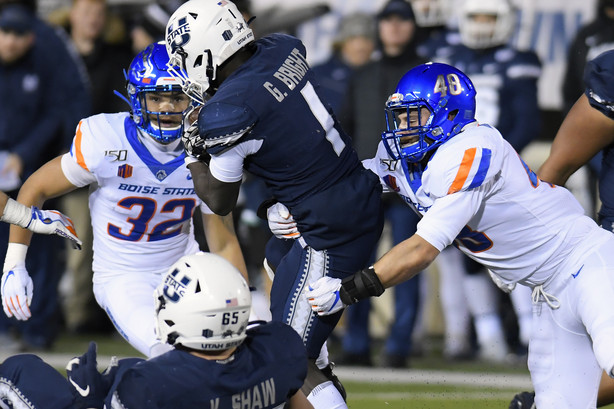 What about late kickoffs, Aggie fans?
The late-night kickoffs are moving up, to an extent, with 8:15 p.m. kickoffs (that often slid to 8:30 p.m.) moving up to 8 p.m. local time for televised games. And with less programming and wider broadcast windows on FOX and CBS than the average College Football Saturday on ESPN, there seems to be an assumption that kickoffs are less likely to slide within their respective windows, as well.
But sorry, Aggie fans; your late-night kicks aren't going away — at least, not when the game is broadcast on television, compared to a non-linear platform like Stadium or Facebook Live.
"It's going to be similar to the current deal," Thompson said. "There are no limitations on the number per institution. We'll work with the partners and with the institution based on the schedule development."
Thompson said the league could also shift to playing basketball games six nights of the week, instead of the current five that includes most conference games being scheduled on a Wednesday to Saturday rotation.
"We might add a night," he said. "But those will be determined as we start to put the schedule together. But it probably will expand into another night of the week."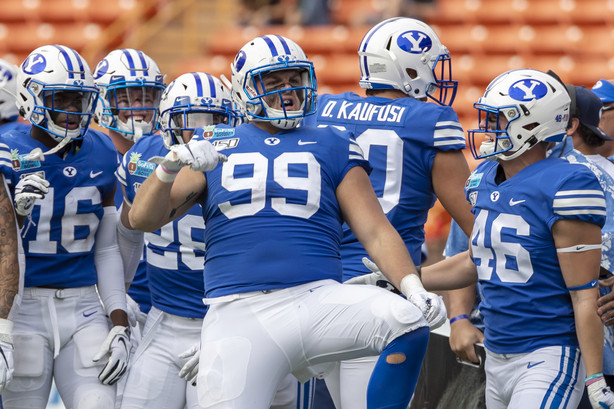 How does this affect BYU?
As a Football Bowl Subdivision independent, BYU football negotiates an exclusive contract, which has been with ESPN since 2012. The Cougars are expected to sign an extension with the "worldwide leader in sports," though no formal announcement has been made by either party.
But a large portion of BYU football's annual schedule comes out of the Mountain West. In 2020, for example, the Cougars will play three games against the league's opponents — Friday, Oct. 2, at home against Utah State; Saturday, Nov. 7, at Boise State; and Saturday, Nov. 14, at home against new head coach Brady Hoke and San Diego State.
FOX or FS1 will have the first rights, therefore, to BYU's road trip to the Treasure Valley in 2020, while the other two remain under the Cougars' broadcast package. That means, for example, that Boise State's home game next year against Florida State could air on the networks' Big Noon kickoff — including a 10 a.m. local start.
Consider the finances, too. The Mountain West's previous deal between CBS and ESPN was renegotiated when Boise State joined the conference, marking a likely upgrade to what each school was making prior to independence. As a private institution, the Cougars' revenue isn't known — but it has long been assumed that BYU was being paid more (by how much has been a variable amount) than the $1.1 million annually each Mountain West team received for football and men's basketball.
Of course, ESPN only handled BYU's football contract; the network also owns some broadcast rights to the West Coast Conference, including BYU, Gonzaga and Saint Mary's, split between the 10-team conference.
Thursday's announcement gives BYU athletic director Tom Holmoe another benchmark bargaining chip in his negotiations with ESPN, and also adds value to the Cougars as a West Coast college football property for its family of networks in the absence of the Mountain West.
×
Related Stories