SALT LAKE CITY — Since The Church of Jesus Christ of Latter-day Saints suspended church services and meetings worldwide due to the coronavirus pandemic., a lot of questions have been asked by members and non-members alike about church protocol.
The church's First Presidency addressed many of those questions Friday.
"We are grateful for the efforts many of you are making to follow the directions carefully from national, state, and local leaders in many countries in response to the COVID-19 pandemic," wrote the First Presidency, which consists of President Russell M. Nelson, President Dallin H. Oaks and President Henry B. Eyring, in a letter dated April 15 and released in the church's newsroom Friday. "The Church of Jesus Christ of Latter-day Saints is also taking appropriate precautions and is providing assistance to those in need.
"Under the present circumstances and under conditions that may exist in the future, the Church and its members will faithfully exhibit our commitment to being good citizens and good neighbors."
Many of these modifications include church meetinghouses and chapels, which have been closed due to the COVID-19 outbreak since March 12. Worthy priesthood holders, when authorized by their bishops, may name and bless children and administer the weekly communion of the sacrament to their families in their homes, or to those in their congregations who may stand in need.
Church leaders acknowledged there are those who may not have a person ordained to the priesthood in their homes who also live in areas with restrictions on group gatherings. Leaders provided guidance for them as well.
"During this time, members can be blessed by studying the sacrament prayers and recommitting to live the covenants members have made and praying for the day they will receive it in person, properly administered by the priesthood," church leaders say.
Church buildings should not be used for weddings, receptions or funerals, where restricted by local government regulations. Bishops and stake presidents may officiate in a wedding where appropriate social distancing standards can be maintained, and technology may assist all church members in attending and presiding over similar meetings.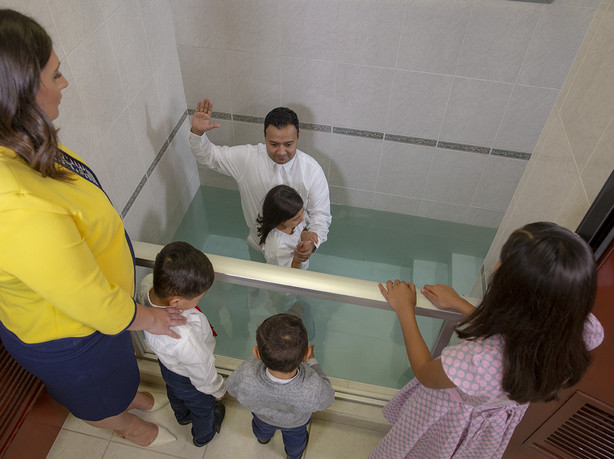 Baptisms may still be performed, but require at least four individuals: the person being baptized, the priesthood holder performing the baptism, and two witnesses. Last fall, the church authorized "any baptized member of the church" to serve as witnesses to a baptism, regardless of gender. Previously only men were allowed to serve as witnesses.
A church leader such as bishop or stake president needs authorize the baptism, and they or someone they appoint need to "observe and record the baptism and confirmation." Where necessary, they can do this via technology.
Meetinghouses will not be open for public events, such as blood drives, but members are encouraged to participate in community blood drives when available and appropriate. Additionally, church parking lots can be utilized by the Red Cross and other groups with portable facilities "if all government orders, regulations and guidelines are followed."
In meetings where appropriate and feasible, technology is a suitable substitute for in-person gatherings, the church said. Examples include leadership meetings, addiction recovery gatherings and self-reliance courses often taught in church meetinghouses.
"Inspired direction over many years has prepared the Lord's Church and its members, both temporally and spiritually, for changing and challenging times," the First Presidency said, before adding, "When we look at the interlocking patterns of these efforts and many others, we can see how the Lord has carefully orchestrated and sequenced us to prepare for challenging times."
×
Related Links