Estimated read time: 8-9 minutes
This archived news story is available only for your personal, non-commercial use. Information in the story may be outdated or superseded by additional information. Reading or replaying the story in its archived form does not constitute a republication of the story.
SALT LAKE CITY — Another 33,000 Utahns filed for unemployment benefits, the Utah Department of Workforce Services reported last week. That's on top of nearly 50,000 who filed for benefits the previous two weeks combined.
While many layoffs are believed to be temporary, 10% of all U.S. workers have lost their jobs over the past three weeks, the Associated Press reported. The complete economic impact of the pandemic is still to be determined, but it'll likely affect states, too.
Utah House Speaker Brad Wilson said the state could lose anywhere from $500 million to $800 million because of the crisis, during an interview with KSL NewsRadio Tuesday. Utah lawmakers will begin a special session Thursday to look specifically at the state budget amid COVID-19 concerns. The special session meetings might go on for as long as 10 days, according to state officials, and will be the first virtual session in the history of the Utah Legislature.
To be clear, the safety and well-being of people matter most during this pandemic, but there's also a reality that no state has been spared from economic issues caused by the COVID-19 pandemic. However, are some states better equipped to deal with it than others?
The answer is yes — and Utah is doing some critical things right to be better prepared for an economic crisis, according to a series of Pew Charitable Trusts reports published last week. The nonprofit agency lauded Utah's budget stress testing and reports that Utah's emergency reserve funds exceed the median of all 50 states.
The organization also circled flexibility in responsiveness and sustainable budgeting among its four key factors for reducing the harm of "fiscal distress." There isn't a comprehensive preparedness analysis of all 50 states based on these four variables, according to Josh Goodman, senior officer of Pew Charitable Trusts' State Fiscal Health project and author of the reports, but he says Utah is certainly on the right track.
"There are certain factors that work in Utah's favor. One is that the state has produced a lot of analysis that's helpful for making decisions," Goodman said in a phone interview with KSL.com Monday. "I mentioned the stress test; the state also does long-term forecasts of its revenue so it can see in what years (they) are coming in above the long-term trend, or below the long-term trend, and that can help inform decisions."
Let's take a look at how COVID-19 can affect state governments and how Utah is doing.
How COVID-19 may affect state budgets
States play a vital role in everyday life, Goodman explained. They oversee education, health care, transportation and public safety in a stronger way than the federal government. Even during the pandemic, state and local governments are generally fueling their own policies.
State economics also plays a big role in the overall economy.
"State and local governments, together, employ around 20 million people (nationwide)," he said. "They spend around $3 trillion a year; so if states struggle, that tends to cause greater economic struggles. That's why keeping an eye on states will be so important in the months ahead — how they're doing financially, what choices they're making to balance their budgets. The decision states could make over the next six months, or a year or two years, could really have long-lasting implications."
With thousands losing jobs and many businesses shuttered during the pandemic, states are expected to see revenue shortfalls because personal income and sales taxes generally play large factors in generating money to function.
For example, personal income taxes have generated $2.5 billion alone during the first eight months of the state's current fiscal year, which was on target for the fiscal year, according to a report from the Utah Governor's Office of Management and Budget. That was from data collected before the economic impact of COVID-19 hit.
---
The decision states could make over the next six months, or a year or two years, could really have long-lasting implications.
–Josh Goodman, senior officer of Pew Charitable Trusts' State Fiscal Health project
---
A hit to the state's job sector could impact Utah's schools because nearly all personal income tax in Utah goes toward public education. Sales tax, on the other hand, goes toward things like Medicaid, other social services and public safety. If people can't buy things, those budgets could be affected, too.
"We don't know exactly how it's going to impact state tax revenue. The ultimate impact is going to vary depending on how long the public health measures are in place," Phil Dean, deputy director for the Governor's Office of Management and Budget, told KSL.com on Tuesday.
"We're tracking that," Dean said. "The reports will come in the coming months, where we see what the ultimate impacts are going to be. … The pandemic kind of got dumped on us all at once, and there were some pretty strong measures taken here, initially, as we work to understand the full scope, and how to respond."
Stress testing
Utah's strengths start with budget stress testing, which is a tool to help governments know how an economic shortfall would affect their state. Dean described these tests as a playbook for when an economic downturn hits. Goodman said Utah is only a handful of states that conduct them on a regular basis.
Pew Charitable Trusts sponsored a 2019 report on Utah's budget stress testing, which was conducted by University of Utah's Kem C. Gardner Policy Institute. It noted that the state budget office has been required, since 2008, to create reports every three years that help project revenue volatility and estimate how much money should be set aside in so-called rainy day funds.
Utah was the first state to begin wide-ranging budget stress tests when it started conducting them in 2015. That, and subsequent tests in 2016 and 2018, evaluated how the state's reserves and other budget plans would hold up should there be a revenue shortfall and a spike in costs in the few years after the test was done.
Related:
Since 2016, Utah has looked into three economic scenarios: an adverse recession, a severely adverse recession, and a period of stagflation, which is caused when high unemployment and inflation are mixed with low or stagnant demand. The state also added in other variables like the costs of pensions, public and higher education and Medicaid enrollment since then — though the study was released before Utah's Medicaid expansion went into effect.
"The state would likely have sufficient reserves and contingencies to manage a moderate and severe recession. In the case of a severe recession, policymakers might be more likely to implement budget cuts and revenue enhancements; by the third year of the period, the cumulative value at risk exceeds the most accessible reserves," the policy institute study concluded.
The state performed another test late last year, which included expanded Medicaid costs, Dean said.
"I think the overall tenor is that the state has permanently set aside reserves for economic downturns," he added. "We have not only the rainy day fund but a number of other budget tools at our disposal to be able to manage downturns."
Other important factors
Pew Charitable Trusts data, updated in March, found that Utah could last about 33.6 days on rainy day funds, which ranks 19th among states. The median state, according to its data, is about 27.9 days.
"That is important to have those rainy day funds built up to deal with these kinds of situations," Goodman said.
Utah's rainy day funds, which are revenue set aside to prepare for economic distress, are another factor in Utah's favor, according to Goodman.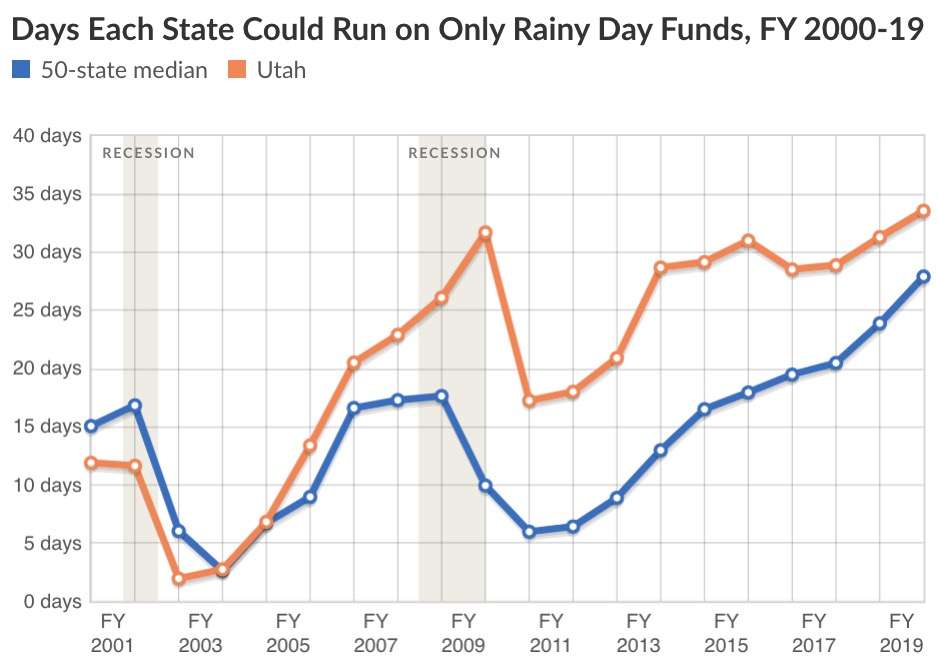 Utah's reserve funds come predominantly from portions of income and sales tax revenue set aside for education emergency funds and general emergency funds. Utah's funds have accumulated since the Great Recession a decade ago and can only be used when the state reaches an operating deficit, Dean explained.
Another strength Goodman points to is Utah's AAA bond rating by the S&P Global, Moody's Investors Service and Fitch credit rating systems, which allows Utah to pay less interest on bonds for public infrastructure projects like highway construction or various state buildings. In other words, Utah has a good reputation with financing industries.
"That's a reflection of underlying fiscal health that when the state borrows money, the credit rating agencies have confidence that that money will be paid back because of the state's fiscal strength," he said.
There may be no ranking comparing how Utah fares next to other states in their financial situations, and it's unclear how severe the economic ramifications from the pandemic will be, but the bottom line is that indicators seem to view Utah as better equipped to survive another economic downturn.
"Our long-term outlook is very strong," Dean said. "Certainly, we're experiencing economic disruptions here. And those are definitely challenging, but we have a lot of long-term economic fundamentals that make me very optimistic about the future. … And now moving forward, we're working on action plans to be able to reactivate the economy. I'm optimistic that even though things may be a little bit different, in terms of how things operate, that we will see economic recovery here."
×