Estimated read time: 5-6 minutes
This archived news story is available only for your personal, non-commercial use. Information in the story may be outdated or superseded by additional information. Reading or replaying the story in its archived form does not constitute a republication of the story.
SALT LAKE CITY — The Beehive State will likely see its peak in the COVID-19 pandemic begin on Friday, according to University of Utah biostatisticians.
That projection falls more than two weeks before the date given by the University of Washington's Institute for Health Metrics and Evaluation, which said Utah would see its peak April 25.
The U. team honed its predictions using data from the pandemic in Italy, which is now seeing its cases plateau, said Fares Qeadan, assistant professor of biostatistics in the U. Division of Public Health.
The group predicts Utah will see 10,000 confirmed cases by the end of August, when the disease will have mostly run its course, Qeadan said.
But the biostatisticians aren't predicting a potential number of deaths for the state, according to Qeadan, as Utah has seen too few deaths so far to make reliable predictions. While the Seattle analysts project a potential 186 deaths, they didn't use geographical lifestyle factors in making the projections.
"Our numbers for death are very low. Utah has one of the lowest rates of smoking in the state, so maybe that's contributing to this. We are a younger population," Qeadan noted.
Like the Seattle analysts' projections, the U. projections are assuming Utah continues following strong social distancing measures like those implemented in Italy after the disease had taken hold.
Utah reported 63 new confirmed COVID-19 cases Tuesday, bringing the total up to 1,738. The state has now tested 34,647 residents for the virus, up 1,253 from Monday, according to the Utah Department of Health.
"We've consistently had a 5% positive rate of all of those people we have tested. We don't really have hard, scientific evidence as to why this is, but we do know that we've brought on more labs, and whether we test 1,200 a day or 3,500 people a day, we still consistently are at a 5% positive rate," said Dr. Angela Dunn, epidemiologist with the Utah Department of Health.
She said the rate continues to be lower than other states, perhaps because of early social distancing measures taken including school closures and in-house dining restrictions. But a drop in cases is still needed, Dunn said, encouraging residents to continue practicing physical distancing measures.
Fewer cases were confirmed Tuesday because of a weekend lag in receiving negative results, and because demand for testing tends to decrease over the weekend, according to Dunn.
Just under 150 people have required hospitalization since the pandemic hit Utah. When asked how many people are hospitalized with COVID-19 in the state at any given time, and how long the average stay is, Dunn said the state health department does not have that data.
"We are working with our hospital partners to understand who's currently hospitalized for COVID-19, and so we're hoping in the coming days, if not this week, next week, we'll actually be able to understand who is actually hospitalized with COVID-19," Dunn said.
Thirty-one of those who have been hospitalized are between the ages of 25 and 44, according to Utah Health Department statistics. The highest rate of hospitalization has occurred in those ages 45-64, at 63 patients. Meanwhile, 45 people over age 65 required hospitalization for the disease.
Utah has shown a slightly higher rate of males with the disease than females, Dunn said, but not enough to yet draw conclusions.
Scientists throughout the world have been pushing for the availability of antibody testing to help them better track the disease spread. The testing is different than the typical swab test done for the virus, and seeks exposure in asymptomatic carriers. It's already being done in one small Colorado county, the Atlantic reported.
Testing done through serology, or blood draw, to see who has been exposed and has antibodies to COVID-19 is also being prepared by the Centers for Disease Control and Prevention and, on the local level, ARUP Laboratories, Dunn confirmed.
"So we are hopeful that within the coming weeks we will potentially be able to use this test to determine who in our population has been exposed to COVID-19 and who potentially has the immunity to it," Dunn said.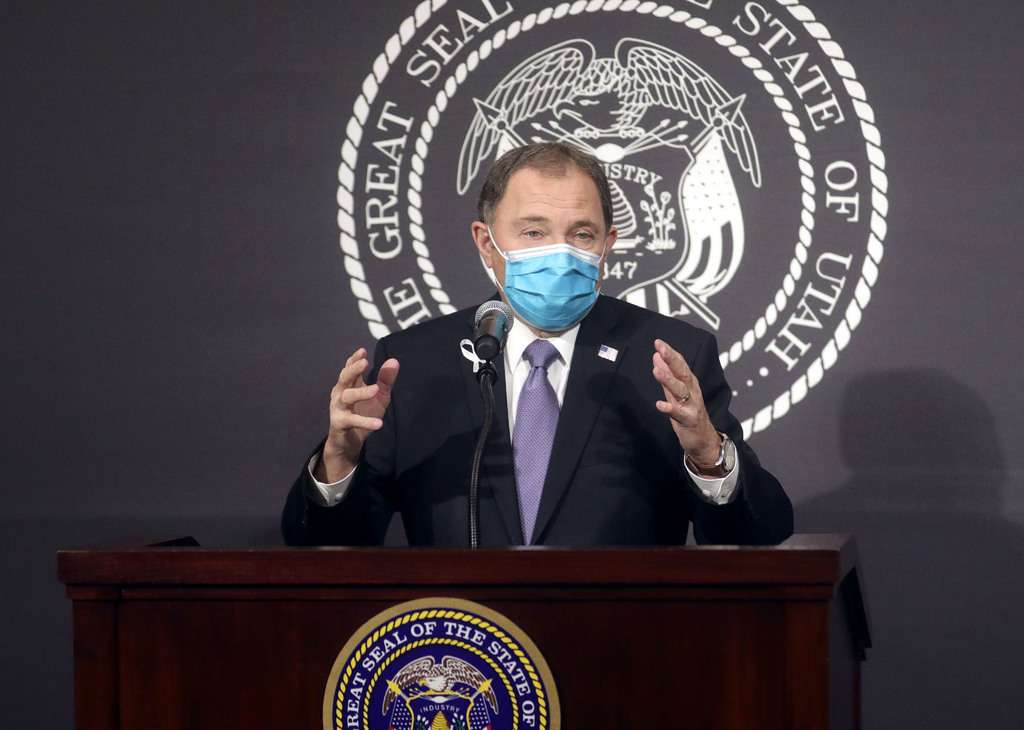 Gov. Gary Herbert appeared for a daily media briefing in a face mask, encouraging other Utahns to do the same "to help protect them from the spreading and the catching of the coronavirus."
When asked what percentage of Utahns officials want to test for COVID-19, Herbert said "we'd like to test everybody. We don't have the capability of testing everybody."
"We would like to test to make sure that there's no backlog of people waiting that have symptoms," Herbert said, adding that all who have symptoms can get tested and there isn't currently a backlog.
The laboratory, however, can't keep up with the tests that are being given. Utah has the capacity now to give 3,000 to 4,000 tests, but officials still want to increase that number to 7,000 a day, Herbert said.
Local hospitals are concerned about a swab shortage, but Dunn said the state is working to bring more swabs to the state.
No new deaths were reported, leaving the tally at 13.
The latest breakdown of Utah COVID-19 cases by health district:
Salt Lake County, 807; 73 hospitalized
Summit County, 265; 21 hospitalized
Utah County, 236; 15 hospitalized
Davis County, 158; 12 hospitalized
Wasatch County, 80; 4 hospitalized
Weber-Morgan, 75; 6 hospitalized
Southwest Utah, 42; 7 hospitalized
Bear River, 37; 6 hospitalized
Tooele County, 23; 2 hospitalized
San Juan County, 5; 2 hospitalized
Central Utah, 4
Southeast Utah, 3
TriCounty (Uinta Basin), 3
×
Related Stories