SOUTH JORDAN — Brent Cheney always wanted to build a racing simulator. After pricing seats and frames on the market, he figured it would be better to just bring a car in the house.
He started looking at possible cars. He needed something cheap and sporty that he could cut up, move to the basement and reassemble with the cuts hidden.
The answer was a MINI Cooper.
In February 2019, Cheney found a 2005 MINI Cooper S on KSL Classifieds for $2,000. Because it had a motor knock without a diagnosis, the buyer accepted Cheney's $1,000 offer.
Cheney trailered it home and put his own ad on KSL Classifieds selling the drive train and any other parts a car in a basement doesn't need. A guy paid $1,000 and spent two days in Cheney's garage pulling the engine, transmission, computers, climate control, and gas tank. Cheney provided him a few sodas and water and was now even on his investment.
Cheney pulled out the interior, carefully labeling and bagging the parts that would end up back in the MINI. He researched how to cut a car smoothly and found his solution in a YouTube video featuring a special Sawzall blade cutting through a trailer hitch ball.
Then he cut.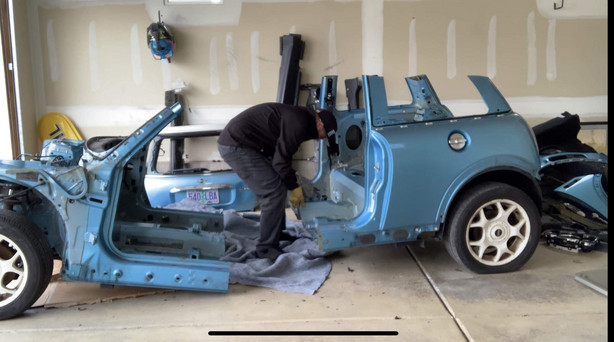 Cheney hid every incision along seams, under trim or behind the bumper. The pieces had to be small enough to get down the stairs and around the corner to his basement. He said the biggest pieces were the roof and hood. Cheney cut the chassis into seven pieces that he and friends carried downstairs like a couch.
On a wood platform, Cheney "stitched" the car back together in the basement without welding. He used metal brace plates, nuts and bolts, and sheet metal screws, estimating there are 200 metal brackets holding it together with no flexing, even when he moves it with a floor jack.
Cheney ordered up and installed the electronics before he re-installed the interior. The car has six surround-sound home theatre Harmon Kardon speakers plus a subwoofer in the trunk. All wires run under the carpet, integrated into the car.
Cheney also put in wireless phone chargers and lighting. For the windshield, there's a 49-inch Samsung gaming monitor, which Cheney said was a perfect fit, including the curve of the windshield opening.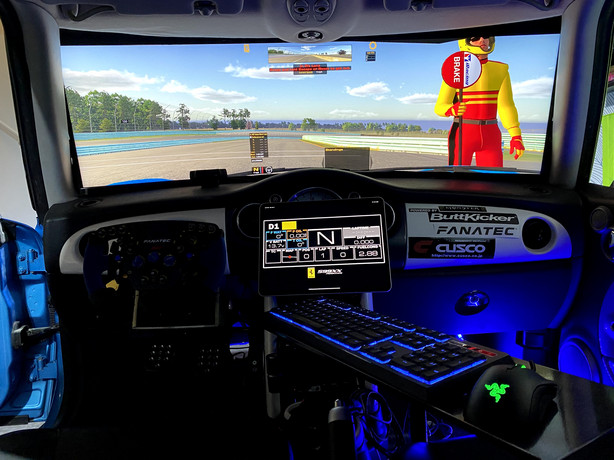 Under the hood there's a dedicated gaming PC Cheney put together himself. He bought all of the simulation hardware from Fanatec: It has a direct-drive steering column, meaning there are no gears and pulleys and it gives good feedback. He made a mount so the wheel bolts into the stock column spot — same with the pedals; they're in the same place as the old real ones. There are bass shakers in the seats for extra bum-shaking feedback.
Cheney spends most of his time playing iRacing, an online subscription-based racing software. With COVID-19 putting physical races on hiatus, real F1 and NASCAR drivers are on it, too. The game is quite serious, so when neighbor kids want to drive in the basement Cheney lets them play Forza Horizon instead.
Cheney's racing career started far from a basement on real tracks. He has raced in several classes at the former Miller Motorsports Park, including motorcycles. He bought his 45th real car in early March. The simulator is cheaper, though, and is weather- and pandemic-proof.
Brent Cheney is kind of a renaissance man of cars, tech and art. You can check out more at brentcheney.com.
More Cool Cars:
---
×
Photos
Related Stories