Editor's note: This is part of a series at KSL.com featuring some of Utah's coolest cars. If you own a customized vehicle — from sports cars to semitrucks — email jormond@ksl.com with a photo of the vehicle and a brief description for consideration.
KAYSVILLE — For 25 years, Robert Palmer was on top of his game working in sales. But the stress of his job brought on alcoholism. He checked himself into rehab. When he got out, he moved into one of his father's houses in Kaysville and traded his Harley-Davidson for a 1932 Ford that had a quick rat rod (a hot rod cobbled together from parts from other cars, industrial pieces, household appliances, whatever) build.
The trade marked a new beginning for Palmer.
Before he'd put 100 miles on it, the car's transmission blew up. Palmer spent all winter working on the car, giving it a custom look that was part rat rod, part art. He replaced the transmission and was on his way home from showing it at his first car show — where he won first place — when the engine blew.
Palmer chucked the bored-out 454 engine, replacing it with a 502 from his boat. He blew another transmission, which he had rebuilt. When he upgraded to a Weiand 8-71 Supercharger he knew he'd be shredding more gears soon, so he had Jeff Parish, of Centerville, build a gearbox that could handle the extra torque.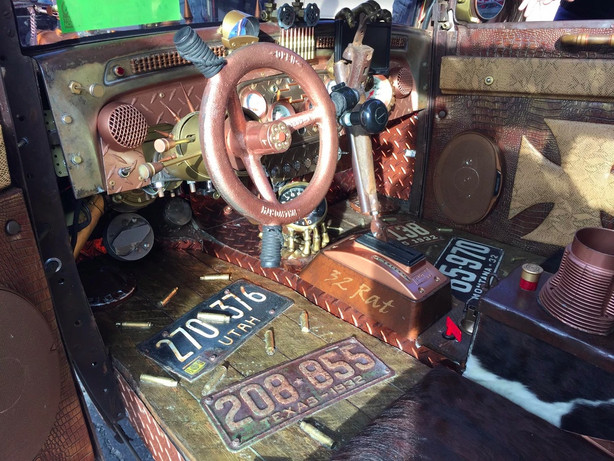 There are hundreds of powerful cars in Utah, but not one that looks like Palmer's. His exhaust pipes go straight up (they used to shoot flames) and it has a copper look reminiscent of steampunk style.
The other part of Palmer's life that changed was his career. He now works as a metal artist, doing commission work, selling at art shows, and enhancing his rod:
He added "about" 35 skulls of varying sizes, 335 bullets, and a 4,000-watt stereo.
He built his own floor overlay out of stressed, stained pallet wood, whipping it with a chain to get the look he wanted then protecting it with pickup-bed coating.
He accented it with 1932 license plates from various states.
Much of his art entails repurposing what others consider junk, and that's all over the car:
He made his own door panels, covering them with cowhide, and built a wood top that props open. You can also find crocodile and snakeskin in the interior. He had aluminum bomber seats custom altered to fit him, covered with cowhide.
He inlayed the dash with diamond plate and put in lit-up safety toggle switches.
He converted an old gas valve into the steering wheel. He said he cut the steering column in half, putting in electric power steering from a Prius.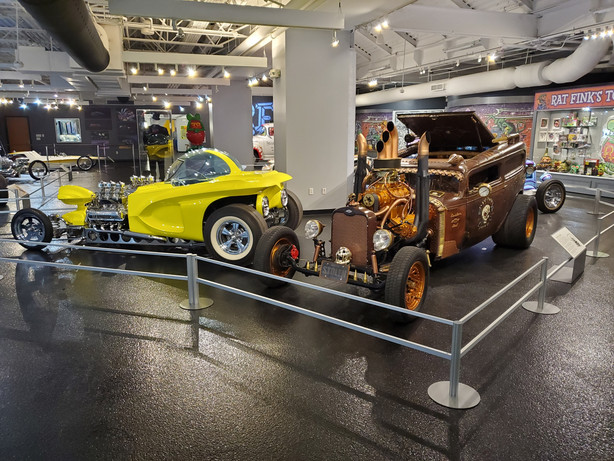 The list of mechanical tricks and cosmetic treats goes on, funded by creativity more than cash: The armrests are covered rain covers, reused gauges are all over, and he estimates 3,000 LED lights on it. If you get a chance to see it in person, give yourself some extra time to take in all the details.
The bummer is, you won't be able to see it in Utah for at least a year. The car was selected for a stint at the National Corvette Museum, where it sits now alongside Ed Roth's show cars.
But it's not pretty enough to be a show car. It's too pretty to be a rat rod. It's not a retro-rod; it's an art rod.
"Art rod" is a term I just made up. Let us know in the comments if you think it fits.
More Cool Cars:
---
Main image: Rob Palmer's 1932 Ford is featured in the Salt Lake City-based "kustom kulture" magazine Deville. (Photo: Kody Valera, KV Imagery)
---
×
Photos
Related Stories