SALT LAKE CITY — The Pandemic is officially over ... well, the board game's run in this bracket is at least. We're still social distancing and working from home in real life, but I digress.
The Sweet 16 round of the bracket challenge saw some early favorites like Pandemic and Exploding Kittens fall — again to the classics. At this rate, the bracket should just be titled: What is your favorite classic board game?
Codenames enters the Elite 8 round as the perceived favorite after dismantling its opponent, Sheriff of Nottingham, with 80% of the vote — the most of the Sweet 16 round by a large margin; however, Ticket to Ride, another seemingly favorite, managed 71% of the vote over Connect Four — can't say I'm all that upset, personally.
The closest matchup of the Sweet 16 round was between Risk and Yahtzee. The all-dice game had some early steam as it blew past Agricola and Betrayal at House on the Hill, but it met a worthy opponent in Risk. The world domination game edged past Yahtzee with 51% of the vote to advance to the next round.
In celebration, I taught my 11- and 8-year-old the game, and it ended with me getting elbowed in the nose when my son celebrated a victory in one of the battles — I guess that's better than someone flipping the board off the table and ruining the game. As a side note, I still won the game, even though my son won the real-life battle with my face. We'll call it a draw.
As a reminder, the 64 games were seeded based on its ranking on boardgamegeek.com and slated into the bracket in a similar style to the NCAA Tournament. To see how the games were selected, read the first article of the challenge.
The Elite 8 round of voting will go all through Friday and will conclude at midnight. The Final Four round will be released Monday and the championship round on Wednesday.
---
If you can't see the poll, click here.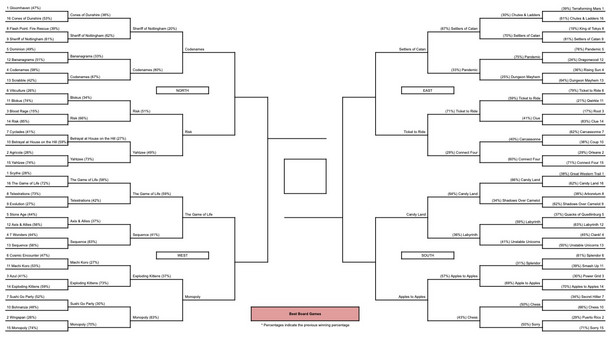 Board games
To learn more about each game, click on its title, which will direct you to its Board Game Geek page. Maybe you'll find a new game to play.
×
Related Stories