SALT LAKE CITY — The board game bracket challenge continues, though a lot of the modern games have been tossed out of contention. So if you're a fan of the classics, you're in luck!
The biggest winner from last week's Round of 32 voting was none other than ... Pandemic! No, not COVID-19, though it's certainly keeping everyone home, but the board game released in 2008 that pretends (maybe a little too accurately) several diseases have broken out all over the world. The game claimed 75% of the vote over Dungeon Mayhem.
The two other big winners were Yahtzee, the old-time dice classic, and card game Exploding Kittens. Each game garnered 73% of the vote against its competitor. But the closest matchup of the day was between Chess and Sorry. In the end, Chess edged out Sorry with 11 more votes — very close!
As a reminder, the 64 games were seeded based on its ranking on boardgamegeek.com and slated into the bracket in a similar style to the NCAA Tournament.
The Sweet 16 round of voting will go all through Wednesday and will conclude at midnight. The Elite 8 round will be released Friday.
---
If you can't see the poll, click here.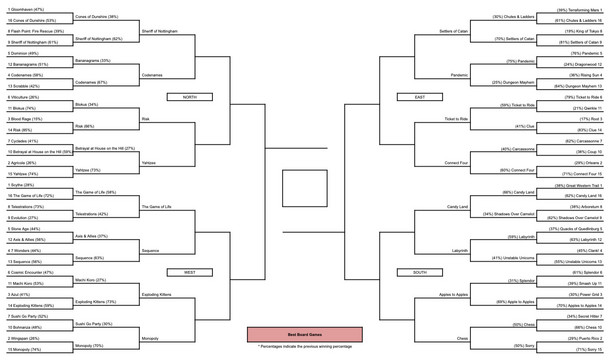 Board games
To learn more about each game, click on its title, which will direct you to its Board Game Geek page. Maybe you'll find a new game to play.
×