Estimated read time: 7-8 minutes
This archived news story is available only for your personal, non-commercial use. Information in the story may be outdated or superseded by additional information. Reading or replaying the story in its archived form does not constitute a republication of the story.
SALT LAKE CITY — If you suffer from chronic stomach or digestive upset, you're not alone. Approximately 10-15% of adults in the U.S. suffer from irritable bowel syndrome (IBS) symptoms, according to the American College of Gastroenterology.
When you are suffering from digestive upset — whether that be excess bloating, gas, abdominal distension, constipation and/or diarrhea — your quality of life can suffer. Having to worry about leaving the house for fear you won't be close to a restroom, as well as the pain, discomfort and constant anxiety around what you're eating can take its toll.
Depending on the underlying cause of your digestive symptoms, specifically if you suffer from IBS, the low FODMAP diet has been found to drastically reduce or eliminate digestive symptoms in many cases. Here are some tips from dietitians who specialize in IBS to help you determine if the low FODMAP diet is the right fit for you.
What is the low FODMAP diet?
The low FODMAP diet was created by researchers at Monash University in Australia. FODMAPs are groups of certain carbohydrates that are easily fermentable in our gut and cause gas, resulting in digestive upset in some people.
FODMAP is an acronym that stands for Fermentable Oligosaccharides, Disaccharides, Monosaccharides And Polyols. The aim of the low FODMAP diet is to reduce those gas-producing foods in your diet and identify your specific triggers of gastrointestinal upset.
How do I know if I could be helped by following a low FODMAP diet?
Registered dietitian nutritionist and IBS specialist Marissa Mekelberg says it's smart to get checked out by a doctor before starting a low FODMAP diet.
"Since symptoms such as diarrhea, constipation, bloating/gas and abdominal pain can occur in many conditions, it is important that a person has visited with a physician to have other conditions such as inflammatory bowel disease (Crohn's disease or ulcerative colitis), celiac disease and cancer ruled out," Mekelberg said. "Once IBS has been diagnosed, the low FODMAP diet is a good first step to finding symptom relief. Many studies on the low FODMAP diet have shown significant improvement in symptoms with one study showing 76% of participants experiencing improvement."
Dietitian Nina Mills adds other conditions that have similar symptoms of IBS include pelvic floor disorders, endometriosis and eating disorders.
"Unfortunately, IBS really is a diagnosis that comes about after a process of elimination of more concerning conditions," she said.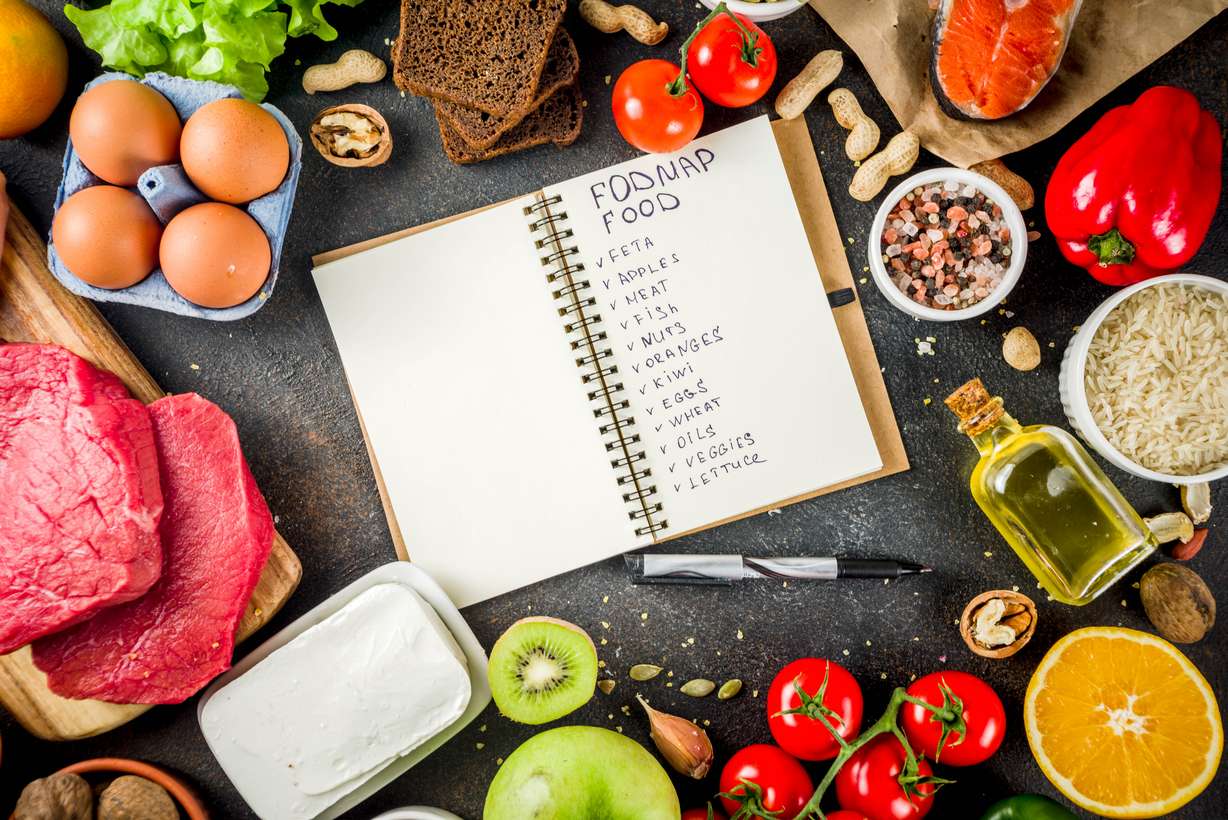 Are there other conditions that might benefit from following a low FODMAP diet?
Besides helping relieve symptoms of IBS, a low FODMAP diet may help reduce symptoms for other conditions. Registered dietitian nutritionist Tara Rochford said a recent study in the Journal Gastroenterology suggests a low FODMAP diet may help with symptom management for individuals with inflammatory bowel disease (IBD), including Crohn's disease and ulcerative colitis.
"This was a small study, so more research is needed in this area; but I think it's promising to see that this eating pattern may increase other individuals' quality of life," Rochford said.
Mekelberg adds that a low FODMAP diet may also be useful for small intestinal bacterial overgrowth, or SIBO.
"SIBO can be an underlying root cause for IBS symptoms and can benefit from a low FODMAP diet — primarily for symptom relief and not for getting rid of or addressing the overgrowth itself," she said.
In addition, Mills says there's emerging research suggesting the low FODMAP diet might also help relieve or reduce gastrointestinal symptoms that come with endometriosis and infantile colic.
However, the literature is still young in relation to the low FODMAP diet and other medical conditions, so more research is needed to prove whether the low FODMAP diet really is effective for these conditions.
Who should not follow a low FODMAP diet?
Registered dietitian Samina Qureshi wants to remind people that there are many other factors that impact our digestion and can cause digestive upset.
"These include consistent and adequate nourishment, stress, disordered eating, hydration status, lack of sleep, inactivity and eating too much or too little fiber," she said. "The Low FODMAP diet is a temporary elimination diet that helps determine which FODMAPs trigger your digestive symptoms."
Mills adds that spicy foods, rich foods, alcohol, carbonated drinks, stress, skipping meals and eating too quickly are just a few of the well-known triggers for stomach upset and digestive issues.
"You may find you can get some relief from addressing these first and save having to put yourself on a restrictive diet," she said.
If you do not have IBS but are experiencing digestive upset, Qureshi recommends seeking out a registered dietitian to help you navigate your diet and lifestyle habits to help you feel your best.
Tips for following the low FODMAP diet
Qureshi says it's important to find a registered dietitian who can help you, step by step, with the elimination and reintroduction phases of the diet.
"The elimination phase of the low FODMAP diet is meant to be followed for about two weeks, and then you move forward with the reintroduction phases to assess your specific tolerability to foods with varying levels of FODMAPs," she said.
Due to the restrictive nature of the diet, it may be difficult to meet nutritional needs so Qureshi says it's important to seek help from someone who can help you eat a varied and balanced diet while helping ease your digestive symptoms related to IBS.
In addition, registered dietitian Bri Bell recommends downloading and using the FODMAP app created by Monash University to refer to when you are meal planning, grocery shopping or eating out.
Mekelberg suggests focusing on mindset and on what you can have versus what you can't have.
"Keep in mind that this is not a long-term diet. The elimination part of the diet occurs for a short period of time, and then foods are reintroduced," she said.
When it comes to restaurants and eating out, Mekelberg suggests looking up restaurant menus ahead of time to get an idea of what meals could work.
"If there are meals that could work but need a few changes, call the restaurant to see if modifications might be possible," she said. "In general, grilled animal proteins are low FODMAP, as are plain potatoes and sweet potatoes. So, a simple meal for eating out could be a steak and sweet potato or grilled chicken and baked potato. Avoid combo foods like pizza or pasta dishes."
"Don't be embarrassed to bring a low FODMAP 'cheat sheet' with you when eating out to help choose a FODMAP friendly meal," she added.
What if my symptoms don't get better with a low FODMAP diet?
Mekelberg says the first thing to do if you are not experiencing relief in symptoms after trialing the low FODMAP diet is to have your dietitian review your food logs with you.
"It may be that your FODMAP "load" is too high. There are certain foods that need to be eaten in a specific amount, or servings size, in order to remain low FODMAP, and if they are being combined with other foods of this type it creates a 'loading or stacking' effect and can create issues," she said.
If you don't find symptom relief right away, don't give up, she added.
"It is SO important to remember that not everyone will experience relief on a low FODMAP diet. You need to understand that there are many underlying root causes for IBS symptoms, and food intolerance may not be one of them."
Mekelberg went on to include other possible reasons for IBS-related symptoms, such as food sensitivity (different from food intolerance), SIBO, or even post-infectious IBS, which can occur after a bout of gastroenteritis or "stomach flu."
She suggests working with a practitioner that is knowledgeable in these other underlying causes to help you find the root cause.
Last things to remember
The low FODMAP diet is temporary.
Bell suggests working with a professional to reintroduce foods and discover what works best for your body.
Registered dietitian Kathleen Tabb adds, "It will seem difficult in the beginning, but as you eliminate the high FODMAP foods and begin to see an improvement in your symptoms, it will all be worth it!"
---
---
Editor's Note: Anything in this article is for informational purposes only. The content is not intended, nor should it be interpreted, to be a substitute for professional medical advice, diagnosis, or treatment. Always seek the advice of your physician or other qualified health provider with any questions you may have regarding a medical condition; Any opinions, statements, services, offers, or other information or content expressed or made available are those of the respective author(s) or distributor(s) and not of KSL. KSL does not endorse nor is it responsible for the accuracy or reliability of any opinion, information, or statement made in this article. KSL expressly disclaims all liability in respect to actions taken or not taken based on the content of this article.
#bio_disclaimer
×
Related stories
Most recent Lifestyle stories