Estimated read time: 5-6 minutes
This archived news story is available only for your personal, non-commercial use. Information in the story may be outdated or superseded by additional information. Reading or replaying the story in its archived form does not constitute a republication of the story.
WEST VALLEY CITY — The unease West Valley officer Jeremy Dean felt when a car abruptly stopped in rush hour traffic in front of him Tuesday morning transformed to fear when he heard what the driver was yelling.
Dean was traveling west on 3100 South near Bangerter Highway about 8 a.m. when the car in front of him stopped in the middle of the busy road and the driver hopped out waving his hands.
"You usually don't see a car stop in the middle of traffic and somebody jump out of the car," Dean said. "So (I was) just a little on edge to see what was going on. ... There were a lot of cars (on) the street."
His wife, the driver shouted as Dean approached, was having a baby.
"Once he said that, it was a completely different mindset," the officer said.
When asked what he was thinking to himself as he pulled on gloves and retrieved a blanket from his patrol car, Dean released a huge exhale — "Oh, boy."
It did not take a medical degree for Dean to determine there was no way this mom was going to make it to Jordan Valley Medical Center West, just a mile away. His lieutenant was listening on the radio.
"Will you start medical, we've got a lady in labor at 31 and Bangerter?" Lt. Bill Merritt said in an exceedingly calm voice, mimicking the tone he said he heard from Dean over the radio and eliciting laughter during a news conference. "About three minutes later, 'Let fire know, the baby has been born.'"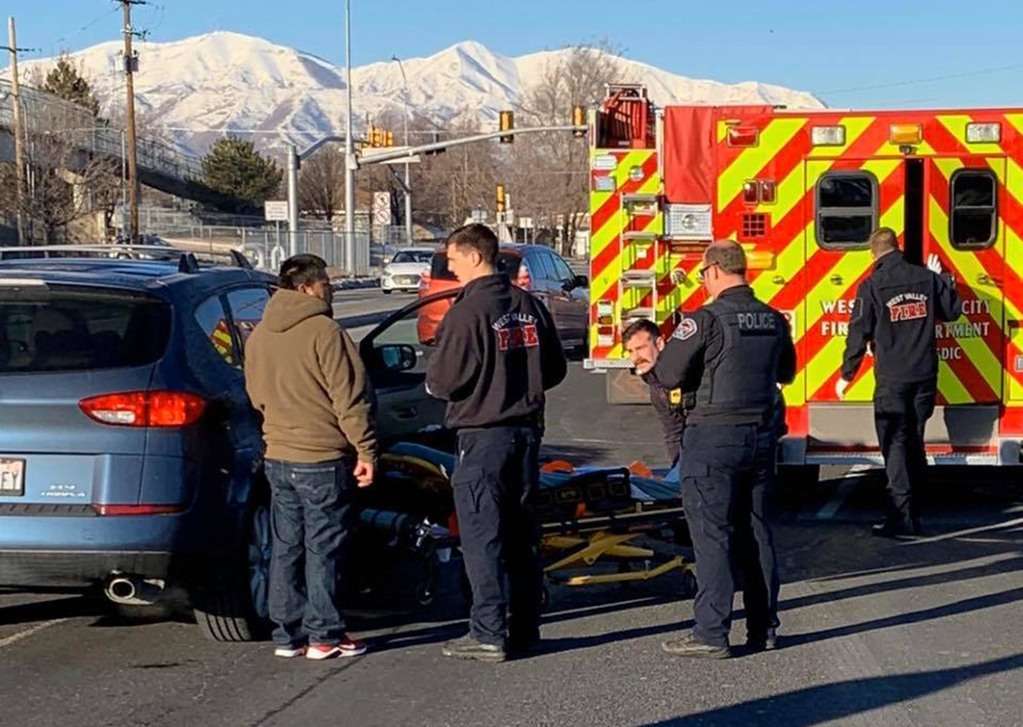 If Dean sounded calm, he admits he was absolutely not.
"I went up (to the car), baby was coming, so I quickly got some gloves on and she said she was going, and baby came out," he said, speaking at the city's public safety building. "I just tried to keep the baby from going anywhere and tried to keep it warm."
Using a blanket donated to the department by a church group, Dean tried to make the mother more comfortable, and he used the blankets in the family's car to wrap around the newborn infant.
"I just tried to keep mom and baby warm because I didn't have anything to cut the umbilical cord or anything like that," he said, admitting he had no idea about what was going on around him. "So it was just trying to keep them comfortable."
He and the new mother talked, mostly about how she was feeling as they waited just a couple of minutes for an ambulance.
"I made sure that she wasn't bleeding extensively," he said. "So just made sure that she wasn't going to have any complications and just trying to keep her comfortable as I could."
Hearing that first wail from the tiny little girl was a relief — and later a joy.
"That's so awesome, that first little, cute little cry," he said. "You feel like it's going to be OK."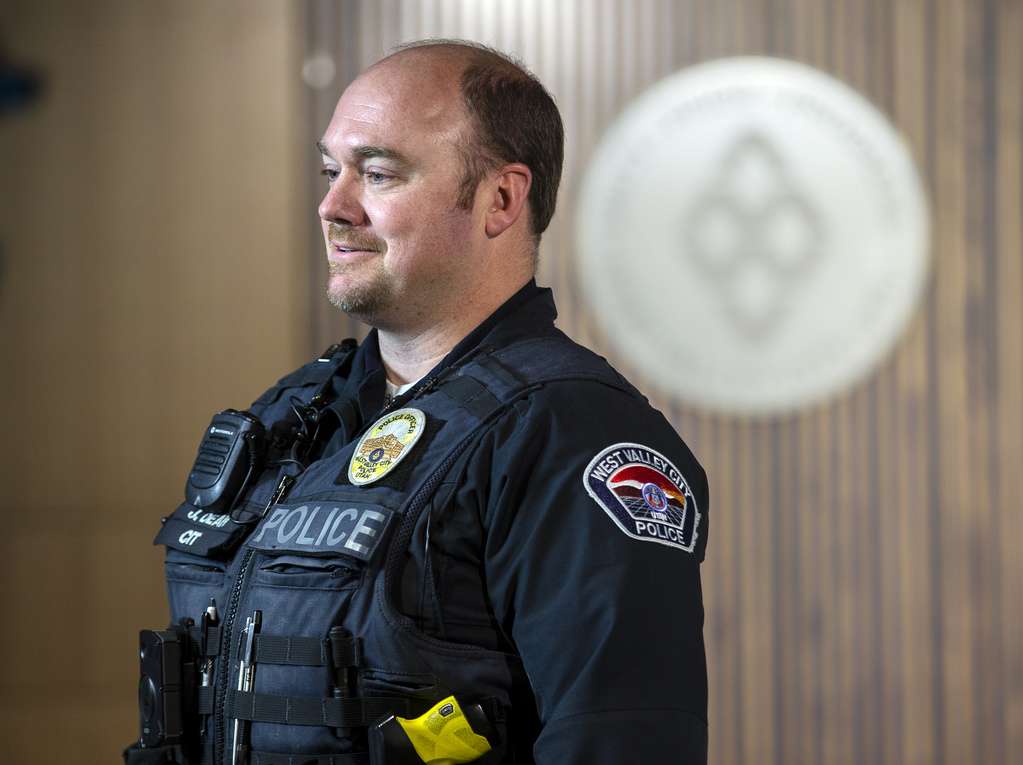 Dean had worked for several years as an emergency medical technician before deciding police work was what he wanted to do with his life, but he shrugged at the idea that it made him any more equipped than other officers.
"Yeah, I had prior experience, but not in delivering babies," he said smiling. "Mostly just in repairing injuries."
Merritt said officers don't receive labor and delivery training.
"In 18 years on the job, I've heard of it twice," Merritt said of officers stepping in to deliver babies. "And medics got there in time in the other case. This one was a first for me, and the way he handled it, as calm as he was ... what I heard on the radio was very impressive."
Ironically, Dean took a pretty hands-off approach when each of his own four children were born.
"I've been there," Dean said smiling, "and I've watched doctors and nurses do it, but kudos to them because that was, that was scary."
The first call he made after medical personnel took mother and child to the hospital was to his wife.
"She was pretty impressed because when it was her, I just basically stepped out of the way," he said. "So she was pretty impressed that I was able to help out."
In fact, Dean was so focused on taking care of mom and baby that he doesn't remember even talking with dad after that first cry for help.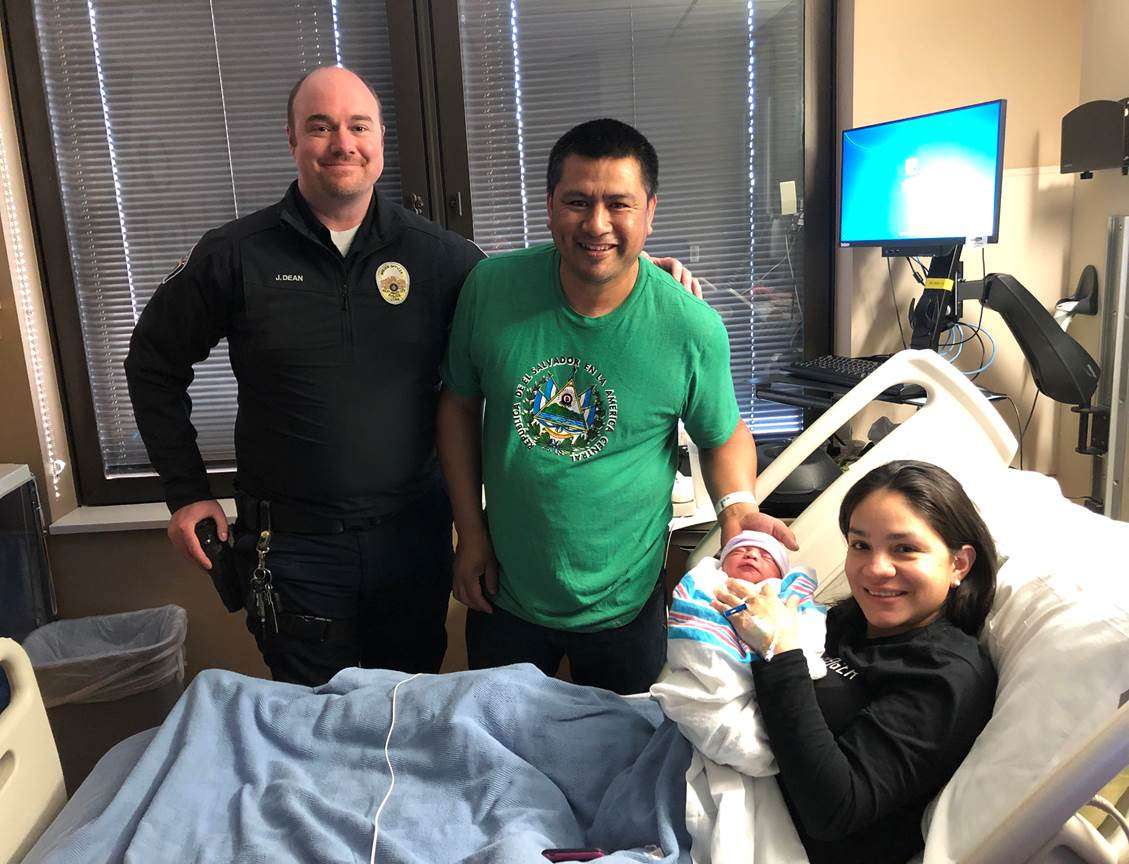 "I have no idea," he said when asked what the baby's father was doing as Dean helped his wife and delivered his daughter. "I know he was there. But I have no idea where he went."
Dean didn't have a lot of time to think about what it might mean to the family to have him be in the right place at precisely the right time.
"Just basically a call to (my wife), and then I said, 'I've got to go. I got another hit-and-run accident."
After that, the officer's day was full of the usual calls for help with car accidents, domestic problems and disorderly conduct at a nearby fast-food restaurant. The first thing he did after his shift ended was take a gift from the entire department to the hospital. There he learned the pretty little girl is doing great, and had been given a name by her proud parents — Michelle.
"Congratulations to mom and dad on number five," he said. "A little girl, pretty cute, too."
×
Photos
Most recent Utah stories