Estimated read time: 4-5 minutes
This archived news story is available only for your personal, non-commercial use. Information in the story may be outdated or superseded by additional information. Reading or replaying the story in its archived form does not constitute a republication of the story.
SALT LAKE CITY — Six Republican candidates for Utah governor addressed a charter school rally Monday, Day 1 of the 2020 General Session of the Utah Legislature.
Some 500 students attended the rally in the Capitol rotunda representing some 135 charter schools from St. George to Logan, said Royce Van Tassell, executive director of the Utah Association of Public Charter Schools, organizers of the event.
"The opportunity that charter schools offer for you and your families is to find your place, find what works well for you," Van Tassell said.
GOP gubernatorial candidates Spencer Cox, Thomas Wright, Aimee Winder Newton, Greg Hughes, Jon M. Huntsman Jr. and Jeff Burningham each addressed the charter school students, who stood on the marble steps on the east side of the rotunda listening to three-minute addresses from each.
After speaking, each candidate posed for photographs with students and charter school officials.
If elected governor, Cox vowed to spend one day each week solely focused on education.
Utah has many challenges, but "none of those problems matter if we don't get education right," he said.
"We need to unleash innovation, we need to cut regulation and let the entrepreneurs in the classroom do their thing — those are our teachers and students learning together," he said.
Wright, former Utah GOP chairman and real estate broker, said the public education system needs to "give teachers the flexibility to teach you the way that they want to."
The beauty of charter schools is that students and their families can find educational opportunities that fan their passions. "You can find what you love at an early age; earlier than you can, maybe, on some traditional paths. By doing that, you can set yourself on a pathway to success," said Wright, a member of the Utah State Board of Regents.
Salt Lake County Councilwoman Winder Newton said one of her primary goals as governor would be to address the state's teacher shortage.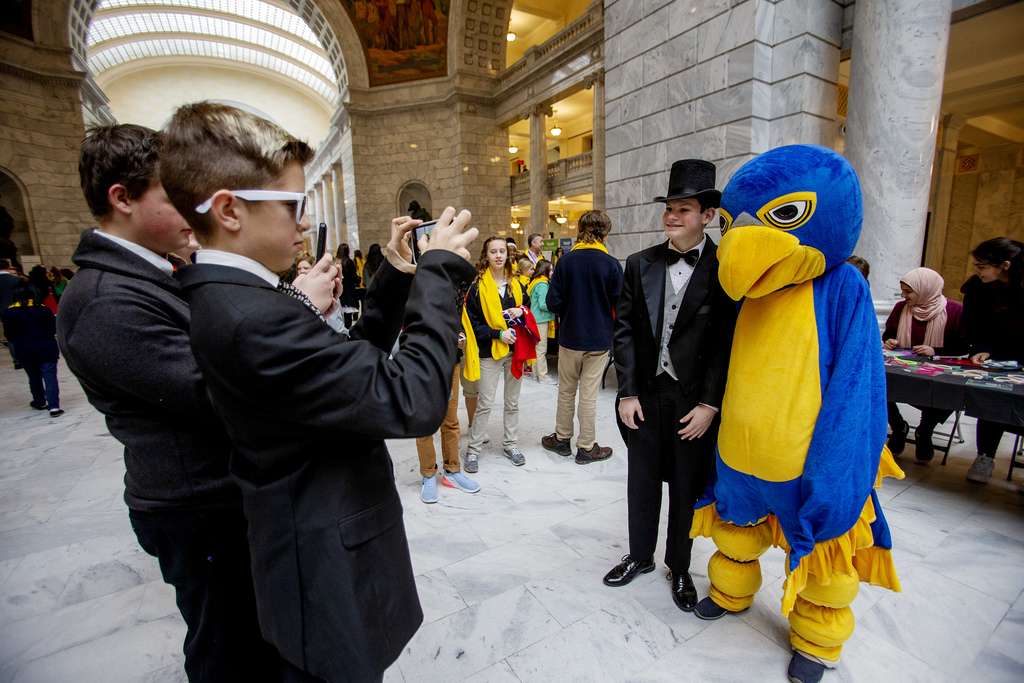 "I want you to look for a teacher and I want you to clap for a teacher because they are heroes to all of us," she said.
She also called on students "to be kind to your classmates and other people," explaining that one never knows what another person might be experiencing, whether it's mental or physical illness, financial issues or other challenges. "Everyone is fighting a battle and we need you to be kind."
Former Utah governor Huntsman, who has served Republican and Democrat administrations as an aide and a diplomat, most recently as Ambassador to Russia, told the students that he has raised seven children.
"You know what I've found? Everyone learns differently. So as we go forward, are we going to have education options that allow kids to progress based on their learning styles, based on their approach to the classroom, based on the genius they have inside?" he said.
Utah needs an educational system that brings out the genius in every student, he said. "That means choice, that means charter options. That means every good option we can come up with," Huntsman said.
Hughes, former speaker of the Utah House of Representatives, told the charter school students that he believes in charter schools, both as a parent who sent his children to public charter schools and as a former state lawmaker.
Related:
"I knew if the lawmakers and the policymakers got to meet you, and you got to share your story and share your experience in our public schools, lawmakers would want to help you. They'd want to help you enjoy your charter school. The fact that you're here is such a big deal. It's a big deal to me," he said.
Utah's next governor needs to "fight for you and your school and make sure that's an opportunity for all families and our parents."
Provo businessman Burningham asked students at the rally to repeat after him: "Choice creates competition and competition creates better results."
Burningham, an entrepreneur who has helped create thousands of jobs but has never run for political office, said he knows that choice brings about better results "because I've lived it in the private sector."
"It's critical we elect a non-career politician, someone from the outside, an innovator, that will help make sure that you have the choices you need in education. There's a mismatch between how and what we're teaching our children and the jobs that actually exist in the information economy. With the future of the Utah being you, the future is bright. I believe in you," Burningham said.
Some 12% of Utah public school students attend Utah public charter schools. Last fall, charter school enrollment was 77,582 students, down slightly from the previous year. The enrollment of all charter schools combined would be equal to Utah's second-largest school district.
×
Related stories
Most recent Utah stories