This archived news story is available only for your personal, non-commercial use. Information in the story may be outdated or superseded by additional information. Reading or replaying the story in its archived form does not constitute a republication of the story.
SALT LAKE CITY — A public input period is now open for two outdoor projects on federal land, while public nominations for a Bureau of Land Management citizen advisory council in Utah is also now open, officials from the BLM and National Park Service said Monday.
Here's a breakdown of the two proposals and the BLM committee in Utah:
Public comment opens for possible campground, mountain bike trails
BLM officials are seeking to gather feedback before they begin an environmental assessment on a plan to develop a campground and mountain biking trails near Goosenecks State Park, located northwest of Mexican Hat in San Juan County.
The BLM and Utah Division of Parks and Recreation are jointly proposing the venture. According to BLM officials, there aren't many developed amenities in the area surrounding the park and increased visitation has led to "resource damage, proliferation of campfire rings, and impacts to the State Park viewshed." They hope the project will address concerns from further unmanaged recreation and might also improve the quality of recreation in the area.
The proposal includes a series of bike trails northwest of the park, as well as a hiking trail, about 14 campgrounds, two restroom areas, and a yurt area to the east. The entire proposal covers about 2,475 acres of land surrounding the state park. The additions would remain on federal land but could be comanaged by the state and federal agencies, according to a document compiled by BLM officials.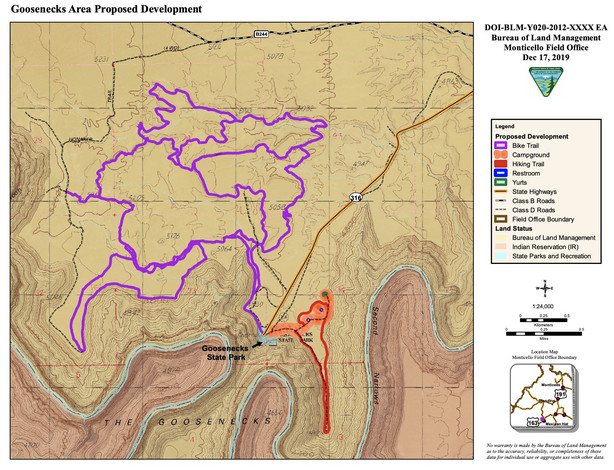 The public comment period opened Monday and comments can be submitted on the BLM website or via mail at Bureau of Land Management, Attn: Goosenecks Camping, P.O. Box 7, Monticello, Utah 84535. The public comment period for the project wraps up on Feb. 14.
NPS seeks input on bicycle use on Arches entrance pathway
Also on Monday, the National Park Service began accepting public feedback on a plan to allow bicycles on an approximate quarter-mile pathway that was completed last summer to connect the Moab Canyon Pathway to the Arches National Park visitors center.
The 8 1/2-mile Moab Canyon Pathway (MCP), which was constructed in 2010, already has mixed bicycle and pedestrian use, the NPS noted in an environmental assessment of the plan. The agency reports the number who have used the MCP has skyrocketed from 12,000 annual users in 2015 to more than 30,000 users last year.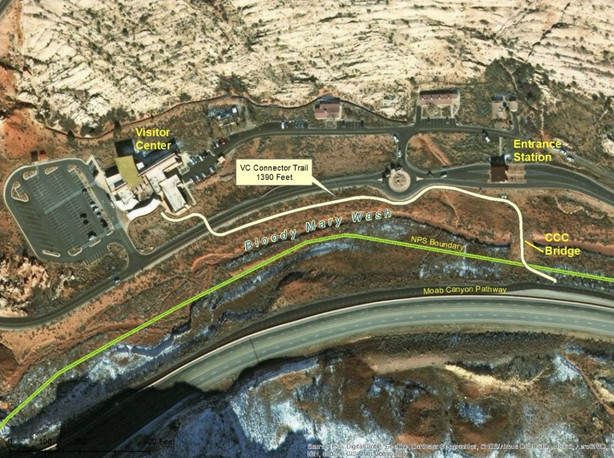 However, a 1,390-foot paved path that connects the canyon pathway to the park is marked for pedestrians only. While the trail is relatively short, the NPS plan states it was created so the increasing number of bicyclists could use the path instead of having to use the park entrance road and scenic drive. It adds that allowing bicyclists to use that path may clear up "safety issues" for motorists and bicyclists trying to enter or exit the park.
If allowed, the NPS also plans to install a fee-collecting device at the end of the Visitor Center Connector Trail to collect fees bicyclists would otherwise bypass by not using the main entrance station. The environmental study notes the trail is already "well suited" for bicycle use with a 10-foot minimum path width.
The public comment period for this project goes through Feb. 11. Comments can be submitted online at the park's website.
BLM seeks nominations for Grand Staircase-Escalante National Monument Advisory Committee
Finally, the BLM announced Monday its seeking nominations for citizen committees focused on land in Utah, Oregon and Washington. Those councils will assist the agency in addressing public land management issues, BLM officials said.
This specific Utah advisory council will focus on Grand Staircase-Escalante National Monument in southern Utah. According to the agency, the council will consist of 10 to 15 members that "represent unique site-specific interests." Those interests may include outdoor recreation activities, history, ecology, tribal government, environment, grazing or even Kane and Garfield county government, according to the BLM.
People can nominate themselves or others from now until Feb. 24 by calling BLM public affairs specialist David Hercher at 435-644-1209 or by emailing dhercher@blm.gov. All individuals must be Utah residents and will be reviewed on their knowledge of the geographic area, training and education. Anyone applying or nominating someone must include a completed application, letters of reference, and anything else that may demonstrate their qualifications.
Applications can also be mailed to BLM Grand Staircase-Escalante National Monument, 669 S. Highway 89A, Kanab, Utah 84741, Hercher said.
The committee was created through a presidential proclamation signed by President Donald Trump in 2017. Its charter was approved in 2018, according to the BLM. More information about the committee can be found on the BLM's website.
The other two committees where nominations opened up this week include the Steen Mountain Advisory Council in Oregon and San Juan Islands National Monument in Washington.
×
Photos