Estimated read time: 8-9 minutes
This archived news story is available only for your personal, non-commercial use. Information in the story may be outdated or superseded by additional information. Reading or replaying the story in its archived form does not constitute a republication of the story.
MIDVALE — Literally and figuratively, they're building mustangs at Midvale Elementary School.
From its aggressive school turnaround program and emphasis on social-emotional learning, Principal Chip Watts has led an effort to transform the elementary school from one of the state's lowest performing to a model of success, according to a significant rise in growth scores on standardized tests, an enviable faculty retention rate and a vastly improved school climate.
The school's success is documented on the Utah State Board of Education's statewide statewide school accountability reports, which were released Thursday on the board's website for all Utah public schools.
Midvale Elementary achieved a "commendable" rating in terms of student growth, with high growth in math and science, and average growth in English/language arts.
In terms of achievement, the school moved from a failing grade to "developing" — also an improvement.
"In short, it's working. Yeah, it's working. And honestly, it's working better than I expected it would. It's moving quickly, and I didn't expect the results to be as good as they were the first year," Watts said.
Seeing his students achieve success is gratifying.
"We're starting to see that. We got a long way to go. Don't get me wrong. But we're starting to see that happens in ways that I don't think have happened for a long time at the school," Watts said.
Instead of letter grades, school performance is reported on a scale that ranges from exemplary, commendable, typical, developing and critical needs.
RISE assessments are given annually to students in grades three through eight in language arts and math using online multistage adaptive testing. In fourth grade, science is tested. In grades five and eight, writing is tested.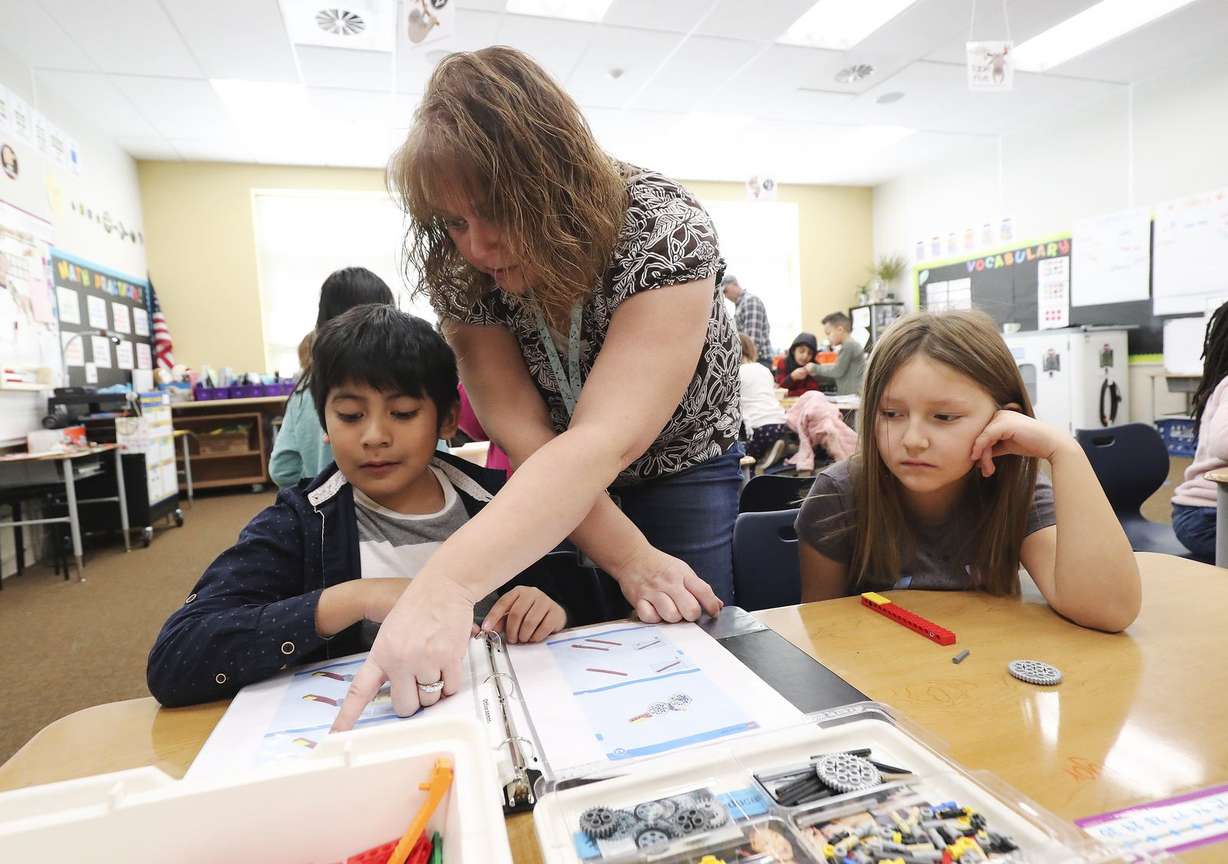 Hal Sanderson, Canyons School District's director of research and assessment, said he believes the school district's data is reliable for accountability purposes.
"We looked at our own data and the state looked at it as well. Every time we looked differently or kind of looked at a different angle of the data, it seemed coherent, it seemed 'solid, reliable, valid.' As you know, there were bumps for sure," he said.
Sanderson credits Canyons teachers for riding out the disruptions on test days and getting students back on task after the problems were resolved. "We really complimented the professionalism of our teachers of just kind of rolling through some of those bumps," he said.
In 2015, Midvale Elementary was identified by state education officials as a turnaround school and given three year years to improve its academic performance. At the end of that period, its school grade had worsened to an "F," which meant it faced further action by the State School Board.
After a lengthy hearing, the state board granted the school more time to fully implement its restructuring plan, which places high emphasis on language arts and math mastery, social-emotional learning and building community.
This has been accomplished despite a student turnover rate that is consistently around 30%, in part because the school serves students temporarily staying at the Road Home's Midvale Family Resource Center. Otherwise, 100% of Midvale students are considered economically disadvantaged. Advocates for people experiencing poverty say poor families frequently move because of challenges finding and retaining affording housing.
Watts said he also knows the restructuring is working because after years of faculty turnover of at least 50% annually — some years as high as 70% — the school had only five vacant teaching positions among 38 educators at the end of the 2018-19 school year. Two were international guest teachers who were required to return to their home countries.
"The difference that that's made this year in our ability to pick up where we left off and keep going instead of start over from square one ... it's made a huge difference. I don't know if you can even calculate the difference," Watts said, adding, "I think that speaks to the way that teachers feel about being at Midvale and the supports that they're receiving from the district through our restructuring plan."
Jessica Beus teaches third grade at Midvale Elementary School. Recently, she was honored as Canyons School District's 2019 Teacher of the Year. Beus said she feel passionate about students and colleagues alike as the school works to exit turnaround status.
"There is nothing like coming to a school like this," she said.
"You know what you are up against. You know you are needed. You know you make a difference every day."
Turnaround schools are those in the lowest 3% of student achievement statewide as measured by end-of-year tests in math, language arts and science.
---
If a kid is carrying that much trauma and is just not in the right place to be able to learn, we've got to address those concerns before we try to sit them down and teach them.
–Midvale Elementary Principal Chip Watts
---
Schools identified as a state's lowest performing receive grants and assistance from experts intended to increase student achievement.
Schools on turnaround status will be informed of their status within a few weeks.
In Midvale Elementary's case, it partnered with the Utah Education Policy Center at the University of Utah. The center is an independent, nonpartisan, nonprofit research center in the U.'s College of Education that "bridges research, policy and practice" in Utah public school, according to its website.
To start, the center conducted a comprehensive needs assessment, based on data, classroom observations and interviews of teachers, students and parents.
"They put together a picture of what our reality was and they helped us, helped me, figure out what to prioritize and what we should focus on moving forward. Those priorities have changed as we've accomplished the goals that we've set for ourselves, but they've been a really valuable partner in just sort of looking from the outside in at what we're doing and helping us to ask the right questions," Watts said.
When the partnership started five years ago, the school's top goal was improving student behavior.
"We had a meeting where teachers got to vote on what they thought was the biggest priority, and we gave them all three stickers and there were 12 posters around the room. Many of them went and put all three stickers on student behavior," Watts said.
Now, the conversation centers on academic achievement and social-emotional learning. At Midvale Elementary, the school day starts with a classroom "meeting," where students gather, engage in conversation and using a research-based social-emotional curriculum, teachers can assess whether students are ready to learn or have an issue that requires the help of the school's counselors or mental health professionals.
"If a kid is carrying that much trauma and is just not in the right place to be able to learn, we've got to address those concerns before we try to sit them down and teach them," Watts said.
"That's one thing that I learned really quick when I came here as the principal. If a kid isn't in the right place, if conditions aren't right for learning, sitting them down and trying to force it down their throats just doesn't work."
In addition to academics, the school has placed a higher emphasis on school attendance and reducing tardiness.
In an effort to improve school attendance, counselor Nicholas Lennox came up with an innovative idea to incentivize entire classrooms to have perfect attendance, the Build-A-Mustang program.
When every student in a classroom attends school, they receive a part of a mustang. After seven days of perfect attendance, they have enough components to complete the horse and every student receives a small prize.
Related:
It's just one example of how a school that got a reprieve from the Utah State Board of Education after three years of failing to exit school turnaround improved from a "critical needs" school to a "developing school."
The report card indicates Midvale Elementary School jumped multiple categories in student growth gains, Sanderson said.
"Several of us would have been happy with a step or two saying, 'Look, it's turning around, it is kind of coming together.' But I was pleasantly just surprised and excited to see it go to that high of average growth. I compared it to the state and everything else, and I went, 'They're above the state in growth and that's just such a neat thing to see. Again, it's kind of validating what's going on hour by hour. It's nice to have it to tell that story in a clear way," he said.
Utah's state-level report cards indicate Utah students had average growth in mathematics and science. The state's lowest-performing 25% of students also had average growth, according to the dashboard that went live Thursday.
However, the state experienced low growth in English/language arts.
On a positive note, the state's high school graduation rate has improved to 87%.
The report card is one set of data that shows how schools perform in multiple areas. The interactive, online tool that is easily searchable, provides detail into specific content areas and displays school-level information. It includes reports on all schools, charter schools, districts and the state as a whole.
The Utah State Board of Education's website of the report card includes a disclaimer about this year's RISE testing irregularities.
However, three separate analyses found that results from last spring's RISE tests are valid but there is some concern that the technological problems may have "disproportionately impacted an individual school's results," State Superintendent of Public Instruction Sydnee Dickson wrote in a letter to educators statewide prior to the winter recess.
×
Photos
Related links
Related stories
Most recent Utah stories