This archived news story is available only for your personal, non-commercial use. Information in the story may be outdated or superseded by additional information. Reading or replaying the story in its archived form does not constitute a republication of the story.
SALT LAKE CITY — Utah's snowpack levels are in good shape heading into 2020, and a storm to ring in the new year is expected to add to that.
As of noon Tuesday, all but one location in the state reported above-average snowpack totals, according to data from the U.S. Department of Agriculture Natural Resources Conservation Service.
The only location below 100% is Raft River, which is a sliver of mountains in northwestern Utah near the Idaho border. That location had 87% of its normal snowpack, which is calculated by snow water equivalent, or the amount of water contained within the snow.
Southern Utah has benefitted the most from snowstorms in recent weeks. Southwestern Utah leads the state at 232% of its average snowpack, while the Upper Sevier River, Escalante River and southeastern Utah locations have snowpack levels above 150% of its normal for this time of the year. The snow has helped the region's drought situation.
The U.S. Drought Monitor reported on Dec. 26 that 31% of the state — mostly in southeastern Utah — remains in a severe drought, while another 26% of the state is listed in a moderate drought. That section includes parts of southwestern Utah, central Utah and eastern Utah. Drought conditions are likely to improve once snowpack melts, but some of southwestern Utah moved from severe to moderate drought over the span of a month.
"In southern Utah, we'd hope to see an average number of storms (throughout the rest of winter). Even if it's under that, we'd still be in good shape," said KSL meteorologist Grant Weyman.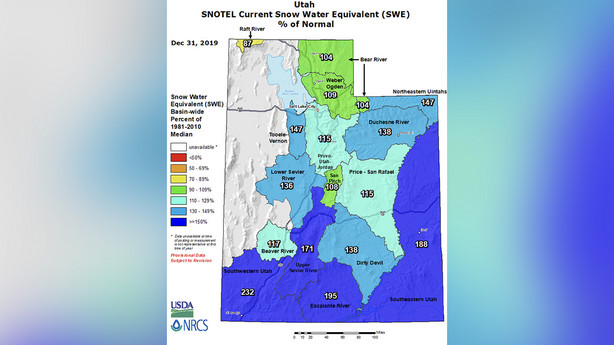 Meanwhile, areas along the Wasatch Front range between 100% to 115% of normal heading into 2020. While Salt Lake City is coming off its 10th-wettest water year on record, the 2020 water year — which began Oct. 1 — has gotten off to a bit of a slower start.
Heading into New Year's Eve, the National Weather Service reports the city was 1.05 inches of precipitation below the average for Dec. 31; however, a New Year's Day storm is expected to produce more than a foot of snow in Utah's mountains and also could inch the city's water year precipitation total closer to normal.
As for beyond New Year's Day, NWS's Climate Prediction Center projects most of Utah will likely receive an average amount of precipitation for the winter season. Northeastern Utah, including the Uintas, has about a 33% chance of receiving above-normal precipitation during the season.
Even a normal winter is good news, Weyman said. He explained that following a productive 2019 water year, an average water year in 2020 would bode well for reservoir levels across the state.
"At this point, if we can round out the winter season with an average number of storms and if we can finish the race anywhere from 100% to 150%, it'd be a good year," he said.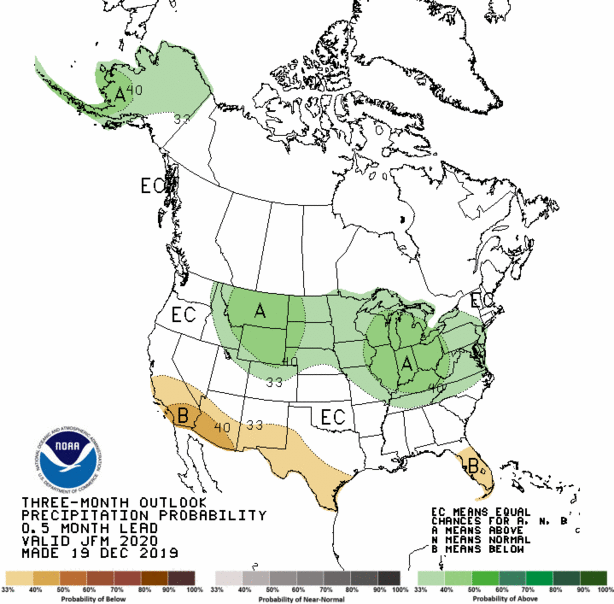 Areas in the Pacific Northwest and Southern California, the areas where most of the storms come from before hitting Utah, have differing projections. The Pacific Northwest is expected to receive a normal amount of precipitation in winter; Southern California and other parts of the American Southwest are projected to receive below-average precipitation over the next few months, according to the agency.
Areas in the Rockies, upper Midwest and Northeast are expected to have above-average precipitation totals.
×
Photos