SALT LAKE CITY — There are no fancy celebrations planned Monday night, but those who manage Utah's water have reason to celebrate after what was a prolific 2019 water year in the state.
Barring unforeseen rain Monday, Salt Lake City's precipitation total for 2019 — 21.65 inches — will finish as the 10th-highest precipitation total recorded in the city since the records were first kept in 1874, according to National Weather Service data. Water years begin Oct. 1 and end on Sept. 30.
The all-but-final total is 5.6 inches above the normal. Salt Lake City also reached at least 20 inches of rain for just the second time since the turn of the century and the 16th time ever.
The agency's southern Utah location in Cedar City also recorded above-average precipitation totals in 2019. As of Monday, it had recorded 12.61 inches of precipitation, which is well above the 9.29 average for the area.
Utah's above-average water year came at a great time for the state. In 2018, Salt Lake City recorded the ninth driest year on record with just 10.5 inches. The terrible water year propelled Utah into a statewide drought, and above-average precipitation in 2019 lifted the state out of it by May, and most of the state has been out of a drought since then.
On Monday, Gov. Gary Herbert rescinded his executive order that declared a statewide emergency due to drought that was signed on Oct. 15. The move ceremoniously ended anything related to the 2018 drought. The declaration had noted drought conditions "adversely and significantly" affected the state's agribusiness/livestock production, wildlife/natural habitats and contributed to increased threats of wildfire in the state.
"What a difference a year makes. Utah experienced unprecedented drought conditions last year, which harmed the livelihood of many families and strained agricultural producers, industry and even wildlife and recreation," Herbert said in a statement. "Even in a normal year, water in Utah is a scarce natural resource. We should appreciate what we received, but not take it for granted. Let us continue to do all we can to conserve water as communities, industries, neighborhoods and families."
It's pretty easy to point when Utah got on track for a good water year. After a decent amount of snow in winter, Weather Service officials recorded 10.89 inches of rain at its Salt Lake City location during spring, which was the city's second-highest total for the season on record. After a typically dry summer, the city's water year ended with a little more than another 1.5 inches in September.
"(We had) a super huge spring and just kind of rounded it out with a decent September. That kind of describes where we picked up a lot of our water," said KSL meteorologist Grant Weyman. "We didn't have as much rain (in the summer), but amounts of rain in the summer are pretty insignificant in terms of the bigger picture. We pick up most of our water really in that spring season."
That's not to say Utah is completely out of the woods heading into the 2020 water year, as the state seems to be split in water conditions at the moment. While Cache Valley's Trenton received a record 2.55 inches during a rainstorm in northern Utah on Sunday, St. George in southern Utah has gone more than 100 days without measurable precipitation — close to its record of 121 days set nearly 90 years ago, the National Weather Service tweeted.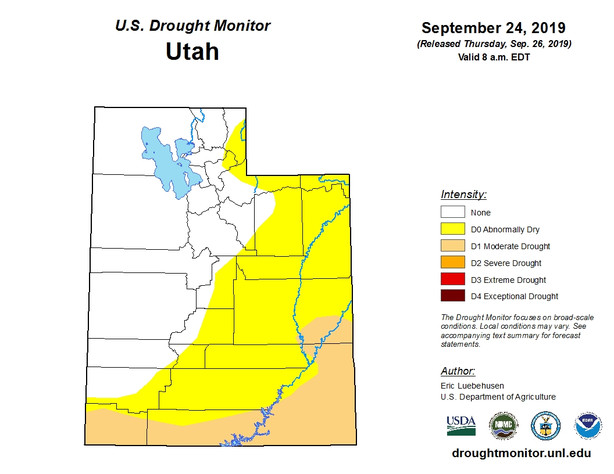 That seems to mirror current drought conditions in the state. According to the U.S. Drought Monitor, a little more than 16% of the state is experiencing a moderate drought once again, as of Sept 24. The drought is located in southern parts of the state. More than half of the state — mostly southern and eastern Utah — was also listed as "abnormally dry."
The National Weather Service's three-month outlook indicates above-average temperatures and uncertainty regarding whether the start of the 2020 water year will be above or below average in precipitation. Weyman explained most predictions are based off El Niño and La Niña oceanic patterns, which will ultimately dictate the final weather patterns.
Since the weather is difficult to forecast in advance, there's no way of telling if Utah will have another great water year, another terrible one or something in between. Thanks to the 2019 water year, which filled Utah's snowpacks and then later filled the state's reservoirs, Weyman said Utah doesn't need much more than an average water year to thrive in 2020.
"We don't necessarily need another banner year. (This past) year, we needed an above-average year to get us up to speed," Weyman said. "Now, if we could get by with just an average season, we'll be in good shape. The reservoirs and everything are in good shape."
×
Photos