Editor's note: This is part of a series at KSL.com featuring some of Utah's coolest cars. If you own a customized vehicle — from sports cars to semitrucks — email jormond@deseretdigital.com with a photo of the vehicle and a brief description for consideration.
SALT LAKE CITY — Actual rats' nests in the seats, a decayed headliner, and a softball-size hole in the engine block: this is how Joe Averett's project started out.
Averett always wanted a rat rod and was looking for a truck. When his friend Joel Carson called with something else, Averett responded and never looked back.
Carson was looking for a hearse as a project and found one in a Murray warehouse. The owner agreed to sell Carson the hearse only if he bought the two vehicles that were with it. One of those was a 1948 Chrysler New Yorker, and Averett paid $2,000 for it and took it on as a project.
He hauled the 4,800-pounder to a barn in Kamas, where he got to work stripping out the old stuff. After the rats were sent packing, Averett started on the mechanicals by replacing the 135-horsepower engine (probably less with a hole in the block) and transmission with those from a 1974 Chevrolet Nova. Then the trouble started.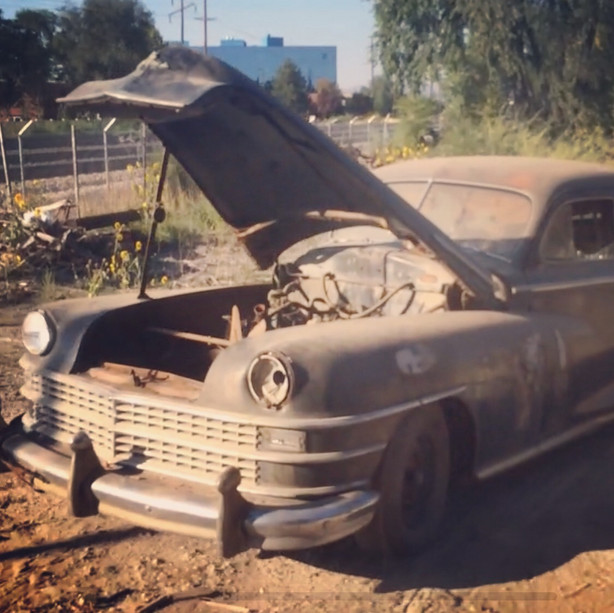 #old_car
On the first time out, Averett said the rear end blew up. He replaced it with a Ford Mustang rear end that had disc brakes. Then the Nova engine blew up, and Averett replaced it with a 350 that a guy from Rocky Mountain Raceway built. Then the transmission blew up, and it got swapped for a Turbo 350 tranny.
Averett said that for a while there, something new would blow up about every six months; but the car runs fine now. He added disc brakes up front and converted to fuel injection. He got 5 inches chopped off the roof, an air ride suspension in the rear and custom fender skirts. What he didn't get done is the steering or the paint.
While visiting his builder, Wayne Morgan, he saw another bare metal car in the shop. Averett told Morgan to leave his vehicle bare for now since he didn't have the money for a paint job, and he liked the look of metal sculpture anyway. He said it's clear-coated and hasn't rusted that bad. He likes driving something not like every other car.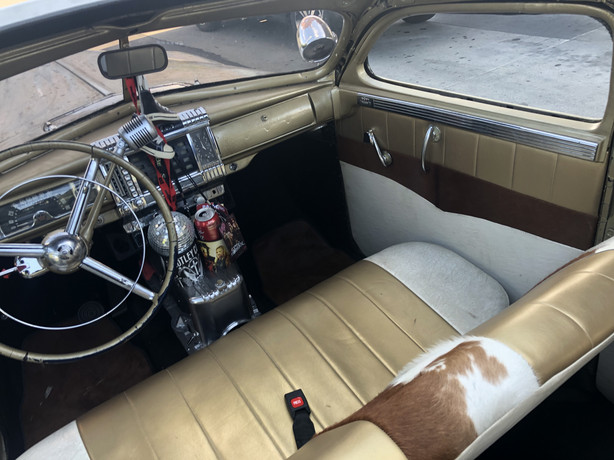 The oversized hood ornament was a Christmas gift from Joel Carson. It came from eBay and there's not a story behind it, but Averett's been offered "a lot" of money for it and says it gets photographed often.
Averett said the big sedan has plenty of power now, but he's more "slow and low" than street racer, using the New Yorker to just get around Salt Lake City. If he had it to do again, he said he would toss the driveline all at once instead of replacing it piece by blown-up piece.
And that hearse that started it all? It's still under construction: Averett said Carson's builder claimed weird things kept happening to it. He was convinced it was haunted and refused to work on it.
More Cool Cars:
---
×
Photos
Related Stories