Editor's note: This is part of a series at KSL.com featuring some of Utah's coolest cars. If you own a customized vehicle — from sports cars to semitrucks — email jormond@deseretdigital.com with a photo of the vehicle and a brief description for consideration.
RIVERTON — Call it a rescue, or just one of the coolest business ventures you'll hear about at a car show. Some people call him a jerk for doing it.
In 2015, Cecil Read was working on a project in Midvale just behind All-Small Auto Wrecking. When he took a new road to lunch and saw the distinctive roofs of vintage Volkswagen buses and pickup trucks, he decided to stop in and tell the owner he was interested in them.
Scott, the owner, told Read he wasn't interested in selling parts. Read said he'd buy an entire vehicle. Scott was not enthusiastic but took Read back to take a look. Among dozens of 1970s buses, all in bad shape, he found six pre-1967s — a mix of trucks, double cabs and buses.
Read made an offer, which happened to be the same amount as a bid for concrete work the owner needed. The deal was about done, but the owner said the transporters (as older VW buses and trucks are collectively known) were back so far in the yard, with dozens of vehicles blocking them in, that it could take weeks to get them all out.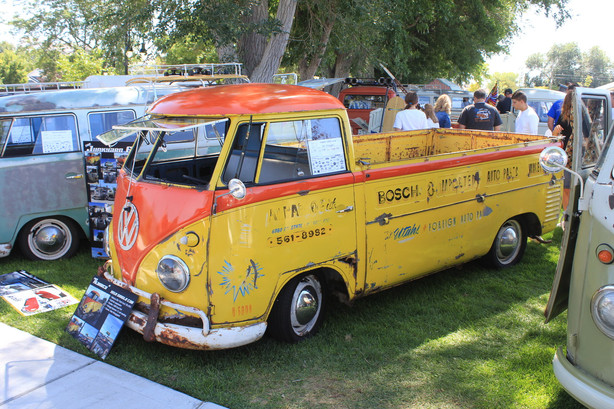 Read responded by renting a crane the next day. He put the word out on his VW Facebook group asking for help hauling them off. Group members responded with trailers. Read bought straps at Harbor Freight Tools and some tow straps. Within three hours, all of the transporters were free of their wrecking yard fence. None were anywhere near roadworthy, and all were now spread out among friends in the Salt Lake Valley.
Read got to work on the 1967 double-cab pickup that had a caved-in front. He got the metalwork done over three years, making some modifications. Dave Kindig of Kindig-It Design saw it and bought it, finishing the custom project. It will debut at the SEMA show in Las Vegas on Nov. 8.
Read sold a 1959 single-cab pickup to Peter Wangsgard, who got it running. The other double cab got moved with its owners to Las Vegas for a ground-up custom restoration, including Porsche 928 wheels.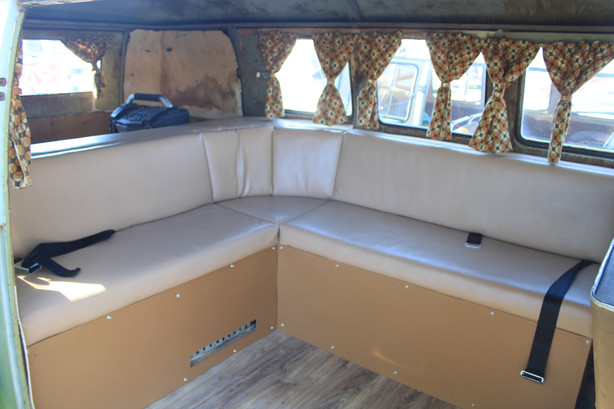 That leaves three buses: Scott Maxwell, manager at Southtowne VW, bought the 1961 11-window Standard Kombi. It's mechanically restored but still looks rust-ic.
Bus No. 2 found a home with Don Eastman in Idaho Falls. The 1961 Standard Kombi got a new interior and engine. It still looks pretty original (rough) on the outside
That leaves one vehicle: Read has that one, after having to buy it back. He made enough on the other sales to cover most of the restoration of his 1962 Turkis blue 11-window Kombi. Mechanically, it's ready to roll with a 2110cc engine and Freeway Flyer transmission.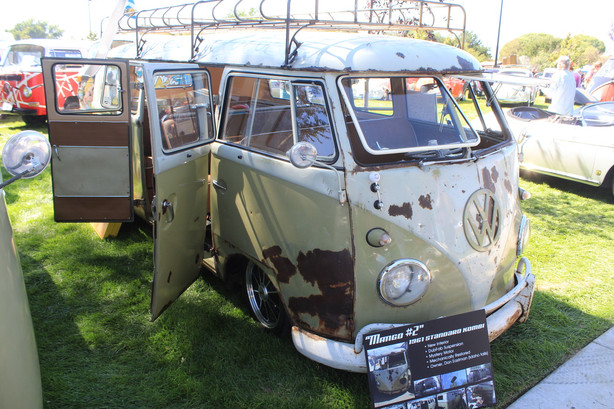 Read said his timing with the venture was perfect — maybe too perfect. At a car show shortly after the transaction, he said a guy came up to him and called him a jerk, pointing out that no one should've taken all six out of a junkyard. About a half dozen more people echoed the jerk sentiment; apparently others had been trying to get those VWs for years.
Today, there are at least five VW owners who don't call Cecil Read a jerk, and four parked their beloved transporters next to his at a VW Car Show in Riverton in September. They call themselves "The Junkyard Six" and are proud that all six are driving on asphalt, instead of sitting in mud in a salvage yard.
More Cool Cars:
---
×
Photos
Related Stories