Editor's note: This is part of a series at KSL.com featuring some of Utah's coolest cars. If you own a customized vehicle — from sports cars to semitrucks — email jormond@deseretdigital.com with a photo of the vehicle and a brief description for consideration.
HEBER CITY — For enthusiasts, cars always take on something more than a simple means of transportation. They become members of families, symbols of success and legacies that will carry on for generations to come.
David Ruesch never intended to amass the number of cars he has today when he purchased his first Ford Coupe at 15 years old. Now well into his 80s, his love of restoring old Fords has netted him a beautiful collection of appropriately restored classics and a variety of other automotive collectibles.
In 1950, at 15 years old, Ruesch had saved up enough money to purchase his first car. "I worked pretty hard." said he. "Almost every kid back then had a paper route."
Although it may not have been his first choice, Ruesch purchased a 1941 Ford Coupe for a couple hundred dollars. "My folks didn't realize how much trouble a kid could get into with his first car," he said.
Fast forward to now, and you can still find that same car sitting in his garage, restored and running perfectly with over 800,000 miles on the clock.
Ruesch's love of all things car-related stemmed from this early purchase, and over the years he has bought, restored and sold an incredible amount of cars. The first Coupe has been joined over the years by Coupes from 1932, 1934, 1936, 1939 and 1940.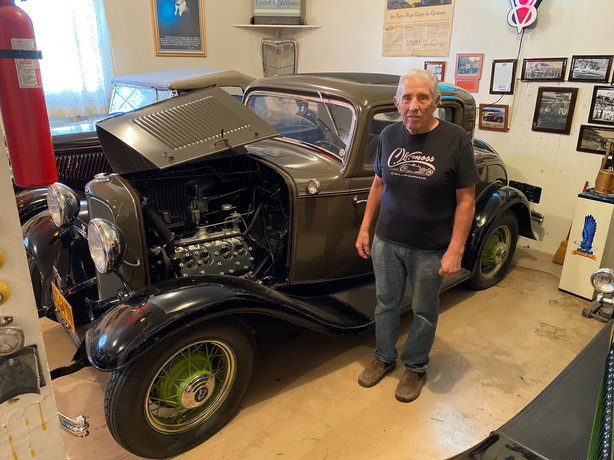 #ruesch_pic
Before he was married, Ruesch was involved in a serious motorcycle accident that resulted in a fairly substantial settlement from an insurance company. The money enabled him to buy what he calls a lifetime supply of his favorite cars. He loved his original 1941 so much that he bought a second one a few years ago that was restored and even included a custom chopped roof design.
When he and his family moved to Heber City, Ruesch made it a point to build a home to house all of his passions and projects. He said his wife used to tell people, "We don't have a house, we have a garage with living quarters" (which any car enthusiast will sympathize with).
Ruesch said his wife also used to say, "If you put one more nut or bolt in this house, the roof will cave in." Nevertheless, she always supported her husband's passions and loved his cars dearly.
#first_car
In recent years, his collection has taken on a greater meaning, and at times it has even acted as a coping mechanism. Ruesch lost his wife to breast cancer in 2004, and only a few years later he lost his daughter to the same disease. As a retired police officer, his Fords became something to take his mind off the terrible losses he had endured while also serving as a sweet reminder to the family he lost.
"I get attached to them," Ruesch said. Through the classic car community, he has relied on dear friends and other enthusiasts to fill a painful void.
Ruesch regularly maintains his collection by making sure all the batteries stay charged and all the fluids stay fresh. He hopes that his legacy will carry on to his children and that they will cherish the cars as much as he has.
"I'm a fanatic. I love keeping them original," he said. "It's the details that matter."
Ruesch said he looks forward to the day he can take his wife and daughter for a ride in his old '41 Coupe again.
More Cool Cars:
---
×
Photos
Related Stories