PROVO — BYU women's soccer coach Jennifer Rockwood has developed plenty of special players in her 25 years at the school.
The short list: 16 conference championship teams, two NCAA quarterfinalists, and 23 NSCAA All-Americans.
So when the veteran coach leaned over after the Cougars' postseason match and put her arm around prolific goal scorer Elise Flake, and her voice went up a half-octave, it was easy to take notice.
"20 goals," she said, motioning to the Maple Mountain product. "That's pretty good."
And make it 20 wins, no losses, and one draw, too.
Yes, it's November and BYU women's soccer is still undefeated.
Mikayla Colohan had two goals, and Flake added a goal and an assist as No. 4 BYU scored four second-half goals to pull away from No. 23 Louisville, 4-0 in an NCAA Tournament second-round match Thursday night at South Field.
Cameron Tucker also scored for the Cougars, who advanced to face North Carolina State in Saturday's regional final (6 p.m. MST, BYUtv) in BYU's first Sweet 16 appearance since 2016. Goalkeeper Sabrina Davis made two saves to earn the shutout for the Cougars (20-0-1), though plenty of credit should go to the back four of Danika Serassio, Alyssa Jefferson, Rachel Lyman and freshman SaraJayne Affleck.
"We definitely found the space a lot better than we did in the first half," Flake said. "We attacked a lot more, we looked to go forward, and we looked to get touches in the box.
"Once we got that first goal, it just opened up a lot more for us."
BYU outshot the Cardinals 7-4 in the first half, but both sides were held to a single shot on goal apiece. The Cougars looked the more dangerous side, namely from Flake's match-high four shots before the break.
But Louisville (13-5-2) nearly struck first in the 39th minute with a shot lobbed from the edge of the area. Yet Brooklynn Rivers' shot caromed harmlessly off the woodwork for a scoreless affair through the opening 45 minutes.
"I definitely thought I should've had a couple of those," said Flake, who has 20 goals and seven assists on the year. "I just wanted to keep going at them, not get frustrated with myself, and keep getting shots off. I knew I'd get one."
SHAKE N' BAKE ELISE FLAKE!#NCAASoccer | @byusoccer_wpic.twitter.com/VXMhDCmOE3

— NCAA Soccer (@NCAASoccer) November 22, 2019
The Cougars held Louisville without a shot for 15 minutes to open the second half, and took a 1-0 lead on Flake's one-touch redirect off an interplay between Tucker and Colohan in the 62nd minute.
Flake repaid the dish just two minutes later, dribbling to the end line before finding Colohan for the one-touch goal in the 64th minute.
BYU had a 2-0 advantage in net, a 14-5 margin in shots, and held the Cardinals to a single shot on target — the last one held up until the final whistle, too.
"Louisville has had a fantastic season, and they came out really strong and put us under a lot of pressure," Rockwood said. "We weren't able to get our attacking going, but we withstood the pressure and knew that when we got to the second half, we could turn things on.
"We just needed to drive the ball and have confidence in what we've been doing all season long."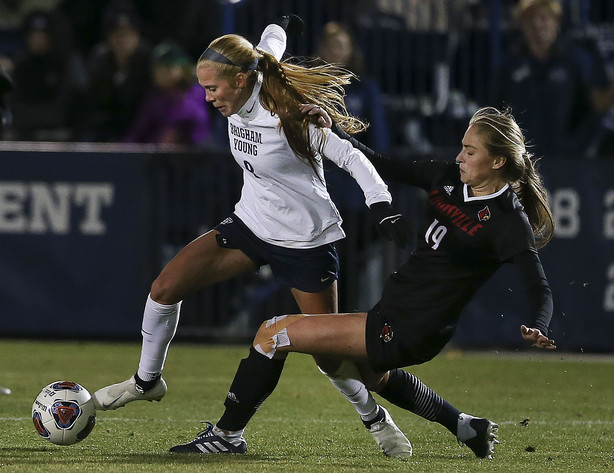 Tucker added a third before the 70th minute, finishing a cross at the end line from Rachel Lyman that put the Cougars squarely in control.
What more from a fearsome three-headed scoring monster that has combined for 45 goals for the second-seeded Cougars?
Colohan finished off the scoring in the 82nd minute, converting from the penalty spot, after the Cardinals were called for a handball, to go up 4-0. The Davis High product tied Flake with a match-high seven shots, including three shots on target, in leading the Cougars' counterattack.
"I think the higher I'm able to stay, the more dangerous it is for all of us," Colohan said. "That was my main priority, to stay high and find those pockets."
Louisville goalkeeper Gabrielle Kouzelos made four saves for the Cardinals, who were joined by fellow Louisville alum (and Utah Jazz guard) Donovan Mitchell.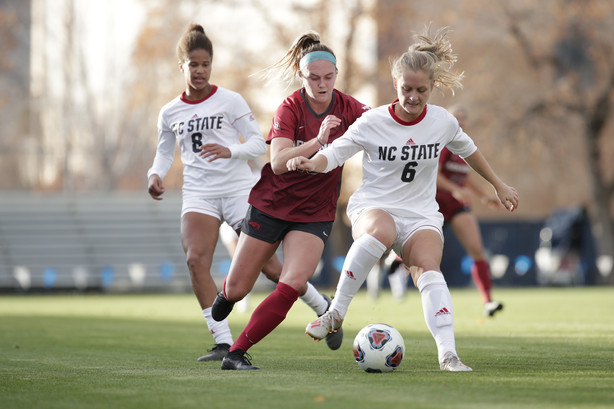 North Carolina State 2, Arkansas 1
At South Field, Kia Rankin and defender Lulu Guttenberger scored a goal in either half to help the Wolfpack hold on for an upset of the third-seeded Razorbacks, 2-1 at South Field.
"Coming from our conference, you're usually pretty seasoned by the time you get to this point. We've played a lot of good teams. We didn't feel like we were an underdog at all.
"I know the seedings and rankings would tell that. But when you finish fifth in the ACC, you're pretty ready for anything that comes."
Rankin needed just one touch off a deflection in front of goal in the 18th minute, and Jessica Berlin made three saves to keep the clean sheet at the half for North Carolina State (11-6-4).
KIA RANKIN! 💥

The one-touch puts NC State up 1-0 on Arkansas.#NCAASoccer | @packwsoccerpic.twitter.com/r49DFemuNu

— NCAA Soccer (@NCAASoccer) November 21, 2019
Lulu Guttenberger doubled the advantage just three minutes after the break, finishing off a corner kick from Ricci Walkling for her fourth goal of the year to put the ACC side up 2-0.
Arkansas (17-3-2) pulled one back when Tori Cannata redirected a corner kick into the back of the net with just under three minutes remaining. But the Razorbacks, who cruised to an SEC West title and fell just short of South Carolina for a conference championship, could get no closer.
×
Related Stories