Estimated read time: 3-4 minutes
This archived news story is available only for your personal, non-commercial use. Information in the story may be outdated or superseded by additional information. Reading or replaying the story in its archived form does not constitute a republication of the story.
PROVO — The depth and overall excellence of the No. 4-ranked BYU women's soccer team is a testament to the program that head coach Jennifer Rockwood has built up over the last 25 years.
But to have a truly special season — a different kind of success, unlike any season before — it takes a special player.
The Cougars had one of those seasons, with the first undefeated regular season in program history, taking an 18-0-1 record and No. 2 national seed into Friday's NCAA Tournament opener against Boise State (6 p.m. MST, BYUtv).
And Elise Flake has been that special player.
Flake scored 14 goals with five assists in 19 games as a junior, so her rise hasn't come from nowhere. But the Maple Mountain product who was a three-time Utah State Cup champion with Celtic FC built on that breakneck pace with 18 goals and five helpers as a senior.
"Elise is awesome," said BYU teammate Mikayla Colohan, the West Coast Conference Player of the Year who has 14 goals and six assists in her own right. "She's incredible at scoring goals. But she's super poised, and is just really good at finishing. We all look up to her to lead our team, and she's been up to that."
After scoring just six goals in her first two seasons — while playing alongside some Cougar greats — Flake's breakout junior year gave her the confidence to do even more as a senior. She currently ranks fifth all-time in BYU goal-scoring history, putting her in the middle of rare company like Ashley Hatch (47 goals, 2013-16), Jeni Viernes (37, 1999-02), Katie Larkin (37, 2005-08) and Michele Vasconcelos (33, 2012-16).
"I've come into every game expecting I will score, and I'll do anything to score for my team," Flake said. "That's been big for me this year."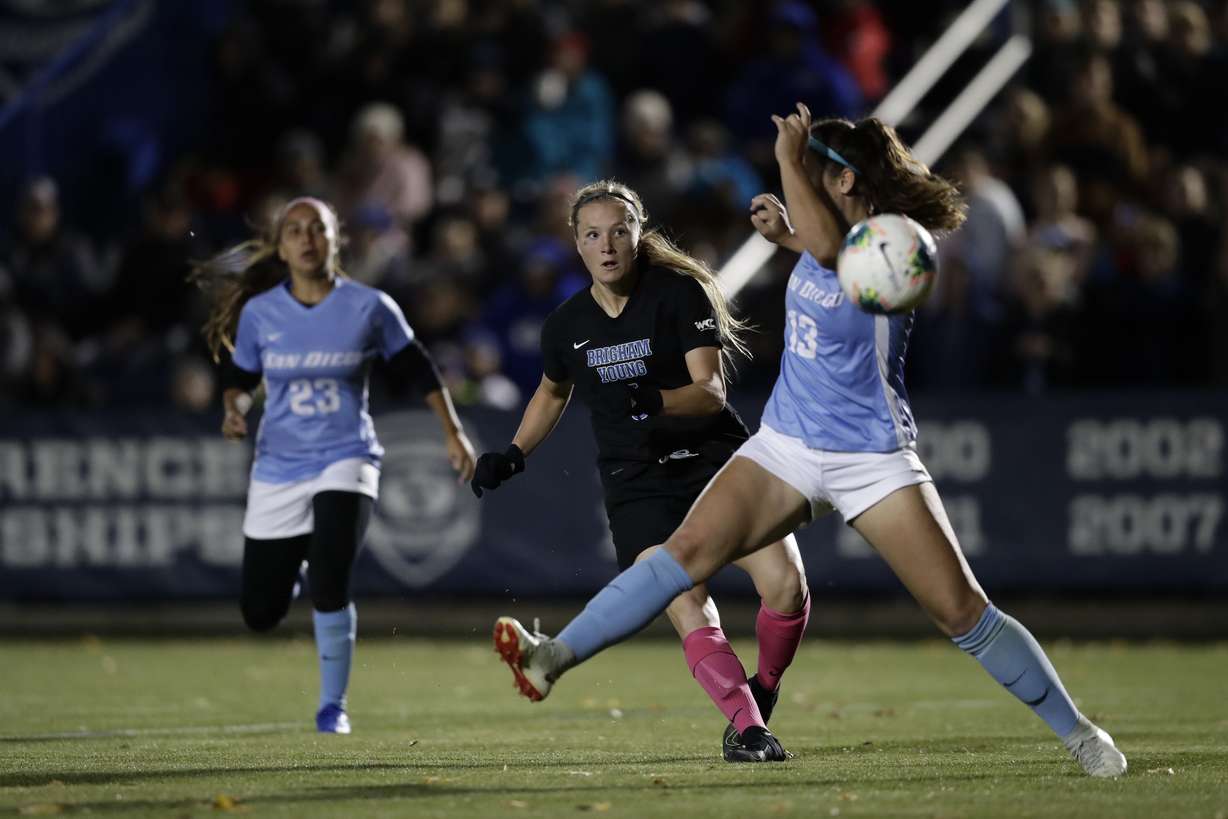 She's also a master of her own emotions. The even-keeled Flake rarely gets too high or too low, whether during pregame or in match. It's an attitude that has helped BYU come back on several occasions — not from a loss, but from going down a goal and rallying to secure results.
"Emotions can bring out the best, but they can also drag you down. As long as they can maintain consistent emotions, I think that's what the girls have built on," said Rockwood, pointing specifically to Flake and Colohan for such an attitude. "Don't get too amped up before a game, but also don't get too down if things don't go as planned. We've been able to come back from mistakes, from getting scored on with it. The girls have continued to find a way to get results."
Flake's emergence as the Cougars' go-to scorer could scarcely be quieter, especially for a two-time double-digit goal-scorer. But that's, again, part of the even-keeled nature of the first-team All-West Coast Conference attacker who scored in 13 of the Cougars' 18 games in which she played.
She also hopes to add to that tally with three more home games at South Field, so long as the Cougars take care of business in the NCAA Tournament.
Never too high, never too low.
"There have been a couple of games where we have had to come from behind, and those have tested us," Flake said. "But in every instance, we are confident we can win. That's the biggest thing for us."
×
Related stories
Most recent BYU Cougars stories