PROVO — SaraJayne Affleck's first meeting with current BYU women's soccer teammate Jamie Shepherd was more than five years ago, right after her eighth-grade year, when she first came to a summer soccer camp on campus.
Back then, Affleck was a center forward and Shepherd was an attacking midfielder. The two played on the same team during most of their camp drills but often found themselves split up during scrimmages and short-sided matchups.
For some reason, it was regularly Affleck — now a freshman outside back with the No. 4-ranked Cougars — who had to guard Shepherd.
And Affleck was terrified.
"I think Jamie's a stud," Affleck said. "I just think she's really solid, and I never see her mess up on the field. She's really calm on the ball and knows how to position herself well."
Better to be playing with her than against her.
Behind the two freshmen who have started in all but one game for the Cougars, BYU has put together its best season in program history. For the first time in the NCAA era, the Cougars finished the regular season undefeated, and take a 19-0-1 record into Thursday's second round in the NCAA Tournament against No. 23 Louisville (6 p.m. MST, BYUtv).
While reasonable — and acceptable — respect has been given to a senior-laden class led by top scorer Elise Flake and a back line that includes Danika Serassio, Alyssa Jefferson and Rachel Lyman, BYU has also had several new faces step in and fulfill their new roles well enough that the Cougars haven't missed a beat.
That includes Affleck, a freshman from Laguna Hills, California, who has four goals and three assists on the year, including an overtime game-winner against San Francisco that kept the Cougars' unbeaten season alive.
It also includes Shepherd, the former Gatorade Utah girls' soccer player of the year and state champion who has two goals and four assists while adapting to a new position at defensive midfield.
"I'm just grateful to be on the field anywhere, and I'll take what I can get — especially as a freshman," Shepherd said. "But it's been hard to hold back the urge to just go forward, to not leave my back line, but to stay in front of them and keep a good formation. It was a hard transition, but the team made it easy."
The Cougars rely on Shepherd a lot in the midfield; she's never missed a start, save one match at Kansas when the American Fork product picked up a red card a few days before. In that match, sophomore Ashton Brockbank slotted in for a 2-0 win over the then-No. 14 Jayhawks.
But there's a trust factor between Shepherd and BYU coach Jennifer Rockwood, who calls defensive midfield the freshman's "natural position" — even if the West Coast Conference All-Freshman honoree didn't believe it at first.
"She's a rock back there," Rockwood said of Shepherd, who has played almost every minute for the Cougars in 2019. "She doesn't get too high or too low; she's super feisty, and I think she earned a lot of the respect of her teammates over the summer by coming and training with the girls, with how we played over the summer. It really carried over into the season."
"We rely a lot on her. She's one of our top ball-winners, and she's one of our focus players that connects the back line to the attackers."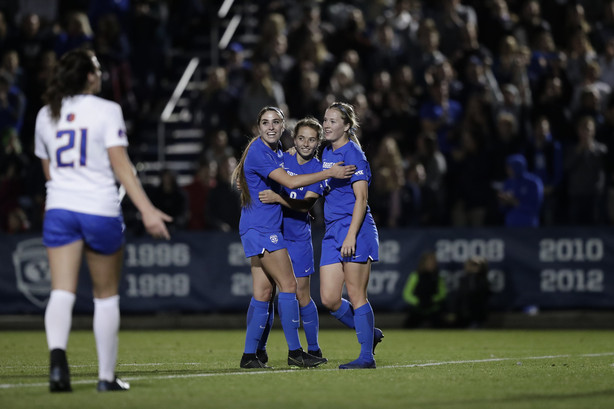 Ditto for Affleck, whom teammates and coaches call "SJ" and who can be easily spotted flying up and down the flanks with her twin braids and pink ribbons. She, too, grew up playing a different position than the one she has claimed in college.
If Shepherd could do it, so could Affleck — as she's told herself before.
"Both being newcomers, we've had to work together and try to keep each other's heads up," Shepherd said. "I think that's played a big role."
With the veteran savvy and the additions of two starting freshmen, the Cougars have put together one of the best seasons in program history. And they'll need to keep up the strong play this weekend, as South Field hosts an entire regional in the second and third round of the tournament.
Prior to the Cougars' second-round matchup with the Cardinals (13-4-2), No. 3-seeded Arkansas will play North Carolina State at South Field (3 p.m. MST, WCC Network). The Wolf Pack are one of nine teams from the Atlantic Coast Conference to receive a tourney bid, in addition to Louisville, which beat Lipscomb 1-0 in the first round.
It's a weekend befitting of a No. 2 national seed coming off a 5-1 win over Boise State in the opening round.
The powerhouse women's soccer conference also fields some of the top programs in the country — including two that will play in Provo.
"Louisville is the fourth team in the ACC, and the teams above them are all one-seeds," said Rockwood, referring to top-seeded North Carolina, Florida State and Virginia, which finished the regular season undefeated. "That tells you the quality of season that they've had, and they are used to that high-end competition every single week."
The Cougars know quality, too; just look at the two teenagers in the starting XI of an NCAA Tournament game less than five months after graduating from high school.
"Our freshman class is really close, and that's been helpful," Affleck said. "Jamie has helped me a lot off the field, as well as on the field, just feeling comfortable with everybody and making me feel a part of the team. I think that's been the most helpful."
×
Related Stories