Estimated read time: 4-5 minutes
This archived news story is available only for your personal, non-commercial use. Information in the story may be outdated or superseded by additional information. Reading or replaying the story in its archived form does not constitute a republication of the story.
SALT LAKE CITY — Zion National Park is turning 100 Tuesday.
And with a doubling of annual visitors over the last decade while its operating budget remains much the same, the state's most popular national park is feeling its age.
The park attracted more than 4 million visitors last year and is struggling under a deferred maintenance backlog of $70 million. Four of the park's most popular trails are closed, including the hike to Emerald Pools, and park officials were forced to close Angels Landing until Friday while a boulder in a rockfall is removed, said park spokeswoman Erin Whittaker.
Even as the centennial celebration is unfolding, park executives are reviewing a number of possible options to manage crowds and improve visitor experience.
"We know it is not sustainable what is going on right now," Whittaker said. "We have modified shuttle schedules, but there is only so much you can stretch to adapt."
Geology, for which Zion National Park is best known due to its towering cliffs and shimmering Navajo Sandstone formations, is at work all the time at the park, with rocks that move, slide and cut off access.
"We are not looking at something that happened a long time ago and is frozen in time," Whittaker said, noting the rock movements and slides are typically driven by rain and are a bit unusual since it has been so dry at the park.
The trails' closures means people are being squeezed into a smaller area in the park, which occupies a narrow canyon often host to 12-mile-long traffic jams.
Park officials have extended the free shuttle service for the second consecutive year to Dec. 1, and will offer it again for Christmas break. Whittaker says about 7 million rides are offered through the shuttle service each year.
Zion is Hebrew for sanctuary or refuge. Kolob, home to water-carved canyons on the north side of the park, is a term for the residence closest to God.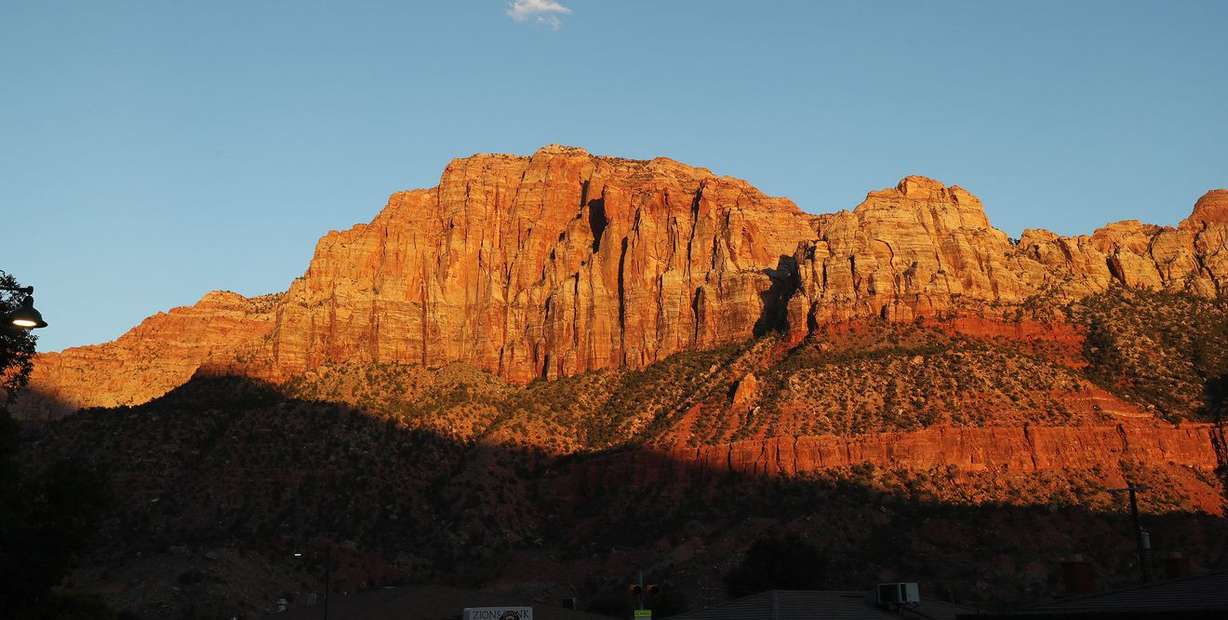 Geologic landmarks also bear spiritual names such as the Great White Throne where God is believed to reside; Angels Landing and the Court of the Patriarch with the peaks of Abraham, Isaac and Jacob.
People come to see some of Utah's most amazing geology with these landmarks and gape at landscapes that inspire that "wow, slap you in the face awesome type of photograph," Whittaker said.
The crowds, however, mean it is a constant challenge of balancing resource protection, improving the visitor experience and keeping up with maintenance.
Zion's official park partner is the Zion National Park Forever Project, which is a private 501(c)(3) organization that operates book stores in the park, pays for the park's Junior Ranger program and maps that visitors get.
It fundraises on behalf of the park, identifying critical projects in need of funding. For 2020, it identified the conservation of a Depression era topography map at $40,000, cataloguing the ecosystems of the park's 60 natural springs at $17,252 and digitizing Zion's analog photo collection at $46,878, among others.
The project can trace its roots back to the 1920s when residents of the tiny community of Rockville began creating and distributing informational post cards about the area and the park's stunning geology. It now works side by side with park officials.
"As we recognize the 100th anniversary of Zion becoming a national park, it is an opportunity to look back at its great history and honor those amazing accomplishments," said Lyman Hafen, the project's executive director.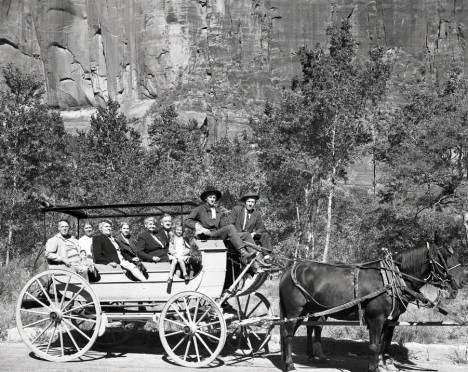 "At the same time, it is even more important that we look to the next 100 years and consider the role we all need to play in ensuring the park's future for generations yet to come."
Whittaker said the park will experiment with some pilot projects aimed at the crowding, but she said it is a slow process that is unfolding for the future of the park.
"This is a pretty strong team that works incredibly admirably and passionately together because this is a pretty daunting problem," she said.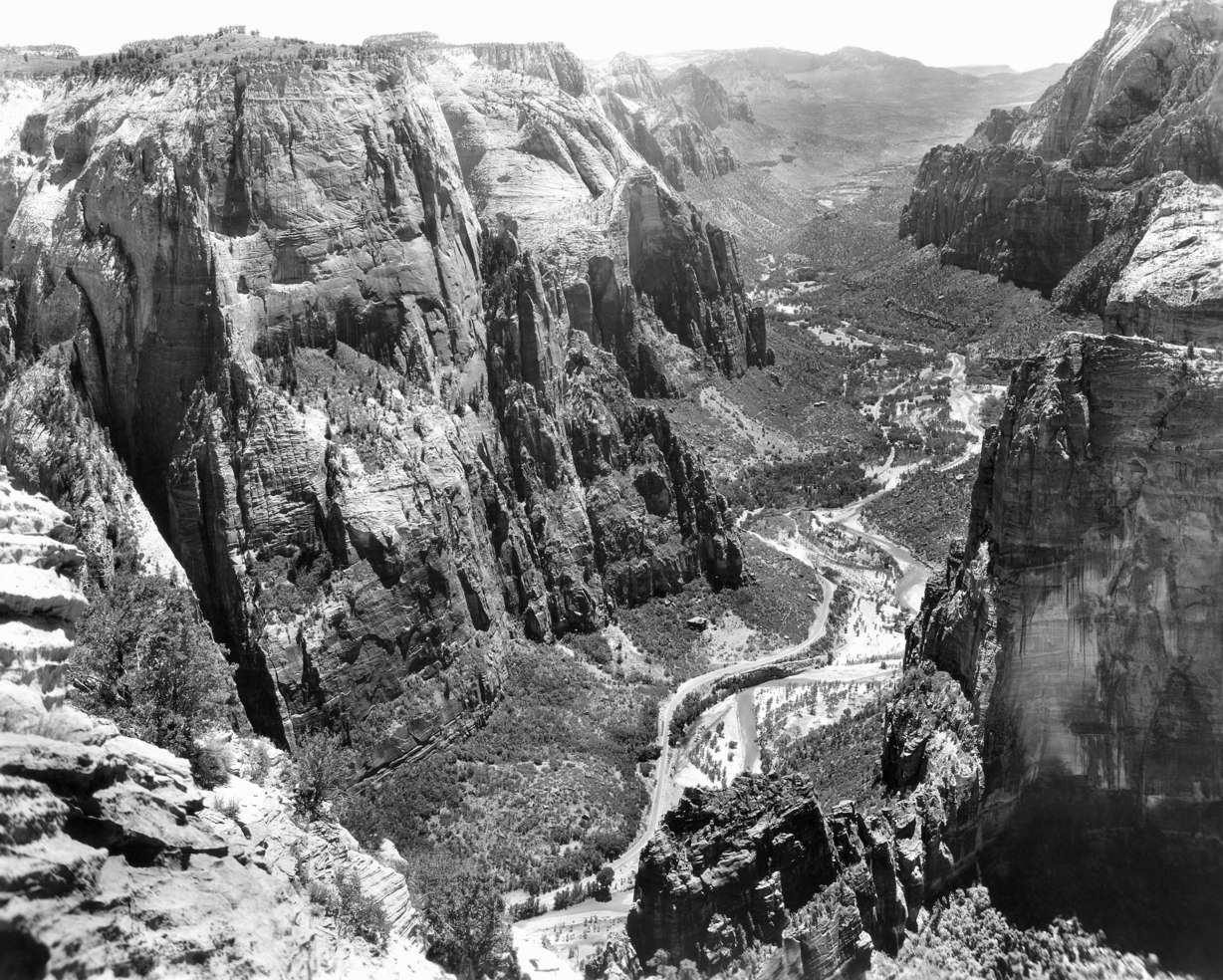 A special event Tuesday evening at Dixie State University will celebrate Zion National Park's 100th birthday anniversary with a nod to how much has changed at Utah's most popular park over the last decades and what is yet to come.
As part of the centennial "We the Keepers" campaign, the 7:30 p.m. event in the Cox Auditorium will feature the debut of the long version of a new film that will be shown to visitors at the park.
×
Photos
Related stories
Most recent Utah stories