ST. GEORGE — Construction on the redesign of Zion National Park's southern entrance began this week with the expectation it will help visitors get into the park faster.
Work began Tuesday and will include the widening of the roadway to accommodate new lanes, the construction of additional fee booths, traffic islands and an employee parking area. The project is expected to carry on through April next year.
According to the first phase of the traffic control plan for the project detailed in an email from the town of Springdale, work crews will primarily be clearing and grubbing on both sides of the road and doing earthwork to expand the roadway for incoming and outgoing lanes.
Once that is complete, paving will be done to move both incoming and outgoing lanes to the west side of the fee stations which is where it will stay for the duration of the construction.
The redesign of the southern entrance has been in the works since 2016 as increasing visitation to the park began to result in long lines of cars waiting to get into the park.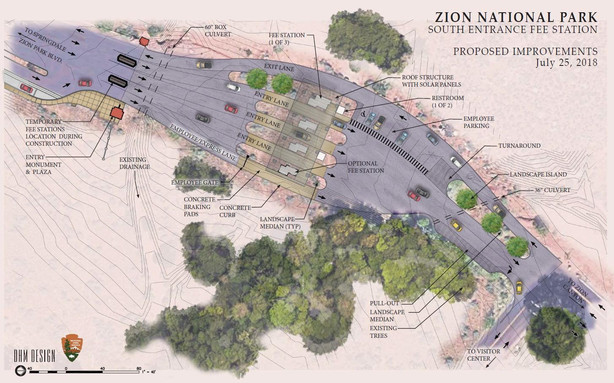 According to the National Park Service, on the 10th-busiest day in 2016, the South Entrance Station had a demand of 324 vehicles per hour. The original fee station configuration only allowed for approximately 194 vehicles per hour to be processed.
×
Related Stories