Estimated read time: 4-5 minutes
This archived news story is available only for your personal, non-commercial use. Information in the story may be outdated or superseded by additional information. Reading or replaying the story in its archived form does not constitute a republication of the story.
LEHI — Homemade cookies from a family recipe, fresh fruits, and a plate of rice and beans are just a few of the things that adorned the Carrasco family's Día de los Muertos altar that was on display at Thanksgiving Point this year.
Paying homage to their relatives who have passed, the Carrascos are no strangers to altar-making, having done so years prior. However, this was the first time they were able to display their work during the yearly Day of the Dead celebration at Thanksgiving Point on Oct. 26 for attendees to see.
Madison Carrasco and her family are originally from Arizona, having moved to Utah just about one year ago.
She heard about the function from volunteers of the event she speaks with on her Instagram account, holaamigo.utah. She uses the platform to promote Mexican culture and Spanish children's book recommendations.
"They invited us to put up an ofrenda even though we'd never been to the activity before, and we said, "sure," not knowing what it would entail. But I'm glad we did it," Madison said.
She and her husband, Abraham, worked diligently to put up their altar and keep it as close to Mexican tradition as possible. Originally from Mexico, Abraham grew up participating in Día de los Muertos.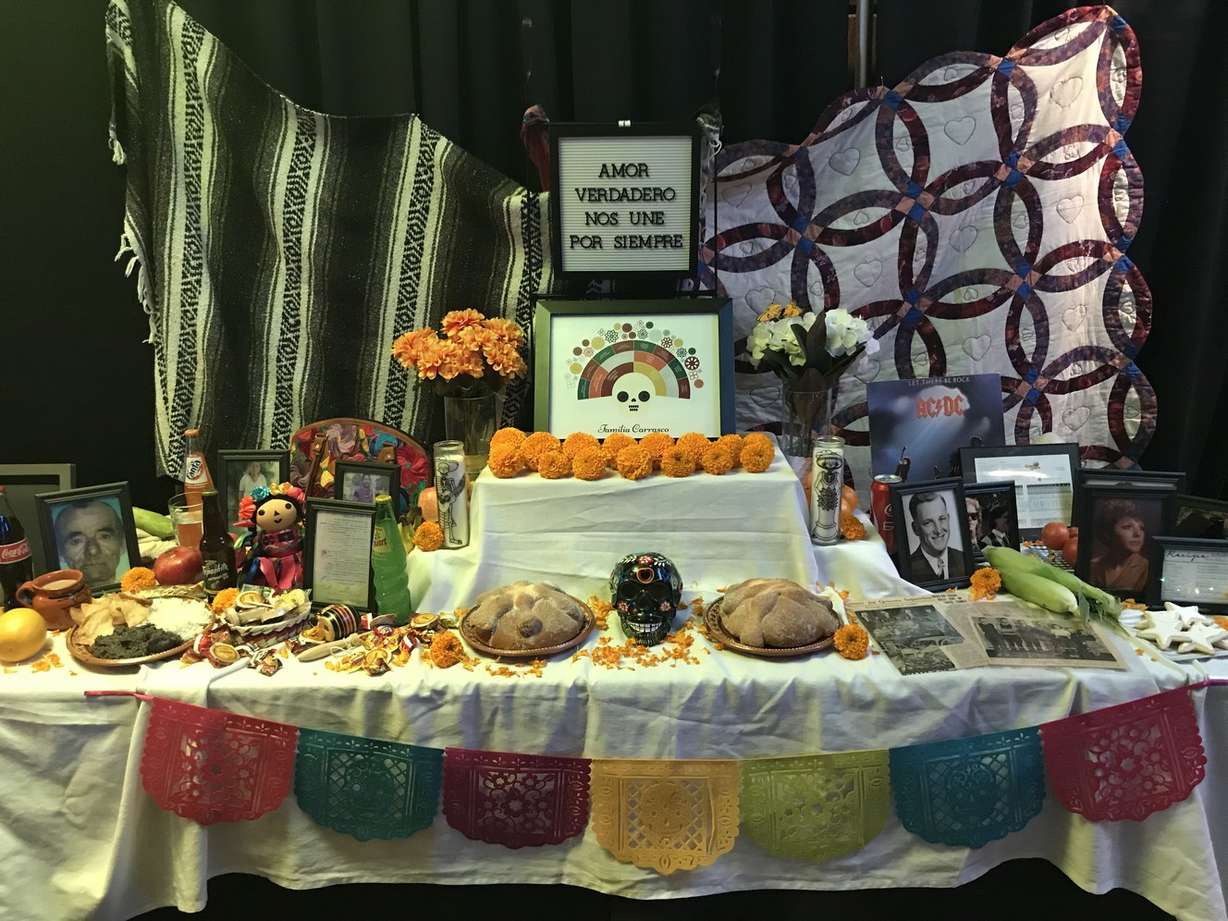 He passed on his knowledge and traditions not only to his children, but also to his wife as they have spent the last three years celebrating the holiday in their own home.
"I didn't celebrate Day of the Dead or know anything about it, other than what I might have learned in my beginner Spanish classes in high school. After (Abraham and I) got married, and once we started having kids, I got more interested in knowing more because it was important to know Mexican heritage and my husband's culture," Madison said.
While the importance of this holiday is being ingrained in the lives of their children, Abraham questioned it as a child, wondering why it was necessary to participate in such an event. After learning the importance of this "once a year" activity was for his past relatives and family, he was able to keep that in mind as he grew up and had the opportunity to teach his own family.
"I may not have all the answers in the world, but I completely understand why we do it and the connection we have between us and (those who passed)," he said.
For the Carrasco family, keeping up traditions for Día de los Muertos is not only a holiday dedicated to the remembrance of those beyond the living, but also a way to keep Mexican roots and heritage strong for their children who are growing up bi-culturally here in the U.S.
"I believe there is a connection between us and between those who have passed away already. Just because I live here doesn't mean I have to forget all my traditions, because that's something that's not going to happen. This is something that I will pass down to my kids," Abraham said.
Dia de los Muertos
Because of their participation in celebrating Day of the Dead, Madison has been able to heal from the passing of her parents and uses it as a reminder and teaching opportunity for their children. She lost her father prior to the birth of her children. Her mother passed away two years ago on Day of the Dead.
"We started because my dad died in 2010 unexpectedly, so my kids never met him. We wanted to use that opportunity to talk to our kids about their ancestors that they haven't met and tell their stories," she said.
The altar allowed them to reconnect with their ancestors as well as with other families who had proper altars set up, and it provided a chance to meet the community around them, as they are still new to Utah.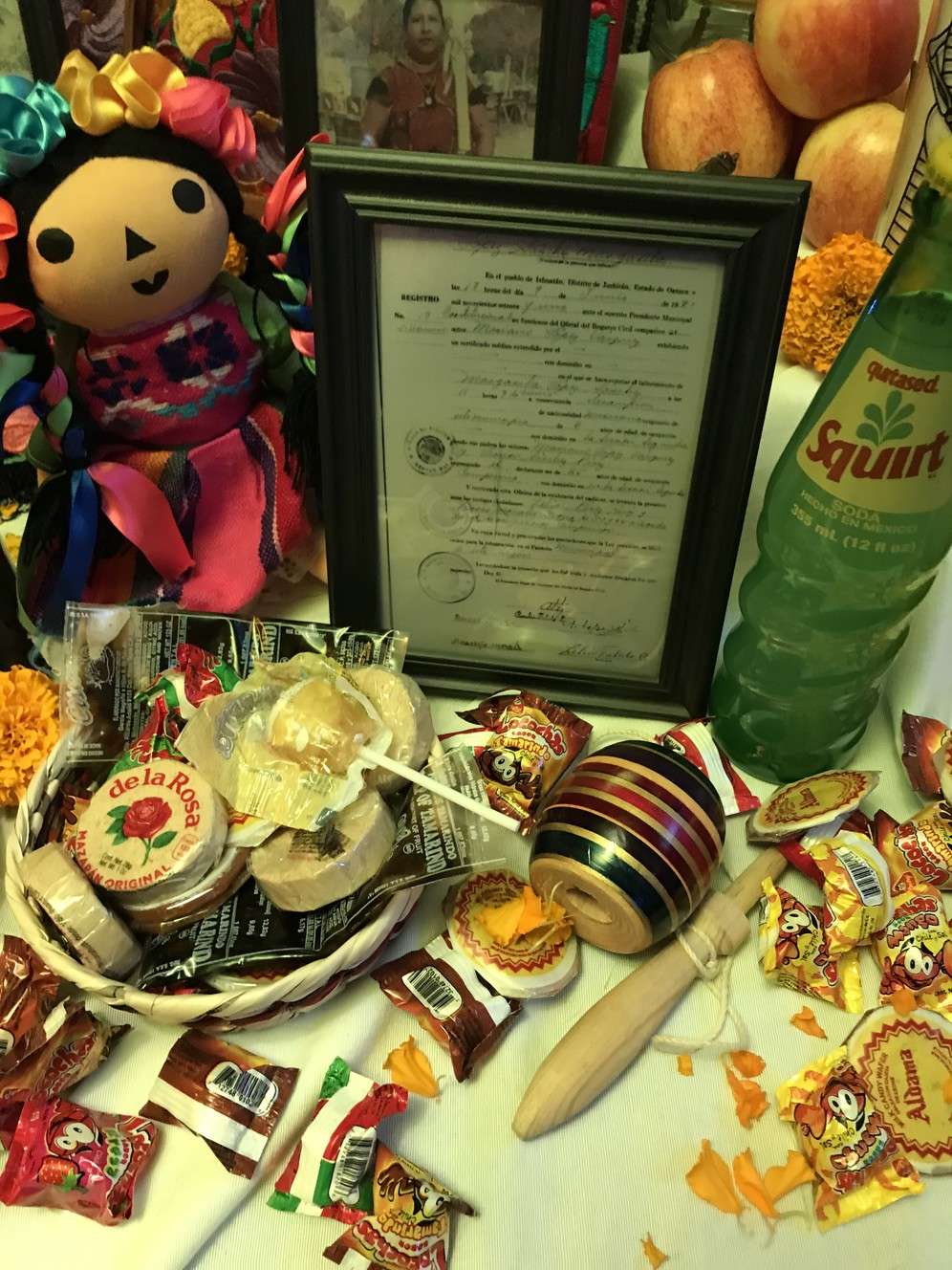 "It was just such a special experience, and I wasn't expecting that. I was just expecting that we'd put up our table and people (would) walk past it. But so many people would stop and ask me about the pictures and want us to share their stories, and it was just, it was so beautiful," she said.
The family worked hard to stay as close to Mexican tradition and culture as they could during their altar-making, especially for the event. They were able to successfully do so as attendees who were familiar with Día de los Muertos and had celebrated the holiday growing up were able to resonate with the family's altar.
"In keeping up with the tradition, keeping it original was the most important (thing), and people saw that (during the event). We had a guy that said, 'Oh my gosh, this looks just like my grandma's,' because we had a plate with rice and beans and chips," Abraham said.
The family said they are looking forward to more opportunities to share Mexican culture and Día de los Muertos for the future.
×
Photos