BRIGHAM CITY — Drivers will soon be allowed to drive 65 mph on Legacy Parkway and a ban on large semitrucks commuting on the highway, which had been in place for more than a decade, will expire on Jan. 1, Utah Department of Transportation officials said Friday.
Legacy Parkway, or state Route 67, is an 11 1/2-mile scenic byway that connects a junction with U.S. Highway 89 and I-15 in Farmington with I-215 in North Salt Lake, cutting through the southwest portion of Davis County.
The decision to bump the speed limit of the highway from 55 mph to 65 mph on Jan. 1 was approved during a Utah Transportation Commission meeting in Brigham City on Friday. UDOT Traffic and Safety Director Robert Miles went through the results of a UDOT that showed about 85% of all drivers were driving at 70 mph or less anyway.
He also noted there had only been five fatal crashes on the highway since 2014 and, of those, three were related to speeding. He explained that the proposal came from "engineering judgment" and from communication with communities where the highway runs through. After all of it, 65 mph was the suggested speed limit.
"We decided to raise the speed limit to a speed that is closer to what drivers are actually driving," he said. "In doing so, we hope to eliminate the safety risk of speed discrepancy, which can happen when you have a significant difference between the speed most drivers are actually traveling and those who are driving the posted speed limit."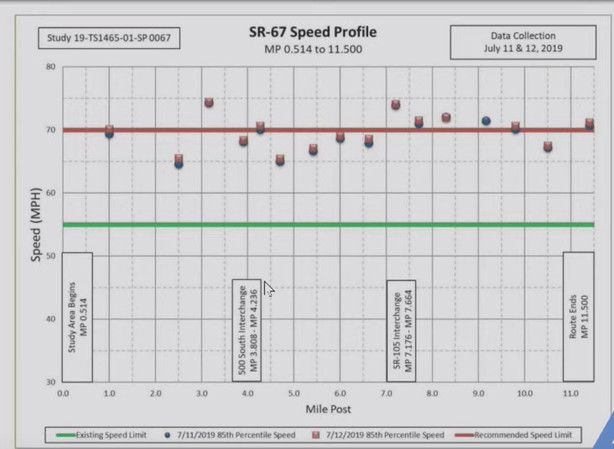 However, the move was met with criticism from those who live near the highway. During the meeting, Gary Uresk, Woods Cross administrator and chairman of the Great Salt Lake Legacy Parkway Scenic Byway Commission, told the board that Woods Cross, North Salt Lake and West Bountiful city councils had passed resolutions to push the speed limit to 60 mph instead.
His remarks came as he had already conceded that large vehicles would already be allowed on the highway starting in 2020. Since it opened in September 2008, semitrucks with five or more axles or 80,000 pounds or more in gross vehicle weight weren't allowed. However, that ban was set in place because of an agreement signed in 2005, which had a sunset date of Jan. 1, 2020.
Uresk and other community members in the southern part of Davis County had fought to keep the ban going.
"The communities and the area around there is now facing a double-whammy come Jan. 1. Not only are we going to have trucks, but we could have the possibility of trucks going 70-plus mph on that facility and I think it's too much of a change on the ecosystem and the community around it," Uresk said.
Angie Keeton, founder of Save Legacy Parkway, also spoke during the meeting. She criticized UDOT during the meeting for not doing a good job communicating the proposed changes to residents. Afterward, she told KSL that problems with speeding on Legacy Parkway weren't really a secret among motorists who use it.
"A culture has developed on the roadway assuming that you can drive 70 or 75 (mph) with no consequence," she said, standing outside of her home in North Salt Lake. "And if you set up a culture like that, of course, you're going to get a speed study back that shows 85% of folks are in that 70 mph range."
She was also concerned that not only would increasing speed make the highway less safer, but it will increase the noise in the area. That's in addition to trucks that will be added on the highway and concerns if any of those vehicles crash.
"The concern is there is no clear research, there is no clear data and there is no clear plan on how the negative impacts that are going to be felt by thousands are going to be dealt with," she said. The sound of cars driving by on the highway can be heard in the distance as she speaks. She says it's about 1,000 feet from her home, but there are many homes closer to the highway than that.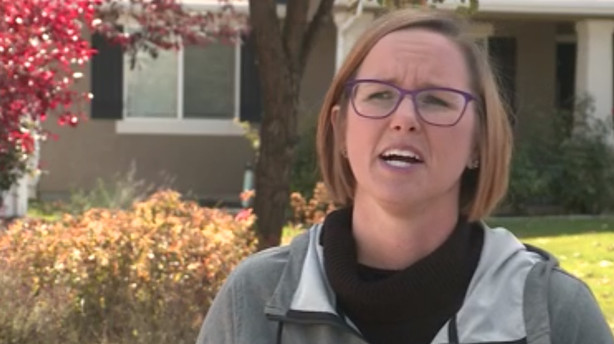 While those aspects weren't discussed during the presentation, Miles also added that he doesn't see the change as encouraging drivers to continue to speed.
"Nothing we're doing here today is indicating individuals should drive 5 mph faster," he said. "What we're doing is adjusting the speed limit to what people are driving in the hopes we keep them in that speed they're already driving at."
As for the truck ban being lifted, Miles said the decision to extend the ban on large vehicles is out of UDOT's control.
"The only way that sunset could be extended is through legislative action, and the Legislature has chosen not to extend it. So the agreement expires Jan. 1," he said, during Friday's meeting.
There were two proposed bills that could have extended the large vehicle ban during the 2019 legislative session, but both were killed off in different transportation committees. SB119, sponsored by Sen. Todd Weiler, R-Woods Cross, failed to pass the Senate Transportation, Public Utilities, Energy and Technology Committee, falling on a 4-1 vote on Feb. 7.
HB339, sponsored by Rep. Melissa Ballard, R-North Salt Lake, failed to get through the House Transportation Committee with a 5-6 vote on Feb. 25. Bountiful Mayor Randy Lewis, North Salt Lake City council member Lisa Watts Baskin and Woods Cross City council member Tamra Dayley were among those who had spoken to the House Transportation Committee in favor of the bill before it failed to pass the committee.
---
I've had individuals suggest we add numerous additional lanes to it — in other words, move it into an I-15. So we are taking, in my opinion, a step backward.
–Gary Uresk, Woods Cross administrator
---
However, trucking advocates said the ban had an impact on the trucking industry. State officials agreed and the ban was never extended.
"Our concern is, of course, the precedent set by restricting commercial vehicles from a public highway," said Utah Trucking Association Executive Director Rick Clasby during the Feb. 25 meeting. "It has been in good faith that we've stayed off that, but it's also been in good faith to be able to utilize that highway."
After the session ended in March, some residents and advocates of the ban gathered in favor of keeping the ban in place, but ultimately, nothing came from it.
During Friday's meeting, Uresk said the communities that the highway runs through are "proud" of what the scenic byway has become. It's a highway that's also adjacent to the Legacy Parkway Trail. However, he's concerned the new changes will diminish that.
"It added to our community ... but what I see is chipping away of that and a step backward from that," he said. "First, by letting trucks on it and increasing the speed limit. I've had individuals suggest we add numerous additional lanes to it — in other words, move it into an I-15. So we are taking, in my opinion, a step backward."
Contributing: John Wilson, KSL TV
---
Correction: In a previous version the graphic on the speed profile incorrectly stated the red line was showing drivers going 65 mph. That speed has been corrected.
×
Photos