Estimated read time: 5-6 minutes
This archived news story is available only for your personal, non-commercial use. Information in the story may be outdated or superseded by additional information. Reading or replaying the story in its archived form does not constitute a republication of the story.
SALT LAKE CITY — The 189th Semiannual General Conference of The Church of Jesus Christ of Latter-day Saints has wrapped up in Salt Lake City, and members of the church are returning to their homes with thoughts, feelings and questions about what was just learned.
Did you watch all 10 hours of this weekend's public sessions? Or are you still waiting to catch up?
Either way, here are a few key takeaways from the semiannual two-day event of the state of Utah's largest faith. For a full rundown of every speaker's message, check out our live blog on KSL.com.
More from General Conference
More to come
For what may be the first time in general conference history, the president of the church left the faith's followers with a cliffhanger.
In President Russell M. Nelson's final discourse Sunday afternoon, he spoke at length about temples — the "crowning jewel" of the gospel for members of the church, he said, as he read the official temple-recommend interview questions that had been edited for clarity (more on that in a moment).
But that wasn't where he left congregants at the downtown Conference Center.
President Nelson reminded members of the faith that spring 2020 will mark 200 years since the church's founding prophet Joseph Smith said he received a vision of God the Father and Jesus Christ near his home in upstate New York, a moment Latter-day Saints refer to as the First Vision.
As such, April's conference — the 190th Annual General Conference of the church — will be special, according to President Nelson.
"General conference next April will be different from any previous conference," he said. "In the next six months, I hope that every member and every family will prepare for a unique conference that will commemorate the very foundations of the restored gospel."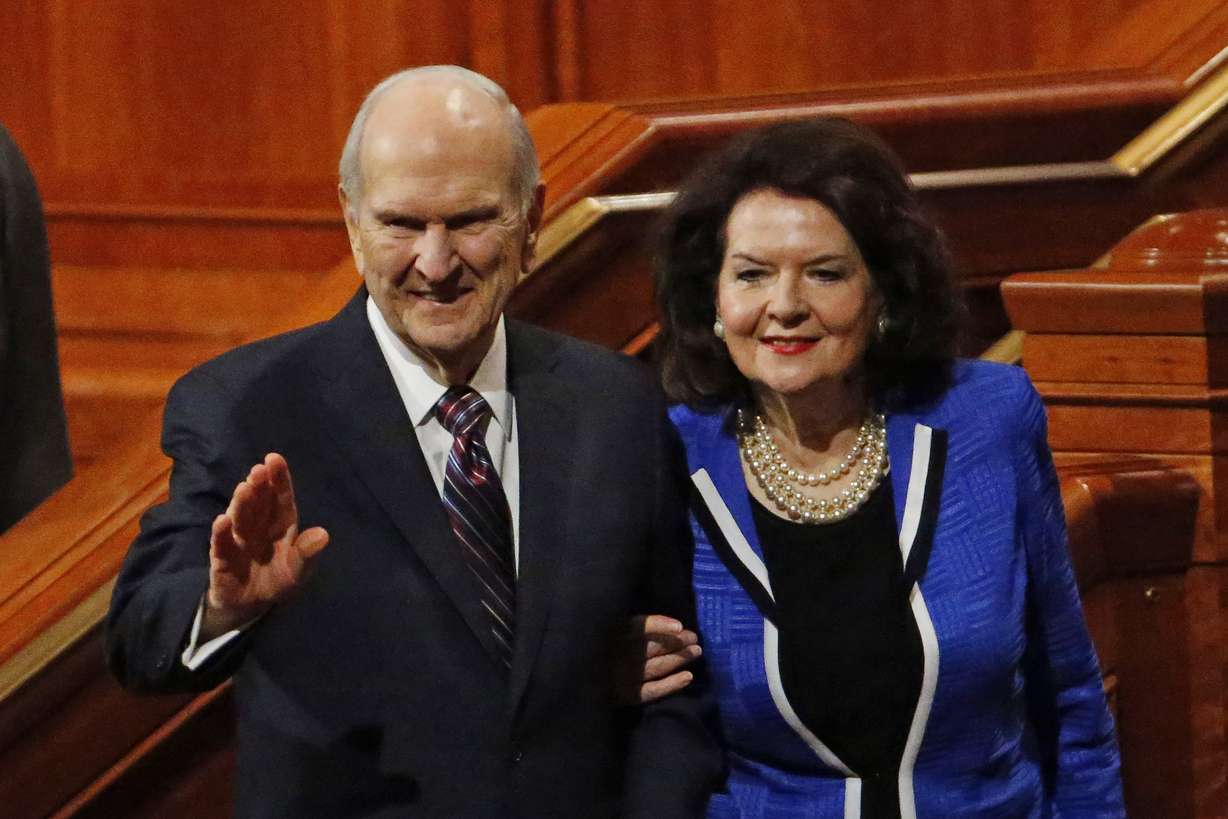 History made
There was no press release or major announcement, but Elder Peter M. Johnson of the Seventy offered a historic address during Sunday's final session of the conference.
Johnson became the first African American general authority to speak in general conference in the church's modern era, a riveting moment for members of the church.
Elder Johnson grew up in the Muslim faith in New York City, but played basketball at BYU-Hawaii and joined the church through missionary efforts on the island. He received a master's degree from Southern Utah and a Ph.D. in accounting from Arizona State. He also worked for a time as a CPA, and as an associate professor of accountancy at Brigham Young University-Hawaii and University of Alabama before being called as an Area Seventy in the church's North American Southeast Area.
"It is my prayer that we will recognize the confirming influence of the Holy Ghost as we come to fully understand that we are children of God," Elder Johnson said in his address.
Clarified temple recommend questions
In a conference highlighted by eight new temples and overhauling changes to both the Young Men and Young Women youth programs, President Nelson finished off Sunday afternoon with an update to questions asked in the church's official interviews for a temple recommend. Worthy members are granted access to the 166 operating temples worldwide.
President Nelson said the church will send the revised 15-question interview to local leaders beginning Monday.
Adventures of a covenant people
Elder Dieter F. Uchtdorf brought in J.R.R. Tolkein's classic "The Hobbit" and the adventures of Bilbo Baggins to describe mortality. The adventure continued with his colleagues in the Quorum of the Twelve Apostles.
"If you hesitate in this adventure because you doubt your ability, remember that discipleship is not about doing things perfectly; it is about doing things intentionally," Elder Uchtdorf said. "It is your choices that show what you truly are, far more than your abilities."
Key to that journey is making and keep covenants, added Elder Gerrit R. Gong.
"In losing our worldly self through covenant belonging, we find and become our best eternal self — free, alive, real — and define our most important relationships," he said.
But don't be deceived while on that adventure, cautioned Elder Gary E. Stevenson — whether by skunks, dalmations or the entrapings of Satan.
"We must continue to be faithful and vigilant, for so is the only way to discern truth and to hear the voice of the Lord through His servants," Elder Stevenson said.
Called to serve
The gospel of Jesus Christ isn't just about attending weekly church meetings, building temples and fulfilling full-time missions, President Nelson reminded the faithful Sunday morning.
It's also about service. According to President Nelson, the church's humanitarian efforts have combined for more than $2 billion in worldwide aid, including 124 operating bishops' storehouses throughout the world, emergency supplies to refugees in 56 countries last year, vision care for more than 300,000 people in 35 countries, wheelchairs for 50,000 people in dozens of countries, and more than 100 disaster-relief projects in 2018 alone.
"You are the ones who make all this possible," President Nelson told church members. "Because of your exemplary lives, your generous hearts and your helping hands, it is no wonder that many communities and government leaders are praising your efforts."
×
Related stories
Most recent Utah stories