Estimated read time: 5-6 minutes
This archived news story is available only for your personal, non-commercial use. Information in the story may be outdated or superseded by additional information. Reading or replaying the story in its archived form does not constitute a republication of the story.
SALT LAKE CITY — On Saturday, there's a chance you listened to six hours (plus breaks) of talks from leaders of The Church of Jesus Christ of Latter-day Saints during the 189th semiannual general conference.
We're here to help you sift through some of the major topics, discussions, quotes and policy enactments and changes underscored during the past 24 hours.
Every session is streamed live at lds.org and KSL.com, in addition to a live blog during each session.
In advance of Sunday's sessions, here are five key takeaways from the weekend so far.
Come for the counsel, stay for the changes
It's no secret that there's been a deluge of new information, counsel and even policy changes since church President Russell M. Nelson took charge in 2018.
Still, even in times of "great revelatory output," as many apostles have been wont to call these years, it is easy to get pulled into the depths of waiting for "announcements" and "changes" every six months, warned Elder Jeffrey R. Holland of the church's Quorum of the Twelve Apostles. No amount of new temples announced or policy changes enacted should distract from the central meaning of the conference, which is Jesus Christ, according to Elder Holland.
"Those blessed with sight will recognize that, in spite of everything else this conference tradition may offer, it will mean little or nothing unless we find Jesus at the center of it all," Elder Holland said in leading off the opening session Saturday morning.
Women and the priesthood
President Nelson, a man whom Latter-day Saint faithful see as being a prophet, seer and revelator, spoke in the evening's general women's session about the priesthood, or what members of the church believe to be the power of God used to bless God's children, and its role in women's lives.
In short, while men are ordained to the offices of the priesthood, the priesthood is not just for men, he said; Latter-day Saint women should learn how to use and apply it in their lives, as well.
"How I yearn for you to understand that the restoration of the priesthood is just as relevant to you as a woman as it is to any man," President Nelson said, adding that "direct access" to God's power is equally available to women as it is to men in the church.
"Those who are endowed in the house of the Lord receive a gift of God's priesthood power by virtue of their covenant," he said.
Immediately before announcing new temples, he told women they were "vital" to the work that goes on in the temple.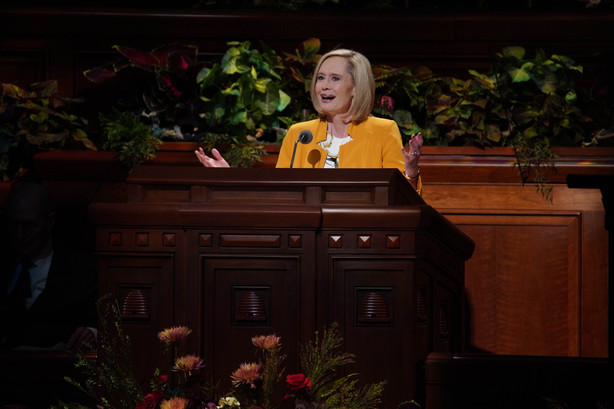 Ch-ch-changes
You didn't think President Nelson could go through an entire day of the church's semiannual conference without making a change to an organization or procedure of church administration, did you?
The spry 95-year-old leader of the church turned to Elder Quentin L. Cook of the Quorum of Twelve Apostles and Sister Bonnie H. Cordon of the General Young Women's Presidency to announce the significant changes in youth programs for young men and young women as the church transitions toward a new youth program. Among them:
Retiring the current model of Young Men organization and replacing it with one led directly by a ward's bishop and his counselors.
A revamp of the Young Women's theme, a motto young women in the church recite that helps them remember their worth and values.
Shifts in the Young Women organization to allow for more leadership for the young women, roughly ages 12-18.
You want temples? Here are 8 of them
President Nelson, the worldwide church's top leader, announced eight new temples from the pulpit at the close of the general women's session — including two in Utah.
Orem and Taylorsville will be the newest additions to the Utah temple family, joining the nearly two dozen temples either operating or currently announced in the state. The Taylorsville temple will be the first in the Salt Lake Valley since Oquirrh Mountain in 2009, while Orem is the second Utah County temple to be announced since Provo City Center in 2016.
Other temples announced include Freetown, Sierra Leone; Port Moresby, Papua New Guinea; Bentonville, Arkansas; Bacolod, Philippines; McAllen, Texas; and Coban, Guatemala.
To have joy
"Joy" was a consistent theme of many speakers throughout the day, with church leaders quoting the scripture found in the Book of Mormon that says God's children exist so they "might have joy," and offering encouragement to help those listening find happiness in life.
"The wicked may have joy in their works for a season, but it's always temporary," said Elder Christofferson of the Quorum of the Twelve Apostles on Saturday morning. "The joy of the saints is enduring."
Elder Terence M. Vinson of the Seventy added: "Joy is not fleeting pleasure, or even temporary happiness. Joy is enduring, and is founded on our efforts being accepted by the Lord."
×
Related Stories