SALT LAKE CITY — Moving to a new place can be intimidating, especially when you do not know many people. However, these Utah communities have proven that they embrace new people and accept them as they are.
The KSL.com "Make Your Week" column features uplifting stories sent in from people outside the newsroom. In this edition, a teacher's aid who came to the United States through a refugee camp in Turkey is now being recognized for her volunteer efforts in helping refugee children adjust to classroom settings. Also, when everyone canceled at the last minute for her son's birthday party, a mom took to Facebook to ask her new neighbors for help.
To share the stories that have made your day better, email them, preferably in 100 words or less, to jriess@ksl.com. Photos and videos are encouraged. Stories may be edited for clarity.
Apex Volunteer of the Year is "heaven-sent"
"Baraa Arkawazi came to East Midvale Elementary by way of a refugee camp in Turkey," read a Canyons School District Facebook post. "But her colleagues describe her as heaven-sent. In just one year, she logged 1,100 hours volunteering in East Midvale classrooms, translating for families who speak Arabic and giving newcomer students the extra love and support they needed to thrive.
"Initially, she came to help a refugee student acclimate and learn English. 'I had assumed that after that, she would leave … but Baraa kept coming, and what ended up happening is she did the work of a full-time aide for free,' says teacher Hannah Turpin. 'I don't know what I would have done without her. When you have 26 students, it's hard.'
Baraa Arkawazi has been described as "heaven-sent." She logged 1,100 hours volunteering in East Midvale classrooms and has been chosen as the 2019 Apex Award for Volunteer of the Year.

— Canyons District (@canyonsdistrict) September 11, 2019
"Baraa says she, too, was changed by the experience. 'When I first came here, I was shy but here, when you are a teacher, you can't be shy, because you have to motivate the students,' she says. And when Baraa needed help to pass a test that was required in order for the school to permanently hire her, colleagues stepped up to tutor her. Baraa now works at the school as a classroom aide, but still puts in hundreds of extra unpaid hours to support the students and families at East Midvale."
The Facebook post continues: "This week, Baraa was among those honored at Canyons District's annual Family Learning Center Recognition Night. The Family Center provides tutoring, language and parenting classes for the parents of students in Canyons' Title I schools. At the May 30 recognitions ceremony, the Center received a $1,200 grant from the Mexican Consulate."
Community birthday party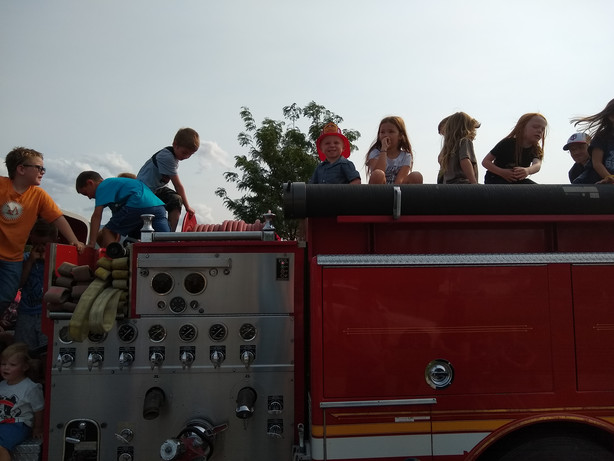 A Tooele County mom named Tonya turned to a private community Facebook group when the entire guest list for her son's birthday party canceled the day of.
"My son is 4-years-old, he has autism, he is a special needs kiddo. Tonight we are doing his birthday party at England Acres Park at 3:15 p.m." Tonya's post reads. "I usually wouldn't do this but everyone I invited to his birthday just canceled. If anyone would love to stop by, no need to bring gifts. He doesn't have a lot of friends to play with. Just bring the kiddos to play. I don't have many friends either out here, I would love to meet some moms."
"Our community responded with gusto! Even the Grantsville fire department showed up!" said a group member named James. "It was a really touching thing to be part of, I am so proud of my own 3 and 5-year-old sons who were there playing with him along with everyone else."
More Make Your Week:
×
Related Stories