This archived news story is available only for your personal, non-commercial use. Information in the story may be outdated or superseded by additional information. Reading or replaying the story in its archived form does not constitute a republication of the story.
Editor's note: This is part of a series at KSL.com featuring some of Utah's coolest cars. If you own a customized vehicle — from sports cars to semitrucks — email jormond@deseretdigital.com with a photo of the vehicle and a brief description for consideration.
DRAPER — It's not a daily occurrence to see a Dodge Viper driving down the road in Utah. If you spend any time around the Draper or Alpine areas, however, you may happen to see a very rare American supercar that resembles its namesake perhaps better than any other car on the road: a custom 2016 Dodge Viper GTC ACR Extreme.
Kyle Nelson has always been a car guy. It was a few years ago that Nelson and a business partner decided to combine their love of cars and professional skills in marketing and create their own business.
When Nelson isn't driving his beautiful Viper, he commutes in his brutally quick and perfectly tuned Audi RS 7, which he claims is actually faster in a straight line than his Viper.
The Viper has always been a bit of a gimmick in the supercar world, in terms of being drivable. It has a massive V-10 engine mounted in the front, making tons of power and torque, and it's as fast as almost any other supercar in a straight line, but get it into the corners and the rear tires will do anything they can to break loose and send you sideways.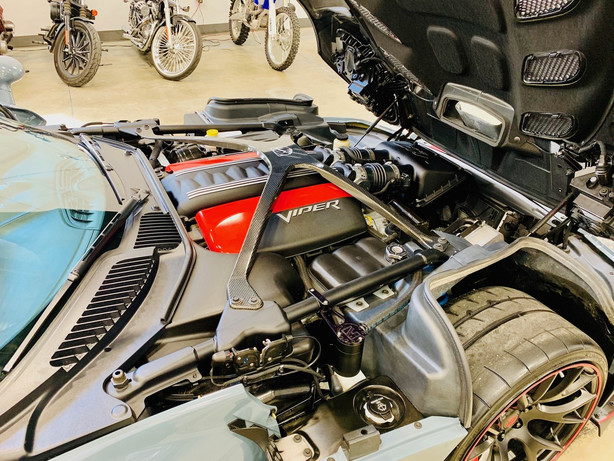 The GTC ACR Extreme turned the previous notion of what a Viper does on its head, however, utilizing 1,500 pounds of downforce and sticky tires, making it one of the fastest production cars ever around a racetrack.
"There were only a few hundred of these GTC ACR Extremes produced. The GTC was a package that allowed the customer to customize everything about the car," Nelson said. "This GTC Viper took advantage of every option making the MSRP one of the highest of any Viper ever produced, at $166,000."
Everything from the paint color, to the red and black stripes, to the beautiful red leather on the seats was hand chosen on this car. Nelson's Viper is kept firmly planted to the road by the massive front splitter, air-channeling side skirts, rear diffuser and a rear wing that is appropriately 1776 millimeters wide.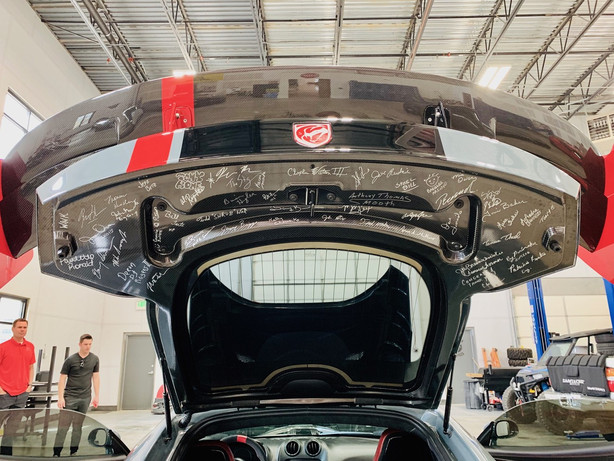 Kumho also built a custom tire specifically for this car to handle the force and power. It utilizes an Arrow computer module, American Racing Headers and a Corsa exhaust that takes the power from 650 horses to over 700. Finally, because these cars were built by hand, the underside of the decklid in the trunk is signed by all who were involved in the production of the car.
As for future plans with the car, Nelson said, "I plan on driving it. It's a car that was built to be driven, and that's exactly what I'll do with it."
Cool Cars:
---
×
Photos
Related Stories