Estimated read time: 2-3 minutes
This archived news story is available only for your personal, non-commercial use. Information in the story may be outdated or superseded by additional information. Reading or replaying the story in its archived form does not constitute a republication of the story.
ST. GEORGE – A little breeze always feels good for as hot as southern Utah is getting. However, with all the dry grass in the area, fire managers are watching the wind closely.
That's why Utah's first Red Flag Warning day of the year was issued in the St. George area on Friday.
"It just takes a small spark to end up with a fire," said Mike Melton, fire management officer for Utah's Division of Forestry, Fire & State Lands in southern Utah. "Fire can travel in this grass as fast as the wind is blowing."
There is a lot of tall grass after such a wet winter, and all that tall grass is drying out fast as temperatures continue to increase. "I like to call it biological gasoline because that's the way it burns," said Melton.
Melton said the good news is wildfire crews in the state have recently finished their training and are ready to go. Now, it's just a matter of time before a big fire, although dozens of small fires have already burned this season.
"There have been about 80 fires statewide reported to our dispatch centers," said Jason Curry, who is a fire investigator with Utah's Division of Forestry, Fire & State Lands.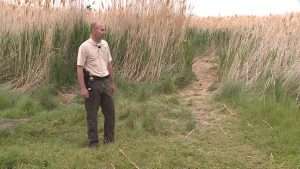 Last year, there were 1,314 wildfires in Utah. Curry says about half of them were caused by people being reckless and careless.
"Almost half of these human-caused fires are preventable. Very few of them are what we would call just a pure accident," he said.
Things like sparks from equipment or dragging a chain, even parking a car on dry grass or a campfire that wasn't properly put out, can cause a big problem. Especially as all that beautiful green starts turning brown.
"It's a recipe for rapid fire spread," said Melton.
The state has created a campaign called Spark Change to help address the problem. It's an online pledge to get people to be more careful and thoughtful when it comes to sparking a fire.
The first red flag warning of the year was today in Southern Utah. And with as dry as it has been lately, all that green grass from the wet winter is turning brown. Fire managers are asking people to be extra cautious this weekend. @KSL5TV at 10. #KSLTV@UtahWildfirepic.twitter.com/dsMSBskRDy

— Alex Cabrero (@KSL_AlexCabrero) June 8, 2019
You can find information on the campaign, as well as sign up, at sparkchange.utah.gov.
×
Most recent Utah stories