Estimated read time: 4-5 minutes
This archived news story is available only for your personal, non-commercial use. Information in the story may be outdated or superseded by additional information. Reading or replaying the story in its archived form does not constitute a republication of the story.
LEHI — It's easy for growing kids to sneak into the pantry for a quick snack, but one Utah dad is prepared to make sure those choices are healthy.
When the Fowler kids get home from school, they're always greeted by their stay-at-home dad, Bill Fowler, and a healthy snack.
"Kids come home and they say they're hungry, and I send them to the fruit bowl," he said. "We go through a ton of fruit."
These healthy snacks fuel the family for their active lifestyle. Both Bill and his wife, Starr Fowler, are avid triathletes. Their 10-year-old son, Liam, is also following in their footsteps.
"Every morning I run a mile," he said. "I hate waking up early, but it's worth it!"
The family's rigorous training schedule makes healthy food choices especially important.
"Snacks are fruit, they're yogurt, they're cheese, they're kind of the simple things," Bill explained.
His kids don't know anything different. When he asked them, "How come we never eat Ding Dongs," they responded by asking, "What's a Ding Dong?"
The family hasn't always eaten this healthy, though. Bill used to love gummy bears and Coke runs at Maverick until nine years ago when he and his wife moved their family to Australia for work.
Bill packed his oldest daughter, Ava's, lunch for her first day of school. "I bought a Subway sandwich and a cookie and a fruit snack," he said.
At lunchtime, however, Bill observed what other parents had packed their kids.
"Every other kid is opening their celery, their strawberries, their carrots, their apples, their oranges; and Ava breaks out a cookie," he said. "I felt like such the American stereotype. I was horrified."
By the time the second snack time came around, Bill told his daughter not to open her fruit snack!
He quickly learned the school required students to bring a healthy lunch and snack. "I just had never been in the habit of buying fruit before, and suddenly we had to bring two pieces of fruit or (vegetables) every day," he said.
The family brought this new habit home with them to Utah when they returned. Today, they have three big fruit bowls that sit in the center of their kitchen. "Liam goes through these green apples like crazy," Bill said.
"It kind of tastes the exact same as sour patch kids," Liam said.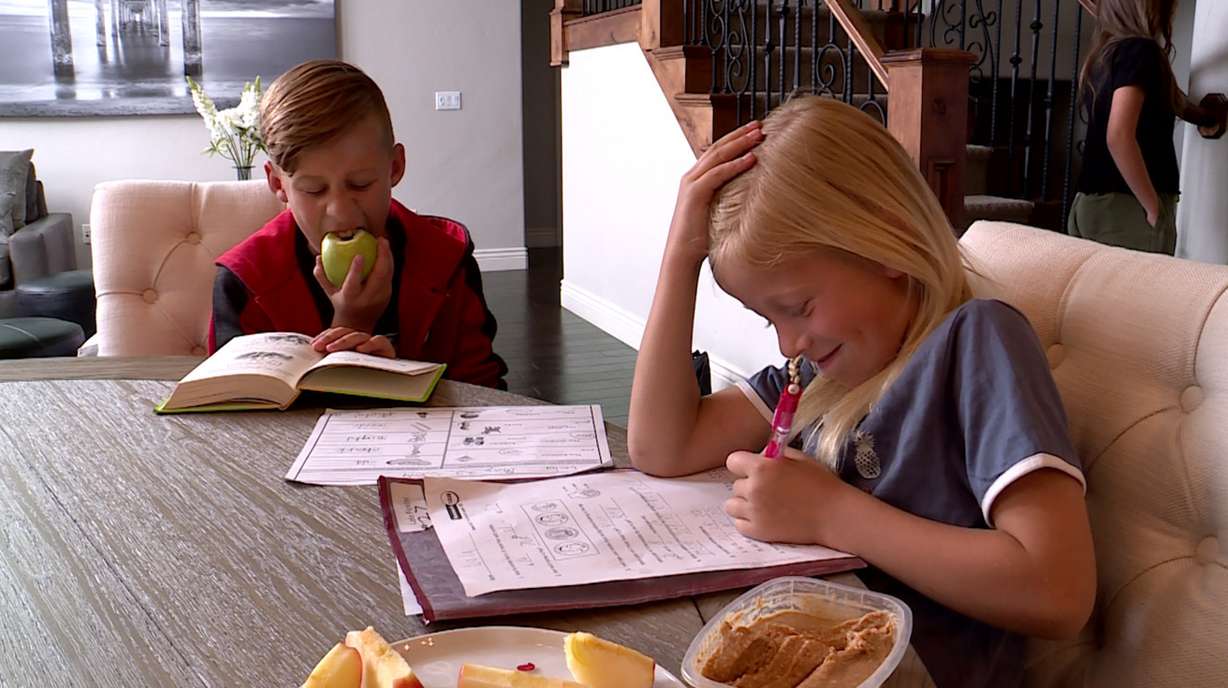 Intermountain Healthcare's Ashley Hagensick, a sports dietician at The Orthopedic Specialty Hospital, said decreasing sugar intake starts at the grocery store.
"Just don't buy the sugar. Don't buy the added sugar sweet treats, don't have them around, don't have them in your desk," she said.
Bill couldn't agree more. "I just found if I buy Twizzlers, I'm going to eat Twizzlers, if I buy gummy bears I'm going to eat gummy bears. When I start changing habits and (buy) fruit, we eat fruit," he said.
Hagensick encourages people to eat healthier meals and snacks earlier in the day.
"Most Americans don't eat enough throughout the day, then eat all their calories at night. So that's why it's easy to just over consume the sweet treats," Hagensick said.
"I never understood before I made this change what I was missing," Bill said. Now, he goes grocery shopping almost every other day for fresh produce. If he doesn't, he said they run out.
Bill said their discipline and lifestyle change has paid off.
Eating right has helped both him and his wife compete in regular triathlons. Starr Fowler wakes up at 4 a.m. every morning to start training; and once Bill drops the kids off at school, he trains during the day.
Both Bill and Starr qualified for the World Championship Half Ironman Triathlon race in France, which they will be competing in this September.
"You break it into small steps, you work towards it every day, and you can do anything," Bill Fowler said.
Hagensick encourages people to start keeping a food diary to get a better idea of your dietary habits. She said this is an easy way to start seeing what foods you can eliminate from your diet and what healthy snacks you can add.
×
Photos
Related links
Related stories
Most recent Your Life - Your Health stories