Estimated read time: 5-6 minutes
This archived news story is available only for your personal, non-commercial use. Information in the story may be outdated or superseded by additional information. Reading or replaying the story in its archived form does not constitute a republication of the story.
SALT LAKE CITY — We live in a fast-paced society where we value convenient and quick access to things, activities and information. With such a "go-go-go" lifestyle, it can be hard to find ways to eat healthy, especially when we're surrounded by simple, fast and convenient food options.
Here are three organization tips for your kitchen to help make healthy food and eating just as easy and convenient as all the fast food restaurants out there.
1. Place healthier food options at eye level.
Look around your kitchen pantry, cabinets and fridge. Move things around so that your healthiest options are more visible and easier to access. I like to keep my vegetables in ready-to-go containers at eye level in the fridge. When your produce is stored in the crisper it can be easy to forget about. Keep other simple and healthy snacks at eye level in other areas of the kitchen. Keep nuts, crackers, sun-dried or air-dried fruit in clear containers at eye level in your pantry or cabinets.
It isn't a bad thing to keep treats in your house (we all need a little treat occasionally). You can fit anything into a healthy diet with moderation. But instead of keeping those little treats at eye level, place them in baskets or bins on the top shelf in a harder to access location so that it isn't your go-to snack when you are hungry and in a hurry.
2. Use "mise en place"
"Mise en place" is a French culinary term which translates to "putting in place." I was first introduced to this term while working in an industrial kitchen. I was trained to use this principle, which meant I was required to gather all of my ingredients, tools, bowls, etc. before starting to make my assigned meal. At first, this method seemed so inefficient, but as I got better at applying this principle, I also became much more efficient. So, how can this principle be used at home to help you eat healthier? If used correctly, this will make cooking and cleaning up easier and faster so you can be more motivated to cook at home, thus saving money and eating healthier. Here are the steps to implement this principle:
Gather all of your cooking utensils, plates, bowls, etc. For example, if you were making a PB&J, this list may include a knife or two to spread the peanut butter and jelly and a plate to put the sandwich on.
Gather all of your food items. Start with the pantry or cabinets. Collect all the food or seasonings you need from these locations. Once you have them all, move on to the refrigerator and freezer. By not running from the pantry to the fridge and back again, you save time when prepping meals. Using the PB&J example again, you would first get the bread and peanut butter followed by the jelly from the fridge.
Begin making your food. Let's say you are making three PB&J sandwiches. Instead of making one at a time, start by laying out all six pieces of bread, then spread the peanut butter on three of the slices of bread, followed by the jelly on the other three slices. Lastly, put the slices of bread together to form the sandwiches.
This may not seem like it will save you time while cooking, but if you give it a try, you may be surprised at how much quicker it is to prepare meals.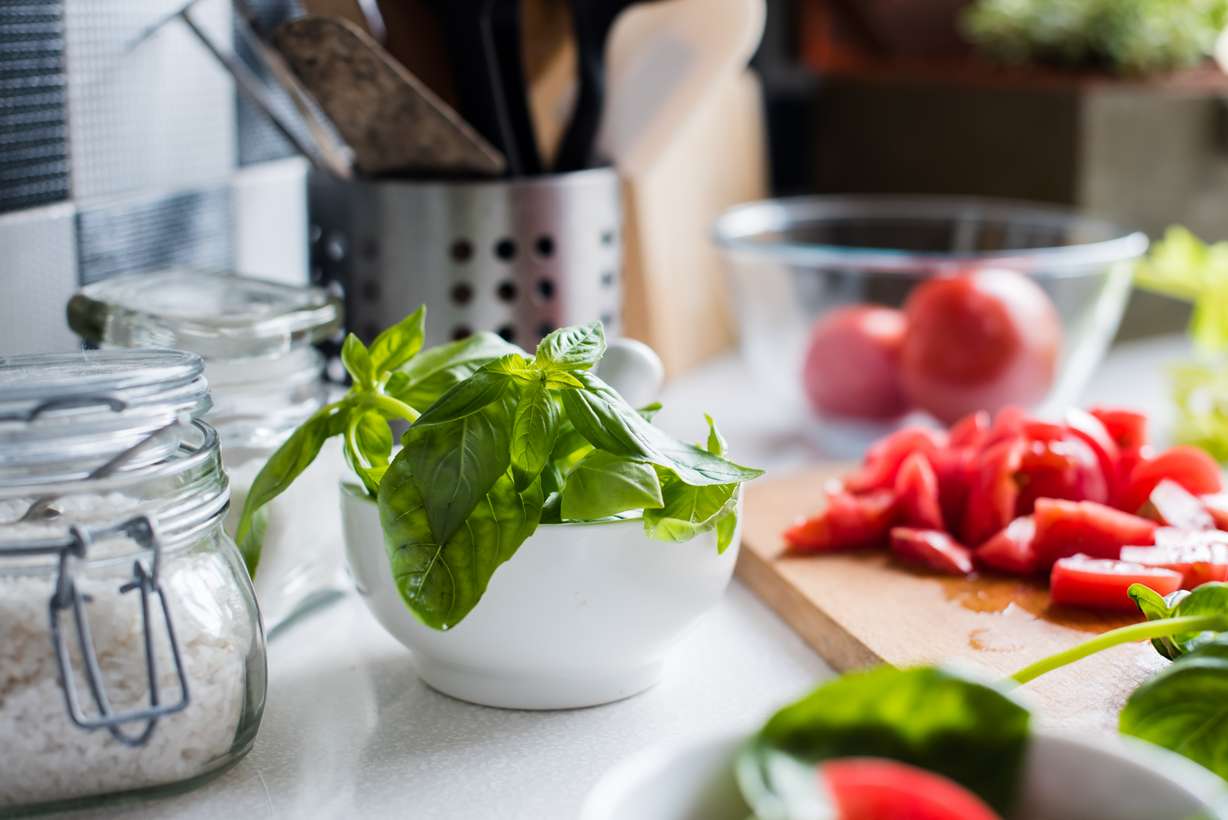 3. Organize cooking supplies in categories.
Whenever possible, organize your kitchen tools and equipment in categories based on how you use it to cook or bake in the kitchen. For example, I keep all my spoons and spatulas that I use for cooking in a jar on my counter next to my stove. I also keep my spices and cooking spray or oils near the stove because that is where I use them most. I have rubber spatulas, measuring spoons and baking supplies also located near each other so when I want to bake I have everything close by.
It may take a little bit of an adjustment to apply these tips, but it can make cooking at home and eating healthier foods so much easier. Healthier food really can be just as convenient as fast food if you simply take a few minutes to make a few organization adjustments and try to implement the "mise en place" principle when cooking.
---
Danielle Billat is a local registered dietitian nutritionist and mother. Contact her at danielle.billat@gmail.com
---
Editor's Note: Anything in this article is for informational purposes only. The content is not intended, nor should it be interpreted, to be a substitute for professional medical advice, diagnosis, or treatment. Always seek the advice of your physician or other qualified health provider with any questions you may have regarding a medical condition; Any opinions, statements, services, offers, or other information or content expressed or made available are those of the respective author(s) or distributor(s) and not of KSL. KSL does not endorse nor is it responsible for the accuracy or reliability of any opinion, information, or statement made in this article. KSL expressly disclaims all liability in respect to actions taken or not taken based on the content of this article.
×
Most recent Lifestyle stories