Estimated read time: 4-5 minutes
This archived news story is available only for your personal, non-commercial use. Information in the story may be outdated or superseded by additional information. Reading or replaying the story in its archived form does not constitute a republication of the story.
MORGAN — The Wasatch Peaks Ranch near Peterson, Morgan County, has been vacant for years, but it could soon be Utah's newest resort community.
If all goes as planned, the proposed development that would bring about 750 residential units, a private trail system, ski resort and golf course for those residents to the large swath of land near I-84 between Morgan and Ogden.
Now, the Morgan County Planning Commission is set to hold its first open house and information session Thursday to seek public input before the project is set in stone. Officials want to know what those in the community think before moving forward, said Shawn Hill, a private city planner contracted by Morgan County to assist with the county's contract with the landowner, Wasatch Peaks LLC.
"(County officials) are in 'wait and see' mode. There seems to be a great deal of interest in a lot of folks who are paying attention to the project, but are trying to make sense where it goes next," Hill said. "So far, we haven't received any formal public comment. We're not quite sure what the public's take on the project is yet."
The planned meeting comes months after Wasatch Peaks LLC purchased the land in January. Terms of the deal weren't announced, but it was once listed for $46 million in 2016. It's not just between Morgan and Ogden, it's also less than 5 miles from populated Davis County communities. It's about 10 miles south of Snowbasin Resort, and it's not a terribly long drive from Salt Lake City or Park City either.
"That mountain range is amazing, beautiful and provides a great skiing venue," said Ed Schultz, managing director of Wasatch Peaks LLC. "It's very similar topography (as Snowbasin Resort in Huntsville), skiability and just greater resort potential there. We're really excited about the location."
While the land purchase was finalized in January, the wheels began to churn back in early 2017 as Wasatch Peaks LLC eyed the property. Schultz explained it has been a long process between then and now.
"It took us approximately a year of diligence to put it under agreement and then another year to get to the closing," he said.
Weeks after the ink dried on the deal, Wasatch Peaks LLC hosted an open house to allow community members to ask questions and get information about what the landowners planned for the land. About 250 people attended the event, Hill and Schultz each said.
In March, after months of planning before and after the land purchase, the group proposed to amend the Morgan County General Plan by switching about 18 square miles from forestry and multiple use zoning districts to resort special district zoning, according to Hill. Their plan is for a private residential area with a slew of private amenities, like the ski resort and golf course.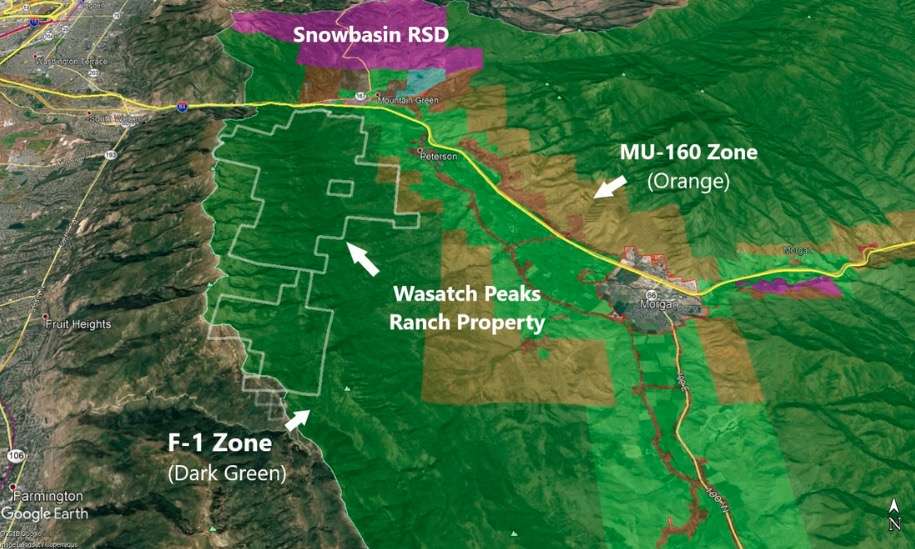 Since then, Morgan County officials launched a website page informing the public of the proposal to educate county residents while they seek public input during its review process. According to the website, Thursday's meeting is the second step after an internet and referral agency review was conducted by several county and state agencies from March 25 through April 30.
During Thursday's meeting, county officials and consultants will present the application and initial findings to the Morgan County Planning Commission and will seek questions, issues or anything else related to the project from the community to see if there are any adjustments that need to be made before any sort of construction will begin.
"The Wasatch Peaks application is in. We — the planning staff — have done an initial review and so we want to share with everyone what we've found so far," Hill explained. "The next step in the evening's agenda is to get input from the Morgan County Planning Commission and the Morgan County public — receive their questions and get their input on what issues we should study further."
Other reviews and public hearings are slated in the coming months. If the project comes through without much delay, construction for the could begin as early as 2020, Hill said.
---
This is just the first step of the entitlement process. We still have numerous state, national and local levels to go through.
–Ed Schultz, managing director of Wasatch Peaks LLC
---
However, it's far too early for construction or even building designs.
"This is just the first step of the entitlement process. We still have numerous state, national and local levels to go through," Schultz said. "This is only the rezoning process and there will be a large number of approvals that are still required to go forward with governmental entities that are designed to protect the county, the state and federal interests."
Thursday's meeting is slated for 6:30 p.m. at the Morgan County Council Room, located 48 W. Young St. in Morgan. Those unable to attend the event can stream it online here.
The timetable from rezoning to construction could change during the public comment period.
"That's sort of the nature of a project like this," Hill added. "It's big; there are lots of unknowns. There are lots of things we must analyze before we commit to a specific time frame."
×
Photos
Related stories
Most recent Utah stories