Estimated read time: 3-4 minutes
This archived news story is available only for your personal, non-commercial use. Information in the story may be outdated or superseded by additional information. Reading or replaying the story in its archived form does not constitute a republication of the story.
SALT LAKE CITY — A new study by researchers at the University of Utah in collaboration with the University of Colorado Boulder and NOAA has revealed that the processes producing ozone pollution in the summer might also trigger wintertime air pollution formation.
The research suggested certain efforts meant to reduce wintertime air pollution might actually backfire and make the inversion worse, according to the study. Currently, wintertime inversion prevention efforts involve trying to limit nitrogen oxides emitted by cars and power plants. The research showed this might increase harmful air pollution, counter to what experts previously thought.
"This insight arose from some of the most extensive measurements of the chemistry behind our wintertime pollution problem," John Lin, a University of Utah professor of atmospheric sciences, said in a University of Utah press release.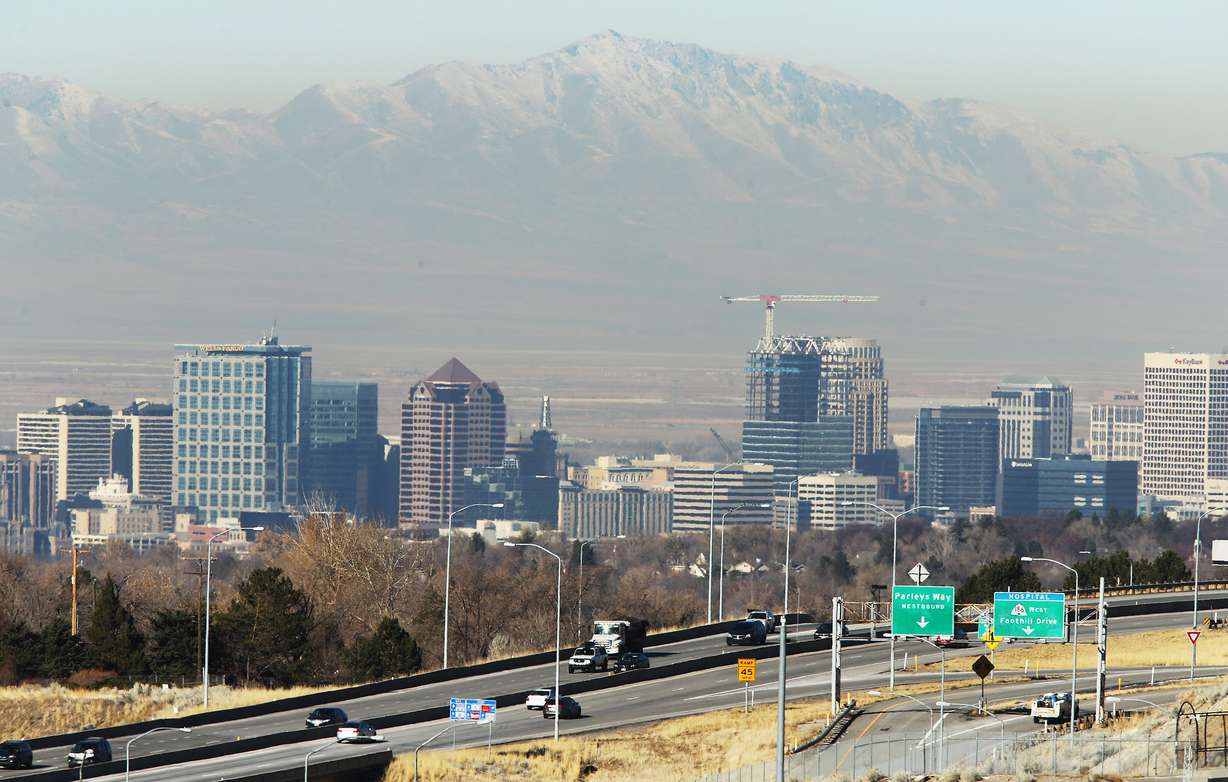 Air quality has improved during recent years in the United States due to increasingly cleaner technologies and regulations meant to prevent air pollution. Still, western valleys see high levels of particulate matter (PM2.5), which are microscopic, inhalable particles suspended in the air. In Salt Lake Valley alone, PM2.5 levels exceed air quality standards on a national level an estimated 18 days per year, according to the press release. Denver experiences a similar problem.
Ammonium nitrate aerosol, which is formed from nitrogen oxide emissions as well as volatile organic compounds and ammonia, is a major component of PM2.5 pollution in Salt Lake and Denver, according to the press release. When winter temperature inversions (warm air above trapping cold air in the valley) occur, pollutants are concentrated, thus allowing reactions to take place.
"Wintertime ammonium nitrate aerosol pollution is a severe air quality issue affecting both developed and rapidly urbanizing regions from Europe to East Asia," the study reported. "In the United States, it is acute in western basins subject to inversions that confine pollutants near the surface."
In 2017, researchers from multiple institutions came together to find a more detailed understanding of chemical processes producing air pollution. To do so, they measured PM2.5 and precursor emissions at multiple sites around Salt Lake Valley.
Researchers utilized the NOAA Twin Otter, which is a research airplane, to collect air samples at the critical altitude in the sky where particulate matter collects, according to the press release.
From their observations, the researchers were able to conclude that ozone and ammonium nitrate aerosol pollution are connected by "total odd oxygen," the study explained. The same chemical processes that form ozone in the summer also create ammonium nitrate pollution in the winter, meaning that effectively controlling ozone would also limit the effects of the winter inversion.
Mitigation efforts in western valleys like Salt Lake Valley have focused first on controlling nitrogen oxides from burning fossil fuels, which is only one component of the pollution. The study demonstrated that this approach actually increases ammonium nitrate pollution initially. Researchers were able to show that limiting VOCs was more effective in reducing PM2.5 pollution than limiting nitrogen oxides.
"No one has looked at air pollution in winter before in this way," said Caroline Womack, scientist and lead author of the study. "Our findings could hold true in other areas with severe winter aerosol pollution, including mountain valleys across the U.S. West and urban areas in East Asia and Europe."
The researchers plan to conduct a follow-up study that will investigate wintertime air pollution across the entire U.S. West, according to the press release.
×
Related links
Related stories
Most recent Features stories