This archived news story is available only for your personal, non-commercial use. Information in the story may be outdated or superseded by additional information. Reading or replaying the story in its archived form does not constitute a republication of the story.
SALT LAKE CITY — The Utah Inland Port Authority was supposed to discuss a full agenda Wednesday — but then Ethan Petersen stood up with a bullhorn, followed by a small crowd of protesters.
"Board members," Petersen said. "You haven't been listening, you haven't been responding, and engaging in anti-scientific and environmentally destructive behavior, so we are going to have a people's port meeting."
Board chairman Derek Miller, who was conducting the meeting in a gym at North Star Elementary School in west-side Salt Lake City, tried to speak over the protesters to continue the meeting, but he was drowned out by Petersen's booming voice.
"Abort the port, abort the port, abort the port," Petersen and the protesters chanted as port authority board members exchanged confused looks.
"You have shown blatant disregard for the planet, for future generations," Petersen said. "We're going to speak for those that are voiceless."
Miller, speaking into a microphone, tried to interject, saying: "We ask you to make public comment during the public comment period."
But Petersen, who leads the protest group Civil Riot, kept going.
"We're going to have a people's port meeting," Petersen said before continuing the chant "abort the port."
Petersen and the group of protesters fighting against the proposed Utah Inland Port — envisioned to be a global trade hub in Salt Lake City's northwest quadrant to maximize the state's imports and exports — then successfully hijacked the board meeting when Miller decided to postpone it.
As Miller and other board members walked out, he told the Deseret News because the protest was "in violation of our public decorum policy, we just apologize to the public who come to participate and give public comment in an appropriate way."
"Since we weren't able to do that, and since we weren't able to conduct any business, we just decided to conclude the meeting and reschedule it," he said.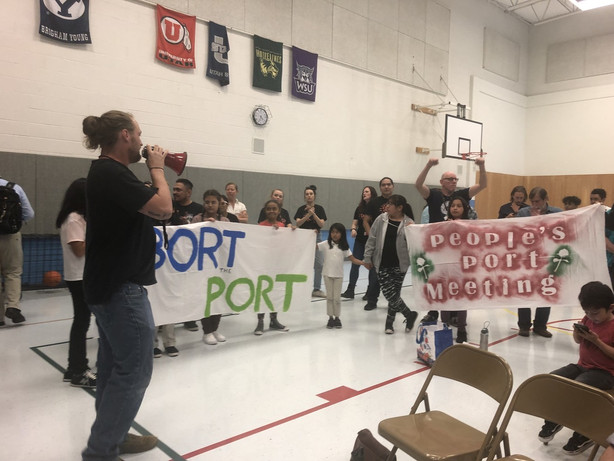 The port authority board was supposed to discuss a draft budget for the upcoming fiscal year, receive a briefing from a representative from the Audubon Society about an environmental buffer zone in the project area, and a public outreach update, among other issues.
Miller said the interruption was "only frustrating to the extent that we have a public input process and when people do that it doesn't give the rest of the public an opportunity who have come, who've prepared, who wanted to give public comment and it usurps their right to do so."
"It was meant to be disruptive and it was, and so we've concluded the meeting," he said.
Environmentalists, concerned residents and others worried about the impact of the port on Salt Lake City's air quality and wetland environment have consistently shown up at port authority meetings to ask state and city leaders to stop the port, even as the port authority proceeds with its public engagement process to shape the project as it moves forward.
But Petersen said the port board has ignored their comments thus far, proceeding with a project he and his group believe shouldn't be built, period.
He said the port authority and its leaders have not expressed an intent to move away from fossil fuels because of indications it will be used to export coal and other natural resources, so his group's goal is to "get the port shut down."
"Nobody has expressed really much support for this port except people who already have interests in it: Utah's elite, the trucking industry, and the fossil fuel industry," Petersen said in an interview.
Related story:
The protesters cheered when Petersen announced the meeting had been shut down — and he pledged to do it again at the port authority's next meeting.
"We're going to keep shutting down meetings until they cancel this project because it's unscientific, it's unjust, and it's a continuation of policies that have dispossessed people," Petersen said. "And we're done with it."
"We're through!" another protester shouted.
John Wilkes, who joined in on the protest, said, "We're ready to do it again."
"No one wants this port, and the board just doesn't listen because it's all about money," Wilkes said.
Asked how the port authority will proceed at future meetings if more protests occur, board officials issued a prepared statement:
"It is regrettable when an individual obstructs the opportunity and rights of the general public to be heard. The Utah Inland Port Authority Board remains committed to working collaboratively with all interested parties to address growth and challenges in a productive and safe environment."
Asked what his group plans to do at future meetings if they're asked to leave, Petersen said, "I guess we'll have to see."
×
Photos
Related Stories