This archived news story is available only for your personal, non-commercial use. Information in the story may be outdated or superseded by additional information. Reading or replaying the story in its archived form does not constitute a republication of the story.
BRIGHAM CITY — Kaylee Vaughan says her 47-year-old mother, Michelle Richan, took the drive back and forth between her home in Brigham City, and Eureka, Nevada, fairly often, taking the more back road route through Park Valley.
So when she failed to make it home Tuesday, family members were concerned, to say the least.
"She was constantly stressing with us, when we were kids, to make sure that somebody always kind of knows where you're going and stuff like that," Vaughan said. "This was extremely out of character for her to kind of just go off the grid, and no contact or anything like that."
Updates from the Eureka County Sheriff's Office said that Richan left, driving her 2000 beige GMC Jimmy, with Utah plates 2C5JW. She was later spotted on surveillance video, buying gas in Carlin, Nevada. The investigation has since been handed over to the Brigham City Police Department.
Vaughan says most of her family is in Nevada, taking on their own search efforts. She says search and rescue crew and a helicopter were expected to assist as well. Vaughan says her mother's phone died somewhere in the Wells, Nevada, area — and that's roughly where her family is focusing their efforts.
"They have ATVs, four-wheelers; they're going on back roads, going up in the mountains," Vaughan said.
Vaughan says her mother is tough and independent. She's even known to keep a weeklong survival kit in the trunk of her car.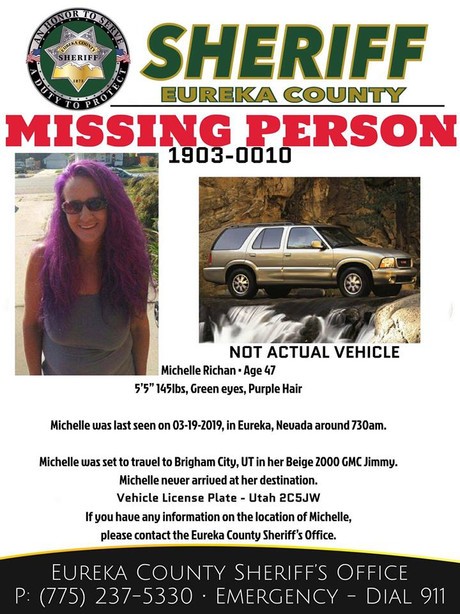 "It's kind of surreal," Vaughan said. "You don't really think that it's ever going to happen to you, especially not to my mom because she's so strong-headed, and just that type of person who you would never believe something like that would happen to."
Between Vaughan and her sister, Richan has four grandchildren. "She definitely would never want to leave them," Vaughan said. "We're hoping that things work out."
Richan's family has put together a fundraising page on Facebook* to help pay for gas that is being used during the search.
____
*KSL.com does not assure that the monies deposited to the accounts will be applied for the benefit of the persons named as beneficiaries. If you are considering a deposit to the account, you should consult your own advisors and otherwise proceed at your own risk.
×
Photos
Related Stories