This archived news story is available only for your personal, non-commercial use. Information in the story may be outdated or superseded by additional information. Reading or replaying the story in its archived form does not constitute a republication of the story.
LAS VEGAS — Conner Toolson didn't have to go to Utah Valley.
It's nothing against the Wolverines. But Toolson had won — and won big — at every level of his basketball career, including an NJCAA national title at Salt Lake Community College, a MaxPreps mythical national title at Lone Peak, and three-straight state championships with the Knights.
So going to a program like Utah Valley, where the Wolverines had won just 23 games in two years, could've easily been considered a step down.
And then-brand-new UVU coach Mark Pope knew it.
"It was so hard to get him to come here," Pope said in one of his frequent moments of candor. "We didn't have a building to practice in. We had never competed or won high-profile games. But he put so much trust in us. I'm really happy for him."
Utah Valley wasn't the usual team Toolson had been part of — from Lone Peak to AAU to a SLCC program that had competed with the best junior colleges in the nation prior to his arrival.
Toolson was used to winning.
And he wanted to bring that same winning to Orem, stay close to home and build a program that would endure after his time.
In short, he wanted to leave a legacy.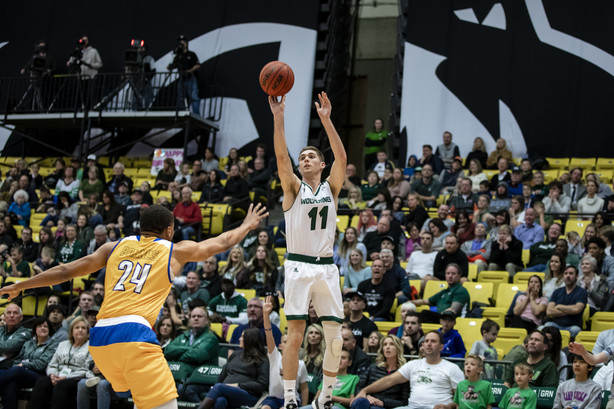 And he certainly has, leading the Wolverines to back-to-back 23 win seasons for the first time in school history.
He hasn't regretted one second of it, either.
"All the other places, if I were to go to a school with a history of success and tradition, I would be forgotten," Toolson said. "I wanted to make a name for myself, and I felt like Utah Valley was the perfect place to do that. It all fell into place."
The 6-foot-4, 185-pound shooting guard from Highland averaged 12.7 points and 3.1 rebounds per game as a senior in 2018-19. He's started every game over the past two seasons, shooting 45 percent from the field and better than 40 percent from 3-point range.
But most importantly, he's won.
Even when fans, skeptics and opposing coaches didn't think the Wolverines could improve on last year's 23-win season, after UVU lost big-play seniors like Isaac Neilson and 7-foot center Akolda Manyang, among others. But the Wolverines kept winning.
They kept winning all the way to clinching the No. 2 seed in the Western Athletic Conference with almost a week to spare.
WAC Postseason Awards
Yes, even in what was supposed to be a "rebuilding year," the Wolverines (23-8) will open the WAC Tournament in Las Vegas as the best league team-not-named-New Mexico State. Their chance at the program's first-ever NCAA Tournament berth starts Thursday at 6 p.m. PDT against Missouri-Kansas City at Orleans Arena.
"I think it felt better than any other year, because no one thought we could do it," Toolson said. "It felt good to prove the coaches and the media wrong, to show that we are the second-best team in the regular season.
"We were able to open a lot of people's eyes."
And even though he's won, proven so many doubters wrong, and been on left a legacy that won't be forgotten any time soon, Toolson still has unfinished business at UVU. And that's not just finishing his degree in communications this May.
"I've been doing this for the last three years, and it's crunch time," Toolson said. "It's either now or never for me to go to the NCAA Tournament.
"I'm just going to go out fighting. Whatever we need to do, I'm going to do."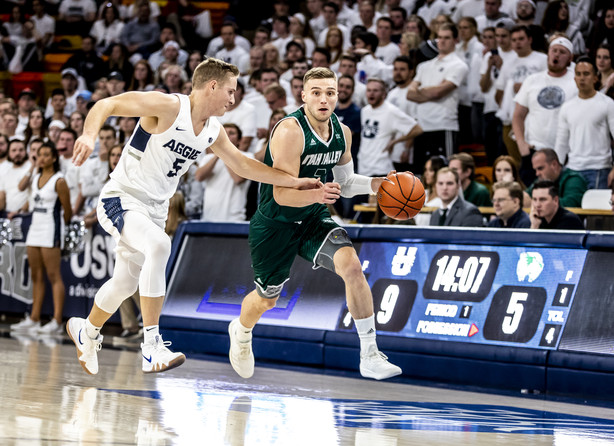 The Wolverines will be led by Toolson, as well as his cousin Jake, the WAC player of the year, and freshman Wyatt Lowell, the WAC newcomer of the year, as the most-capable team of dethroning New Mexico State.
The Aggies (27-4) have made an NCAA Tournament appearance in six of the last seven years coming out of the traditionally one-bid WAC. If there's a legacy at stake at Orleans Arena, it belongs to New Mexico State and WAC coach of the year Chris Jans.
But the Wolverines know a thing or two about legacies, as well.
At least, Conner Toolson does.
"After we work our magic this year, and he goes on to his professional career, he's going to spend the rest of his year looking back on this being so proud," Pope said. "He knows what he accomplished here."
×
Related Stories