This archived news story is available only for your personal, non-commercial use. Information in the story may be outdated or superseded by additional information. Reading or replaying the story in its archived form does not constitute a republication of the story.
OREM — Swing. Punch. Respond.
Swing. Punch. Respond.
That was the cadence of Utah Valley's clash with Grand Canyon late Thursday night.
Eventually, though, there was no response … from the visiting 'Lopes.
Jake Toolson had 18 points, eight rebounds and seven assists to help Utah Valley upend Grand Canyon 82-70 Thursday night and will be the No. 2 seed for the upcoming Western Athletic Conference Tournament in Las Vegas.
The Wolverines (22-9, 11-4 WAC) clinched the No. 2 seed an hour later, when Seattle topped CSU Bakersfield, 63-57 in overtime Thursday night.
Richard Harward added 14 points and eight rebounds, and Connor Toolson scored 18 for the Wolverines (22-9, 11-4 WAC), who will finished the regular season Saturday night against CSU Bakersfield.
"This Grand Canyon team has been a real problem for us, and will continue to be a real problem for us," said Utah Valley coach Mark Pope, whose team won their sixth-straight game and improved to 2-7 against GCU in Pope's tenure.
Damir Milstead, Carlos Johnson and Alessandro Lever each scored 15 points for the Antelopes (19-11, 10-5 WAC), and Trey Dreschel had 11 points and nine rebounds for a team that beat Utah Valley 71-60 earlier in the season.
"They're a problem at every single position," Pope said. "They've had our number, 7-2 in my tenure, so this is good.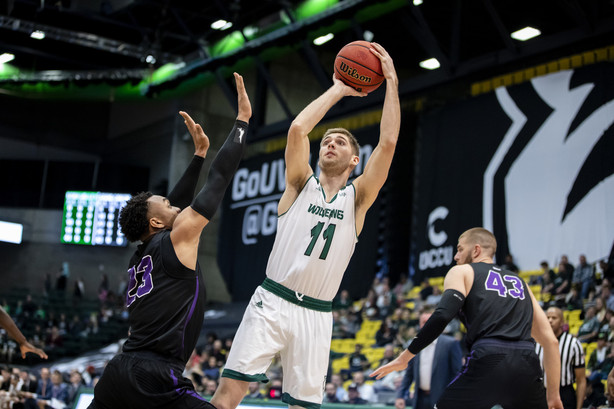 "If Grand Canyon does their job and we do our job, we're going to meet in the semifinals (in Las Vegas)."
Utah Valley hit three of its first four makes from 3-point range, and Jake Toolson capped a 16-2 run to give the Wolverines a 16-5 lead four minutes into the game.
And UVU was off and running.
The Wolverines kept a foot on a double-digit lead through the first 10 minutes of the game. But the 'Lopes cut the deficit as low as four, 29-25, on Damari Milstead's fastbreak runner that capped a 7-0 spurt over three minutes. The momentum see-sawed back and forth through the half until Jake Toolson's twisting reverse layup with 18 seconds left gave the Wolverines a 43-39 halftime lead.
"We knew it was an important game, and we wanted to just come out and play really hard," Jake Toolson said. "I think our preparation is where we won the game. Everyone stepped up, we shared the ball, got stops, rebounded, and that's mojo.
"When we do that, we're hard to beat."
Grand Canyon led twice in the early moments of the second half, but a possession each. But the Wolverines used a 16-3 run capped by Wyatt Lowell's 3-point bank shot to take a 60-49 advantage with 12 minutes to go.
If UVU waited for Grand Canyon's own run in response, the Wolverines were sorely disappointed.
The 'Lopes shot just 33 percent from the field in the second half, and every time they went to score, UVU responded with a bucket of its own.
Many of those buckets belonged to Harward. The Orem native hit all five of his second-half shots for 14 points, and the Wolverines led by as much as 19 with 4:56 remaining to cruise to the finish.
"I kind of got pissed at one point," said Harward, whose brother Ian played at BYU. "I don't remember the play, but I got angry at something. I think I used that.
"It was also a birthday present for my man (Jake Toolson)."
×
Photos