This archived news story is available only for your personal, non-commercial use. Information in the story may be outdated or superseded by additional information. Reading or replaying the story in its archived form does not constitute a republication of the story.
SALT LAKE CITY — Conner Toolson is used to pressure situations.
The former Lone Peak shooter played on the Knights' 2012-13 MaxPreps mythical national championship team, which finished 26-1 with a Class 5A state title, alongside standouts Eric Mika, T.J. Haws and the Deseret News' Mr. Basketball Nick Emery.
So when it came to leading Salt Lake Community College into the national tournament, even as the 13th seed and underdogs on multiple occasions, Toolson had one thought on his mind — and he tried to pass it along to his teammates.
"There were a couple of times in the locker room, even before the region tournament, where we knew we had the talent to take the region and take nationals," Toolson said. "We came together as a team, and decided to do it for each other."
On Saturday night in Hutchinson, Kansas, those dreams became a reality after a 74-64 win over the host Blue Dragons. Toolson scored 28 points, including 5 of 12 from 3-point range, to lead the Bruins to the second junior college national title in program history — and cap a whirlwind week.
"It's been a crazy week, but we've been able to step it up the past week," Toolson said. "It's been really fun because we've been playing really well together. We always knew we could win it, so we were excited to step it up and do it."
Salt Lake (31-8) never seriously trailed in its march to the championship, but that's large because the Bruins played for each other. Salt Lake averaged more than 86 points per game in five games at the national tournament and beat teams by 18.2 points per game.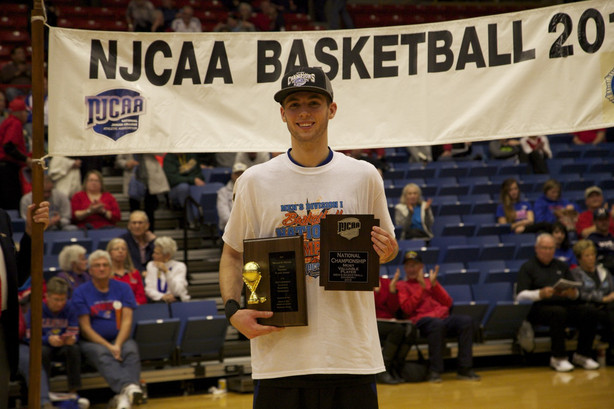 The team also put a renewed emphasis on sharing the ball, one guard Tad Dufelmeier could feel as he looked to cap his final season at SLCC with a title.
"We came in with high expectations at the start of the season," Dufelmeier said. "It wasn't always working well at the start, but we got it together towards the end and we felt like no one could beat us."
Dufelmeier averaged nearly seven assists per game to lead the Bruins in that category, even as Toolson poured in buckets at a clip of 18 points per game, including 28 in the championship.
But scoring was never the Australian's priority — unless it was absolutely necessary. Everyone on the team had a spot, and everyone knew what they had to do in buying into a national championship system.
"Everybody knew their role and did it to the best of their ability," said Dufelmeier, who exploded for 23 points and six assists in a 92-86 second-round win over Odessa College. "We knew what we needed to do to win games. Everything the coaches said, we did and executed to perfection."
SLCC head coach Todd Phillips knew the Bruins had the talent to win a national title. But they didn't always play up to their potential, including during a three-game losing spell to end the season.
Then, in nine games during the postseason, it all came together.
"I think our guard play stepped up. Tad was tremendous, and Austin Waddoups came in and started hitting big shots," Phillips said.
"But everybody fed off Conner. His confidence was back; he was hitting deep threes like he did early in the year. When he started doing that, it made everything better for everybody else."
Related Story
The Bruins also fed off what Phillips called "the best post player in the tournament" in former American Fork star Tyler Rawson. The Southern Utah transfer averaged 19.6 points and 8.2 rebounds per game during the final postseason tournament of his junior college career.
"The coaches did a good job of pulling us together," said Rawson, who produced a double-double in 16 points and 11 rebounds in the title game. "He preached that we all needed to be 12-as-1, and work together as a unit. Everyone bought in, and it produced a championship."
It wasn't all the stars, either. Rawson's former American Fork and SUU teammate Austin Waddoups was among the supporting class that stepped up at key moments, and former Kearns star Bushman Ebet came off the bench every game to average nearly eight points per game through the tournament.
Meanwhile, SLCC's posts of Gibson Johnson and Christian Musoko continued to patrol the paint.
"Other guys didn't want to come fight against that all game long," Phillips said. "The farther we got in the tournament, the more they struggled with it. It sent our confidence through the roof."
The Bruins will lose all but three players from this year's team — such is the routine of junior college basketball — but could send as many as eight players to the Division I level, including Toolson, who has signed with Utah Valley.
"Their program is on the rise. I love the coaching, and I'm excited to go there," Toolson said of new coach Mark Pope. "They've got a bunch of good players, and I'm excited for what the future holds at Utah Valley."
NJCAA tournament final
Salt Lake 74, Hutchinson 64
SLCC: G. Johnson 9; M. White 2; T. Rawson 16; T. Dufelmeier 6; C. Toolson 28; B. Ebet 6; A. Waddoups 3; C. Musoko 4. HTCH: A. Hoffman 9; B. Ahmed 22; S. Haynes-Jones 11; K. Pinder 6; S. Juiston 9; J. Conley 3; J. Emery 4.
Meanwhile, his coach was thinking of the future even while making sure to absorb the present and Salt Lake's first national title since 2009.
"I hugged my wife, hugged my family, hugged my coaches — and then we texted all our recruits to say 'Come to Salt Lake, here's what we've got,'" Phillips said. "That's just part of the game as a basketball coach. We celebrated with the team, but we also need to continue to move them on as players and us as coaches."
The future is less certain for stars like Rawson. The ex-Thunderbird hasn't decided on where he wants to attend college after earning his associate's degree, or where to pursue basketball in the future.
But the present? That's as sweet as can be, he said.
"I'm just trying to soak it all in, and celebrate with my teammates," Rawson said. "I've been enjoying the recruiting process this year. It's been unique to get that again as a junior college transfer.
"I'm excited for the next step."
×
Photos
Related Stories