Estimated read time: 3-4 minutes
This archived news story is available only for your personal, non-commercial use. Information in the story may be outdated or superseded by additional information. Reading or replaying the story in its archived form does not constitute a republication of the story.
LAS VEGAS — Jake Toolson's transfer from BYU to Utah Valley drew little fanfare, outside the most diehard circles amongst either fanbase.
The Gilbert, Arizona native played two seasons for the Cougars, averaging 2.8 points and 1.5 rebounds in 9.4 minutes mostly off the bench in Dave Rose's program.
So when he moved a few miles up University Parkway to join former BYU assistant coach Mark Pope and his cousin Conner at Utah Valley, it was just another transfer in the hundreds that happen every year across college basketball.
But what he became for the Wolverines?
That's something special.
Jake Toolson has been named Western Athletic Conference player of the year, the league announced Tuesday, becoming the first player in UVU history to each such honors.
"I don't know what we were picked to finish in the league, and I don't think anyone thought that we'd win 20 games," Toolson said. "But the great thing about this team, and some teams never get there, is that it never matters what they are saying.
"They aren't the ones doing it. We are. We're in a great spot right now, we're playing great ball, and we just want to keep going"
UVU first-year standout Wyatt Lowell was also named WAC freshman of the year.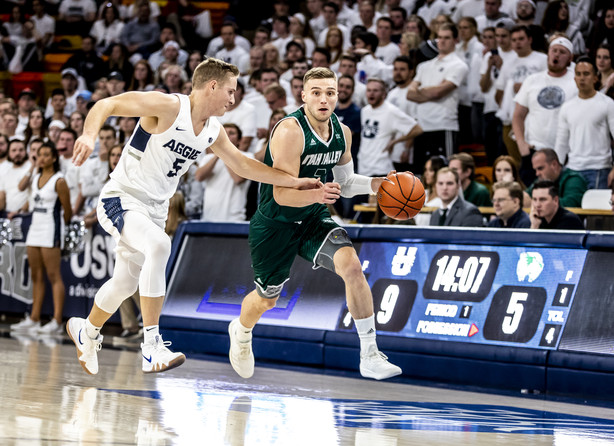 Toolson posted five games of 20 points or more in WAC playing, ending the regular season ranked third in the conference with 2.3 3-pointers per game on 47.4 percent 3-point shooting. He also finished fourth in scoring (16.7 ppg) and field goal percentage (54.0) for a UVU team that will make the No. 2 seed into the WAC Tournament in Las Vegas.
He follows in the footsteps of his uncle, Danny Ainge, who won WAC player of the year honors in 1981 while starring at BYU.
The Wolverines clinched a top-two seed after an 82-70 win over Grand Canyon last Thursday. Utah Valley finished the regular season with a 23-8 record, marking back-to-back seasons of 23 wins for the first time in program history.
In that game, Toolson scored 18 points and fired up his team to a big win over a 'Lopes squad that has been a thorn in Pope's side since he took the UVU job.
"Basketball is not always pretty. Most of the time it's frustrating. Most of the time it's just grinding it out," Toolson said. "But there are a few moments where you are making shots, moving the ball, and having a lot of fun. That's how I've felt."
Lowell led all freshman in scoring (5.4 ppg), rebounding (3.0 rpg) and steals (0.5 spg), scoring in double figures three times in WAC play, with two starts.
The Wolverines will open the WAC Tournament Thursday against No. 7 seed Missouri-Kansas City. Tipoff is scheduled for 6 p.m. PT at Orleans Arena and will be broadcast on ESPN+.
WAC Postseason Awards
Player of the Year: Jake Toolson, Utah Valley
Defensive Player of the Year: Javon Levi, UT Rio Grande Valley
Freshman of the Year: Wyatt Lowell, Utah Valley
Coach of the Year: Chris Jans, New Mexico State
All-WAC First Team
Milan Acquaah, Cal Baptist, So.
Terrell Brown, New Mexico State, Jr.
Michael Finke, Grand Canyon, Sr.
Jarkel Joiner, CSU Bakersfield, So.
Jake Toolson, Utah Valley, R-Jr.
×
Related Stories