Estimated read time: 5-6 minutes
This archived news story is available only for your personal, non-commercial use. Information in the story may be outdated or superseded by additional information. Reading or replaying the story in its archived form does not constitute a republication of the story.
LAS VEGAS — BYU women's basketball had quite the mountain to climb coming into the 2018-19 season.
Losing their leading scorer from a year ago and with top post player Sara Hamson coming off a knee injury that kept her out of the Cougars' historic women's volleyball season, the Cougars were reliant on a talented-but-unproven guard line of Brenna Chase, Shaylee Gonzales and Paisley Johnson.
But BYU embraced the challenge, even evident in the team's official motto: "Give me this mountain."
On Tuesday, the Cougars saw the view from the top of that mountain.
Brenna Chase poured in 25 points, and Shaylee Gonzales added 20 points, six rebounds and four assists to lift BYU women's basketball to an 82-68 win over No. 12 Gonzaga, clinching an automatic bid to the NCAA women's basketball tournament Tuesday at Orleans Arena.
Paisley Johnson added 19 points, five rebounds and three assists for the Cougars (25-6), who swept three meetings with the Zags — the only team in the country to do so.
The last one came before a decidedly pro-Gonzaga crowd of 5,892 in the arena dubbed "Spokane South" by many in the conference.
"As much as they were cheering for Gonzaga, all I heard was great cheering," said Johnson, who was named the tournament's Most Outstanding Player. "I love that energy and I fed off it, my team fed off it. Those Gonzaga fans were awesome; obviously, they weren't cheering for us, but I felt like they were there for us — and we had a huge crowd there for ourselves, too. That was kind of cool. It was anything I could've asked for."
Zykera Rice had 25 points, including a 12-of-12 effort from the free-throw line, to lead Gonzaga (28-4), and Chandler Smith supplied 13 points for the Zags.
But the Zags couldn't contain BYU's outside shooting threat. The Cougars made 13 3-pointers, including seven from Chase and three from Johnson, to pull away.
Chase made five 3-pointers for 15 points in the first half, helping the Cougars to a commanding 42-30 lead at the break. Gonzales added 12 points before the break, and BYU held Gonzaga to a single field goal in the second quarter en route to the double-digit lead.
"I feel like we are all very confident players, especially at the guard line. We know that at any given time, any of us can score," Chase said. "I had the hot hand at the three tonight, but Paisley and Shaylee got to the basket every time they wanted to. We fed off that."
Gonzaga was playing without starting point guard Laura Stockton, who was on the bench with street clothes, crutches and a heavy wrap around her lower leg. The Zags were also without key reserve Jill Townsend.
Without the duo, Gonzaga held off rival Saint Mary's in double overtime of a WCC semifinal Monday, 78-77 before BYU rallied by Pepperdine for their fourth tournament final in six years.
"There's no question when you lose two players the caliber of Stockton and Townsend, it probably affected their team a lot more," BYU coach Jeff Judkins said. "It's not fair — but basketball is really tough this way.
"But I'll give Gonzaga a lot of credit; they came out tonight ready to play with all the adversity they have."
WCC Tourney notes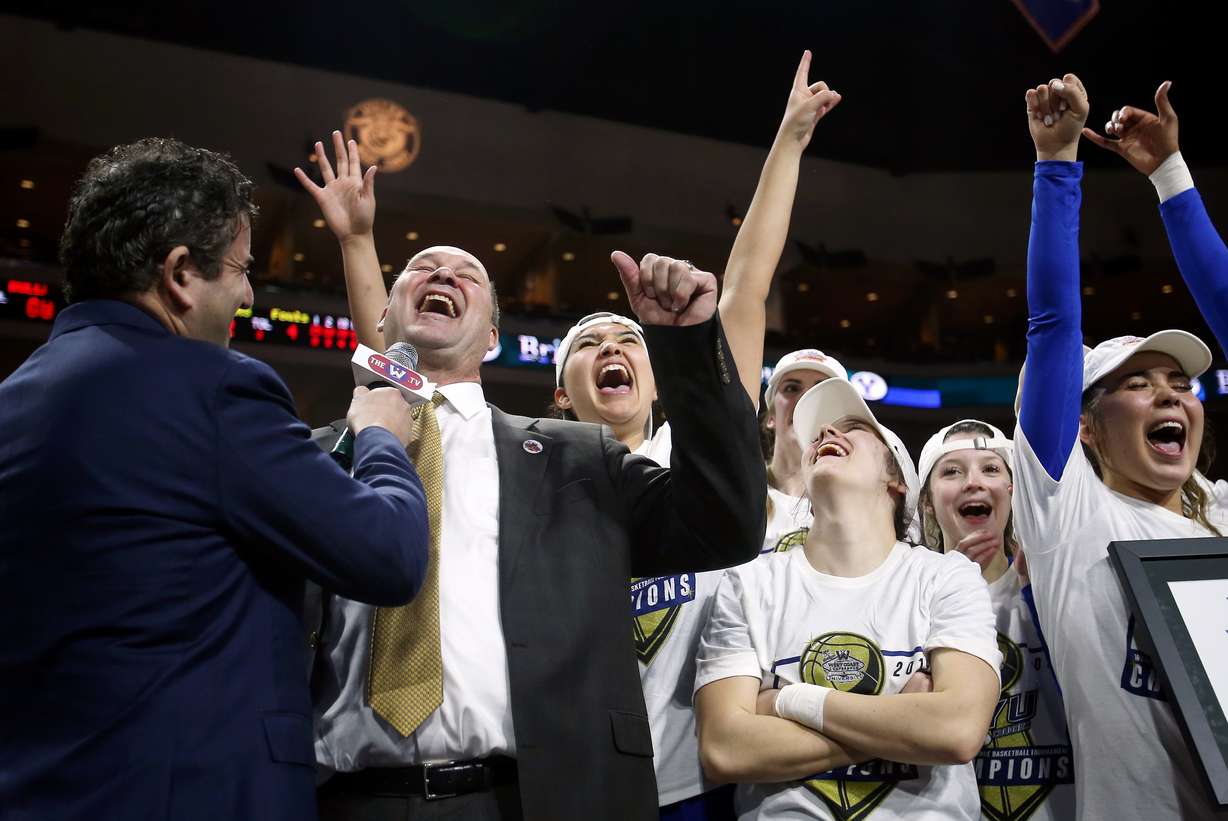 BYU trailed 23-19 after the first quarter, but opened the second quarter on a 16-0 run. The Cougars held the Zags without a field goal until LeeAnne Wirth's jumper with 2:32 to go in the half. It was the only field goal of the second quarter for Gonzaga, which was out-scored 23-7 in the period.
"We saw, not the fear in their eyes, but they were definitely a little freaked out," Johnson said. "We saw that, took advantage, and just kept running it down their throats. Brenna was hitting; no one could stop her from coming off the arc and hitting, and all of us were playing pretty good defense. Then Sara was a huge presence in the second quarter to totally disrupt their offense. Those were some keys for us."
Meanwhile, Chase drained her fifth three of the game before the break, Jasmine Moody hit a 3-pointer, and Gonzales scored back-to-back buckets to end the half with a 42-30 lead.
"When it's going in, it's just going in. It's something you know," Chase said. "It's not something that happens too often, so we like when it does."
But Gonzaga didn't go away.
The Bulldogs got back into the game from the free-throw line, and Smith's 3-pointer with 1:13 left in the third pulled Gonzaga back within eight, 60-52.
The Zags shot 18 free throws in the third quarter, and finished the game with 16 more free throws than BYU.
But every time they'd make a run, the Cougars' prolific guard line (not to be confused with a law firm) of Chase, Gonzales and Johnson were there to answer.
Just as they have been since a three-game losing skid that ended Feb. 7. That's when Judkins met individually with his three-headed guard line and put the pressure on them.
BYU hasn't lost since then, with the most recent of an eight-game winning streak capping an unforgettable season.
"These are the games you work hard for," Judkins said. "These are the games you put all that extra effort in. It's what I miss the most as a coach and a former player.
"It just gets you to another level. I think these two girls proved it, with that pressure and all that they stepped it up."
×
Photos
Related stories
Most recent BYU Cougars stories