Estimated read time: 4-5 minutes
This archived news story is available only for your personal, non-commercial use. Information in the story may be outdated or superseded by additional information. Reading or replaying the story in its archived form does not constitute a republication of the story.
LAS VEGAS — Paisley Johnson had 20 points and five assists in the BYU women's basketball team's postseason opener Monday afternoon.
But the key number for one of three standout guards didn't show up in the box score.
It didn't come next to a "TP" for "total points," or "A" for assists, or even "R" for rebounds.
Johnson had two charges taken against Pepperdine star Yasmine Robinson-Bacote, including one midway through the fourth quarter that kept the Waves from completing the upset of the second-seeded Cougars at Orleans Arena.
Shaylee Gonzales, the freshman WCC newcomer of the year, added 17 points and seven rebounds, and Brenna Chase supplied 10 points and five as as the rallied from 13-down to complete a 68-63 comeback win Monday afternoon in a West Coast Conference Tournament semifinal.
Robinson-Bacote had 19 points and 12 rebounds to lead Pepperdine (20-11) — but scored 18 points in the first half.
"She had a full head of steam and I knew that," said Johnson, who limited Bacote-Robinson to one point on 0-for-6 shooting after the break. "The first time, she got right by me and I was embarrassed. So I knew the next couple of times, she'd do that and she wasn't going anywhere."
And every time Johnson took a charge, BYU (24-6) earned a little more confidence.
"Those charges really get our energy up, especially when they come with (Paisley's) little backflip," Gonzales said. "That's just awesome."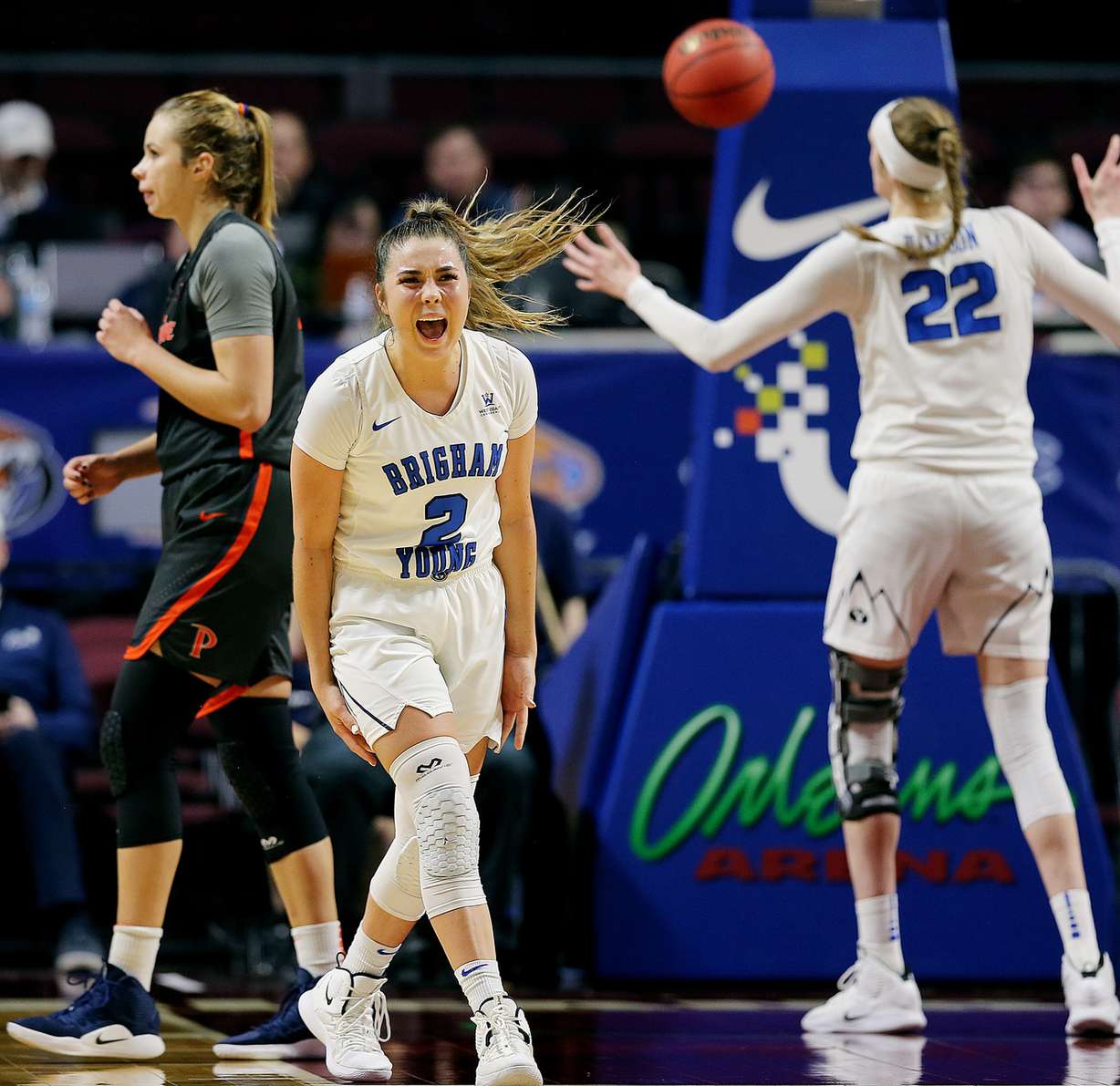 Sara Hamson added 10 points, five rebounds, and six blocked shot for the Cougars, who advanced to face top-seeded Gonzaga in Tuesday's tournament championship.
Malia Bambrick added 17 points and five rebounds and teammate Megan House scored nine for the Waves (20-11), who were picked to finish ninth in the WCC and finished with the third-best record in the regular season behind only BYU and Gonzaga.
"I want to give Pepperdine a lot of credit," BYU coach Jeff Judkins said. "We couldn't stop them, especially in the first half, from hitting shots and getting rebounds. They have improved so much.
"But I'm really proud of my team. This is what this team has been about — we've had some downs, and we've come back and done the little things to be able to win."
BYU shot 50 percent from the field in the first half, out-shooting the Waves' 34.9 percent by a wide margin. But Pepperdine out-rebounded the Cougars 28-16, and Robinson-Bacote's floater over the top of the 6-foot-7 Hamson gave the Waves a 38-32 lead at halftime.
Pepperdine took 13 more shots in the first two quarters than BYU, thanks to 18 offensive rebounds. The Waves out-rebounded the Cougars 18-11 on their side of the court.
"Our game plan going into every game is to rebound, defend and run," Robinson-Becote said. "We knew we had to crash the boards and make sure to run. We knew we couldn't give second opportunities because we know how deadly they are on offense."
The Cougars rallied through the glass, limiting the Waves to two offensive rebounds in the third quarter to turn a 13-point deficit into a two-point advantage by the second possession of the fourth quarter.
Pepperdine took its final lead with just over five minutes to go on a jumper from Bambrick to go up 61-60. But BYU immediately responded.
Johnson grabbed a rebound on the next possession, took it coast-to-coast and drove in to score — but missed.
Not to worry; Gonzales crashed the glass, flipped the ball through the net via a reverse layup with 4:58 to go for two and the foul.
"It's not just the post players; the guards need to find a body up, too," Gonzales said. "We came out and decided we really needed to do that, and I think it really helped our lead to get the win."
It was a basket that Gonzales never saw go in. But it counted, and BYU never trailed again, outscoring the Waves 18-11 in the final period to hold on for the five-point victory that advanced the Cougars to their fourth WCC tournament final in the past six years.
BYU beat Gonzaga twice during the regular season, and the Zags are coming off a 78-77 double-overtime victory in Monday's early semifinal.
And the Zags lost point guard Lauren Stockton to an ankle injury in that game.
"We're excited. After they won the conference, they were talking about being excited to play us," Johnson said. "But I think we're even more excited. It's not just to show our conference, but also the nation that those first two games weren't flukes.
"We're out here to get a tournament championship."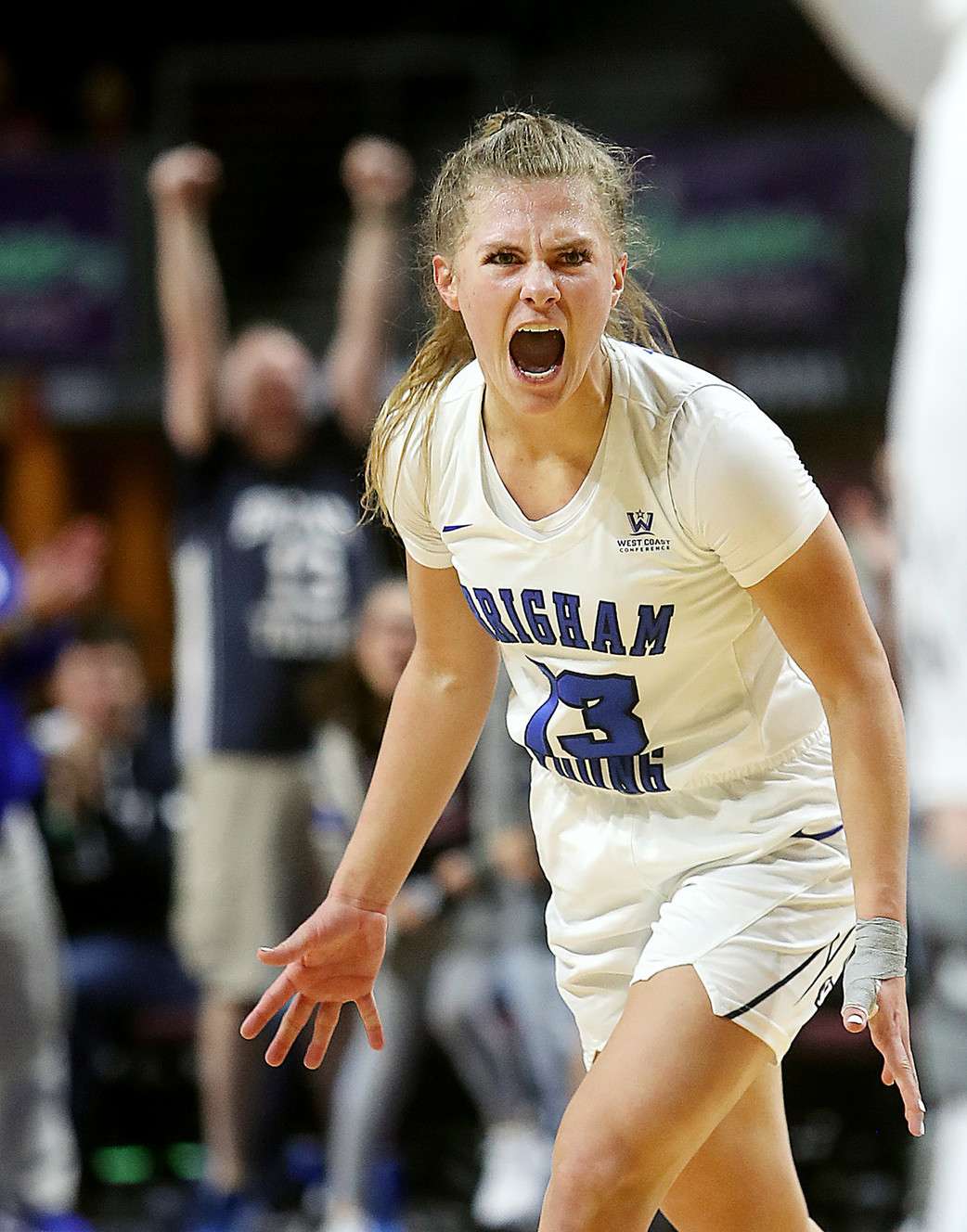 West Coast Conference Tournament semifinal
BYU 68, Pepperdine 63
BYU: Hamson 10, Chase 10, Gonzales 17, Alldredge 2, Johnson 20, Salmon 6, Moody 3.
PEPP: Robinson-Bacote 19, House 9, Bambrick 17, Sitanggan 7, Satie 4, Pflug 4, Battle 3.
×
Photos
Related Stories